You can increase your YouTube subscribers with well-designed channel art. Just follow the detailed guide that helps to make a YouTube banner with amazing visuals without having designing skills.
Channel art is the first thing people see when they come to your YouTube channel, and you only have 7 seconds to grab their attention and show them how professional you are. So they subscribe to your channel.
Your YouTube channel should have a great banner design to get a good impression. In this article, we have covered everything on how to make a YouTube banner?
Let's get started…
How to get started
Best YouTube Banner Maker Online (Free + Paid)
Make a YouTube Banner on iPhone/iPad
Make a YouTube Banner on Android Phone
Bonus
What is a YouTube Banner?
YouTube Banner (also known as "YouTube Channel Art" or "YouTube Header Image") is the first large banner image that you have seen on the top of your channel page. It commonly uses to make channels look visually more professional or channel branding.
Understanding YouTube Banner Dimensions
The first thing that you need to know about YouTube channel art is banner dimensions as you know that people are using all significant devices (i.e., Desktop, MacBook, Smart Phone, Tablet, and TV) to watch videos on YouTube. So it is essential to know about the YouTube banner size before be create it and check how it looks on different types of devices.
As per YouTube guidelines, they recommend uploading a 2560 x 1440 px image for your channel banner. Here is the screenshot for your reference: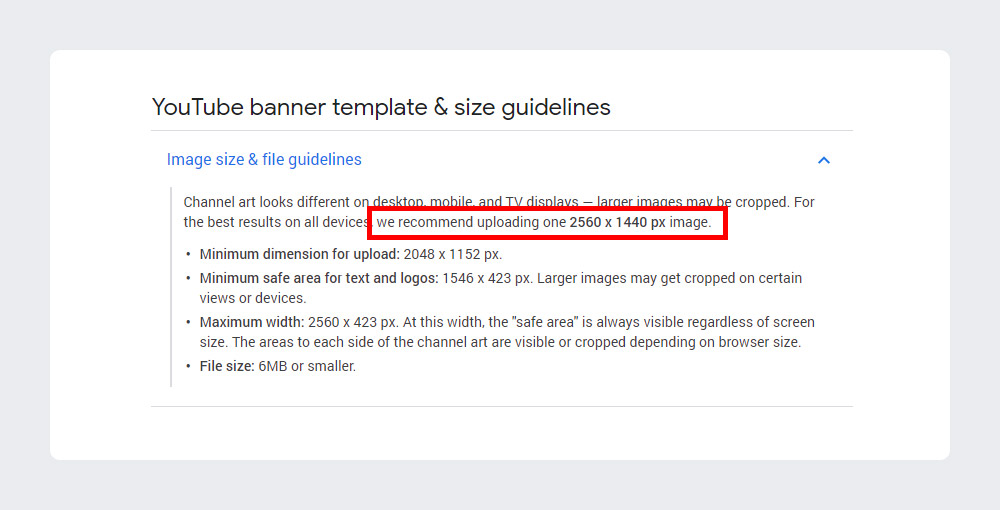 YouTube banner image size and file guidelines:
Recommended YouTube Banner size: 2560 x 1440 pixels
Minimum dimensions to upload: 2048 x 1152 pixels
Safe Area for Logo and Text: 1546 x 423 pixels
Minimum width: 2560 x 423 pixels
Maximum File Size: 6MB
How Channel Art Displays differently across Devices?
To get YouTube banner ideas of how YouTube banner design looks on different devices, I have created a new channel art for demonstration purposes. Let's take a look:
TV Display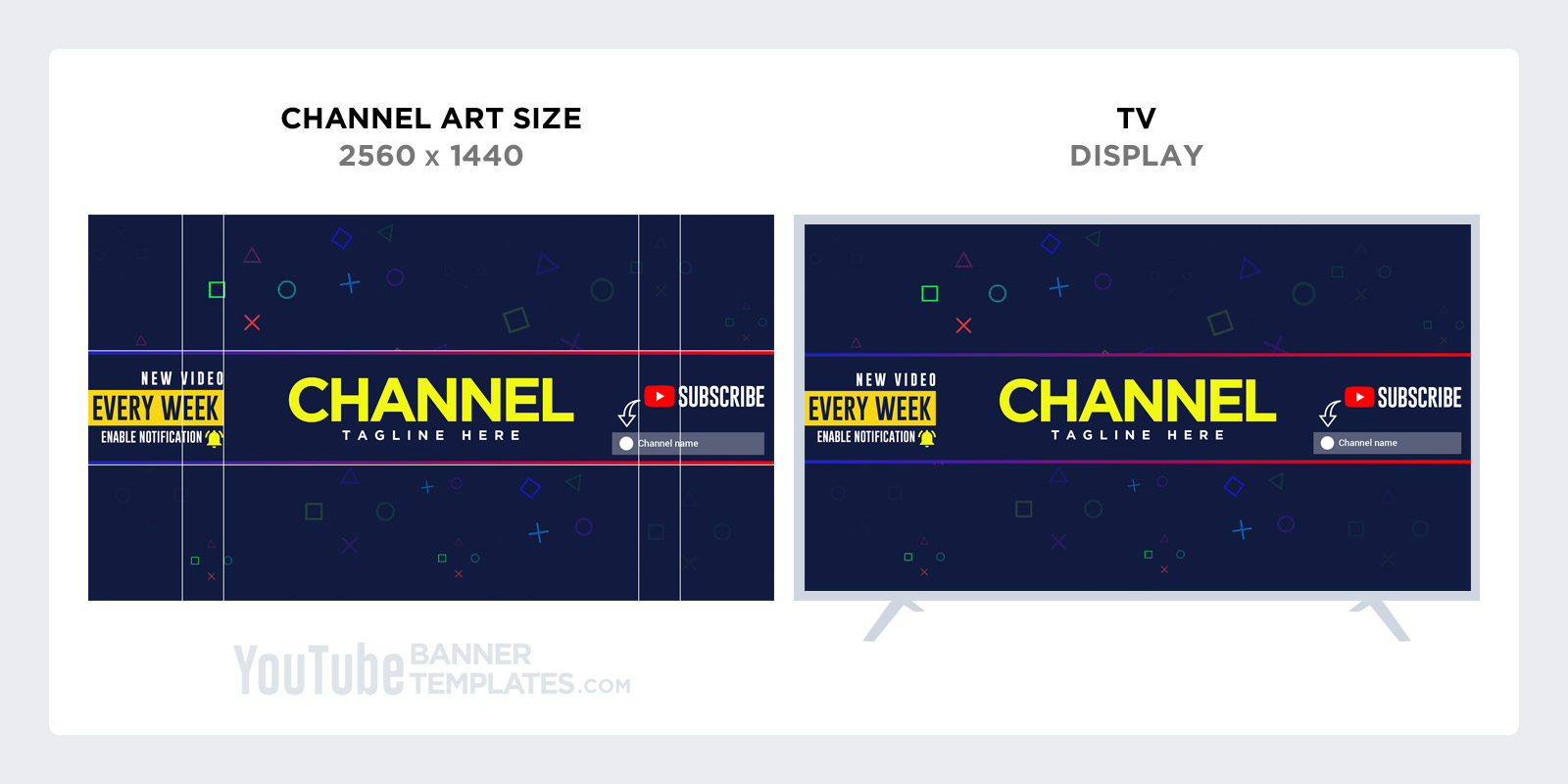 On TVs, the whole image will be visible in the background and the aspect ratio is 16:9 (i.e. 2560 x 1440 px).
Desktop Display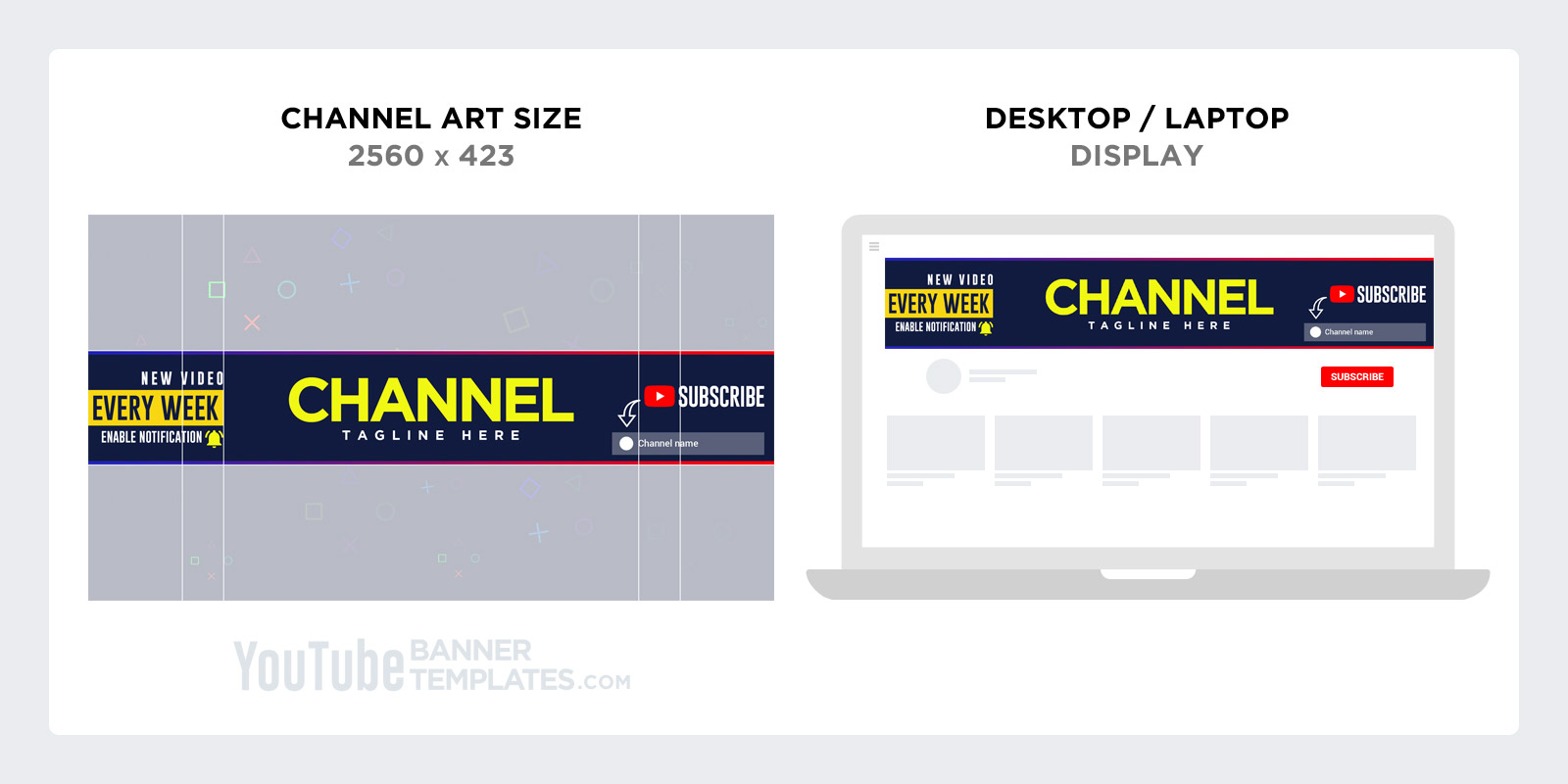 On desktop or laptop, the banner display size is 2560 x 423 px for minimum and maximum width screens.
Mobile Device Display

On mobile display, the banner display size is 1546 x 423 px. The safe area is scaled down to the mobile screen, which varies by device.
Best YouTube Banner Maker (Free + Paid)
If you are searching how to make a YouTube Banner for free? Then you need to know, there are 17+ YouTube banner makers available on the web, but which one is right? All are good because all have different beautiful design assets, graphics, fonts, and dozens of free resources to make a YouTube banner. Here are a few of our favorites:
Make a YouTube Banner with Online Tools
Placeit

Placeit YouTube banner maker is our first favorite tool to create a perfect channel art. They have 470+ YouTube banner creators to get started. You can customize each element of channel banner with super easy to use options.
Price: Placeit provides you two options to download your design.
$2.95 (Single design purchase) – You can download the image that you created with high-resolution PNG (2560 x 1440 px) without watermark and commercial usage, OK.
$14.95/month (Get the unlimited subscription) – You will have unlimited access to download Instant YouTube templates, video intros, thumbnails, end cards, channel banner, logos and much more.
Canva
Canva is a free graphic design tool kit and YouTube channel art maker online free to create a stunning banner in minutes. Canva provides hundreds of designer-made YouTube banner templates, access to colors, fonts, high-quality images, illustrations, and design assets. Try it, we assure you, you don't need to search how to make a YouTube banner on Canva.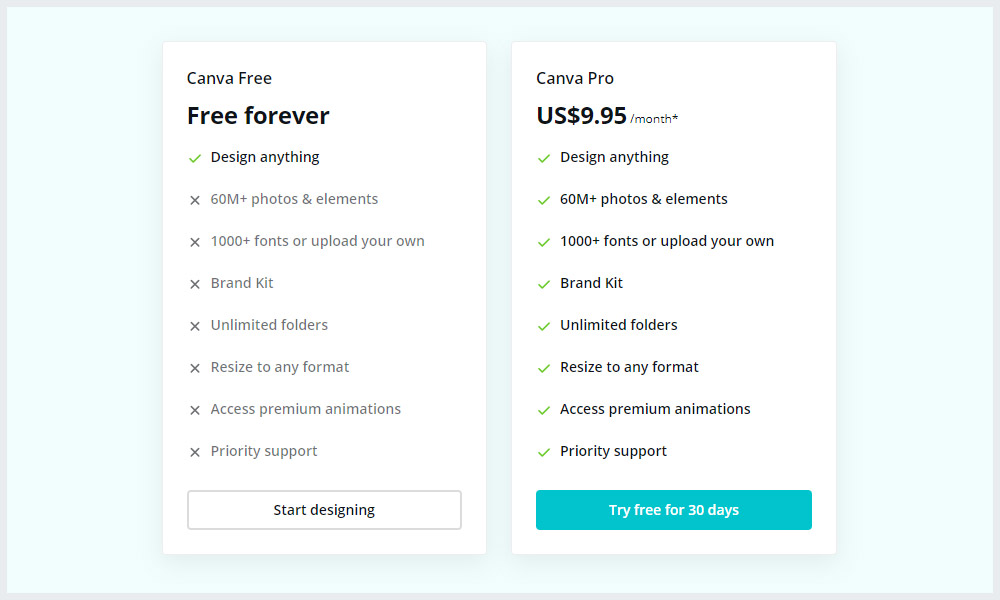 Price:
Canva Free – You need to sign up and start designing your banner, but you have limited access to this tool.
Canva Pro ($9.95/month) – Design anything, 60M+ photos & elements, 1000+ fonts or upload your own, Brand Kit, Unlimited folders, Resize to any format, Access premium animations, Priority support. You can try Canva Pro for free for 30 days if you are a first time user.
Canva Pro – Try free for 30 days
Snappa
Snappa is another straightforward design tool to create graphics. There are many easily customizable templates, high-resolution photos, background, graphics, shapes to make a YouTube banner. You can download in JPG, high-res PNG, Retina JPG, or Retina PNG.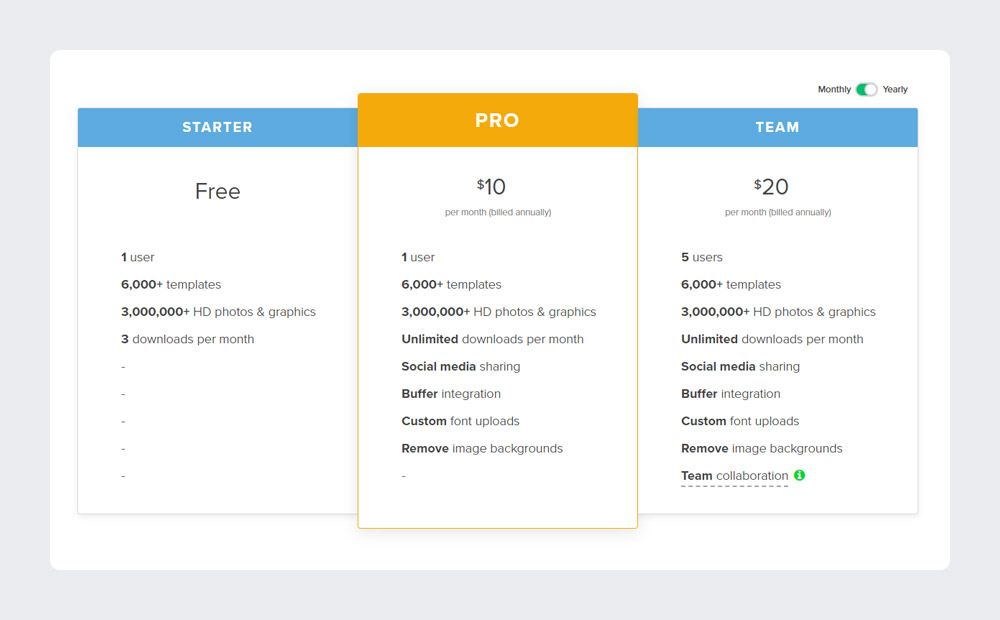 Price:
Free (3 Downloads per month) – You can use 6000+ templates, 3,000,000 HD photos.
$10/month (Unlimited Downloads) – 6,000+ templates, 3,000,000+ HD photos & graphics, Social media sharing, Buffer integration, Custom font uploads, and remove image backgrounds.
How to Make a YouTube Banner on iPhone/iPad
There are some graphic design apps available for iPhone/iPad users to create a custom YouTube banner design.
Thumbnail & Banner Maker

Thumbnail maker is the most accessible app to create thumbnails for your Youtube Channel. If you are looking a good app to create your youtube channel art, then this app has all the features required to create banners.
How to Create a YouTube Banner on Android Phone
Ultimate Banner Maker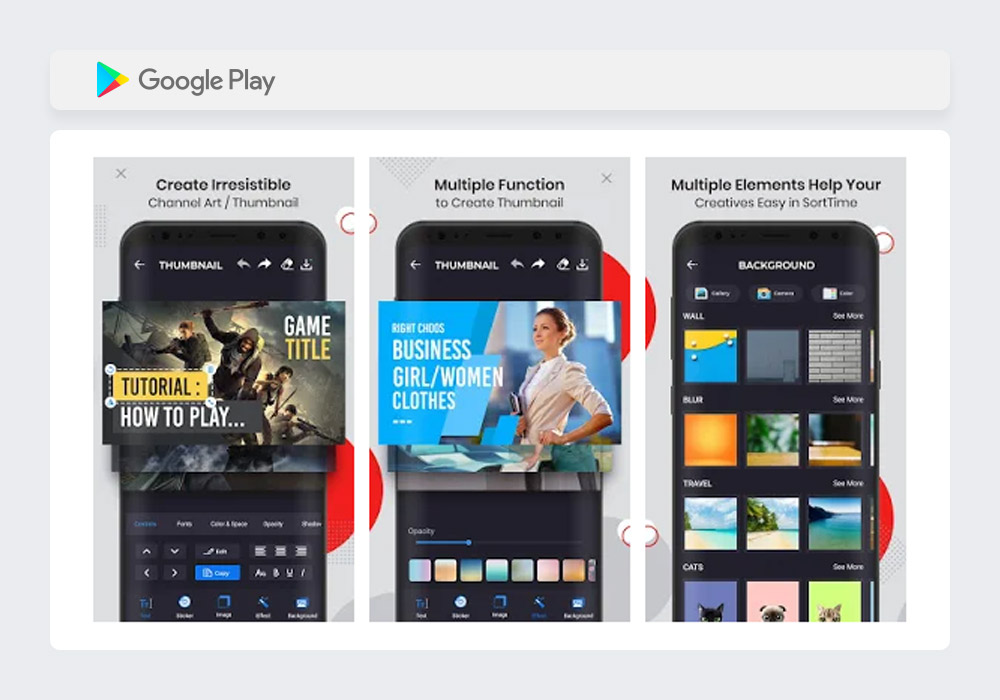 You can make a YouTube banner design easily with the ultimate banner maker. This app has everything you need to get started. It only takes a few minutes to create your images in a couple of easy steps and within a few minutes.
Download Free YouTube Banner Template PSD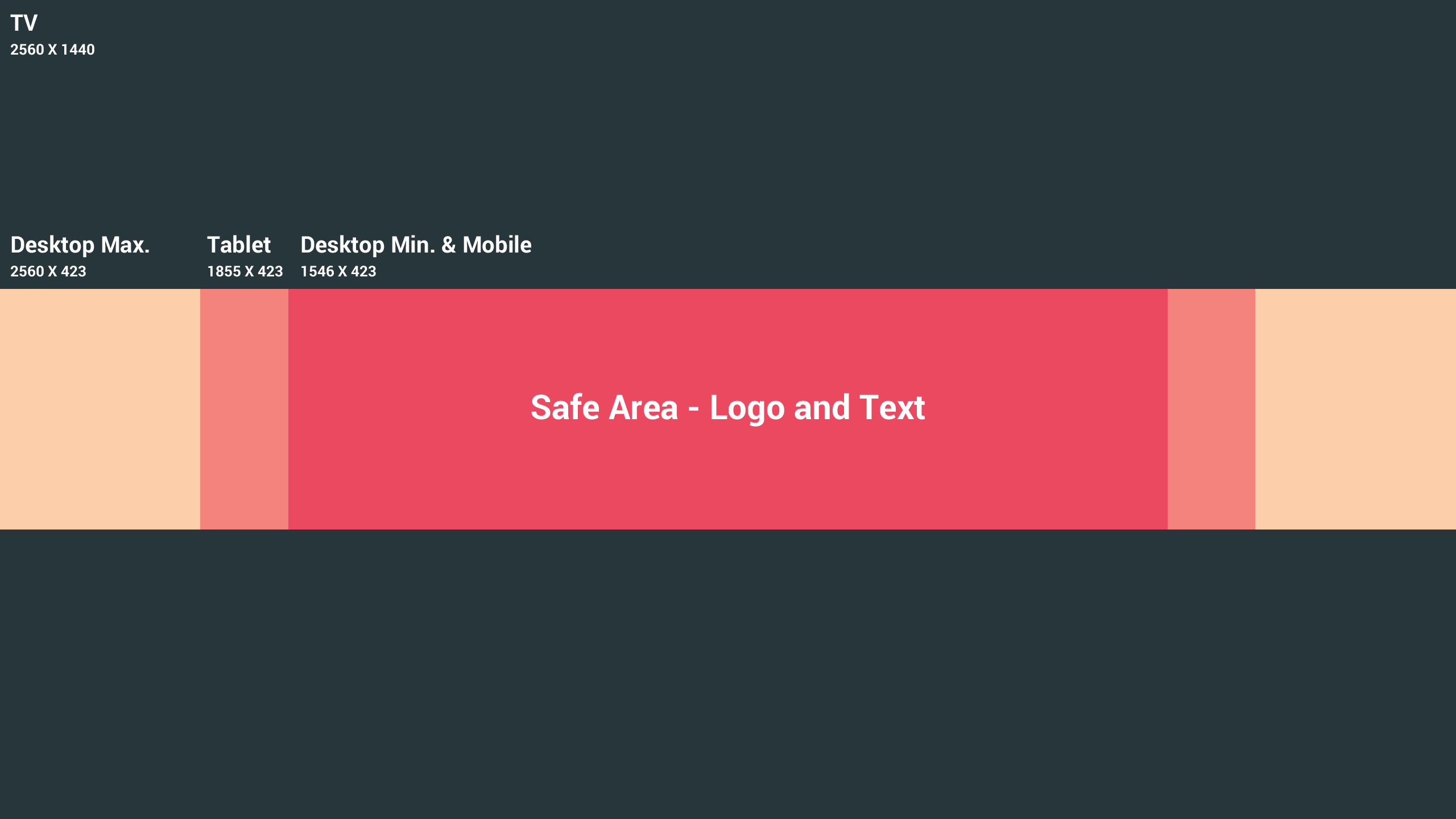 If you are going to make a YouTube banner, you need this to understand about banner guidelines, safe area for logo & channel name and how your channel art looks on different devices.
Download YouTube Banner Template
Conclusion
Designing a perfect banner art for your YouTube channel helps you to grow more subscribers fast. So use your graphic design skills to make a YouTube banner with the help of online banner makers or apps.