In this blog, we will be talking about the best free YouTube keyword research tools and how to find the best keyword for YouTube videos to rank higher on search results.
Targeting the right keywords in your videos increase video views over Time. Below is the screenshot, you can see the video got 403,127 views in 222 days and the video still ranking on the top position in YouTube search results.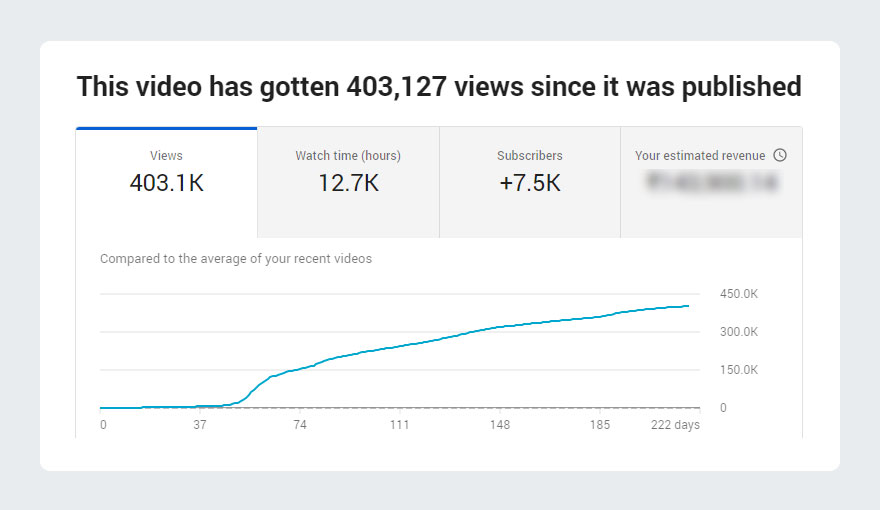 More than 20% of traffic comes from YouTube search only.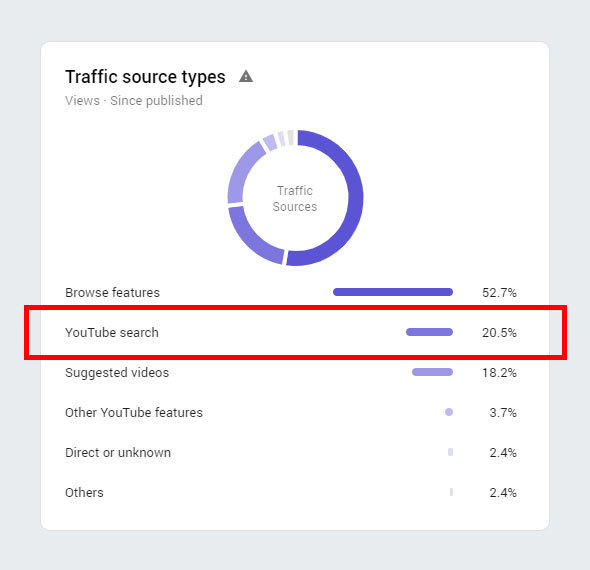 Impressive?
So now, you know why keywords research is important. Moreover, keyword research tools help you find the most popular content ideas for the topics that you are creating videos.
What are YouTube keywords?
YouTube keywords used to optimize your video content. It tells YouTube about your video you produce and who your target audience is. Keywords help to increase your channel visibility on YouTube.
What are the best keyword research tools for YouTube
Let's explore the list of free and paid keyword research tools for YouTube. If you're serious about ranking your YouTube videos, I recommend using all keyword research tools.
1. YouTube AutoComplete
Free
No Subscription
$0.00
YouTube autocomplete is free and very simple to get started. If you are going to start a new channel, YouTube autocomplete helps you find the most popular topic in your niche.
Go to YouTube.com and type "how to" into the search bar and look at the different suggestions.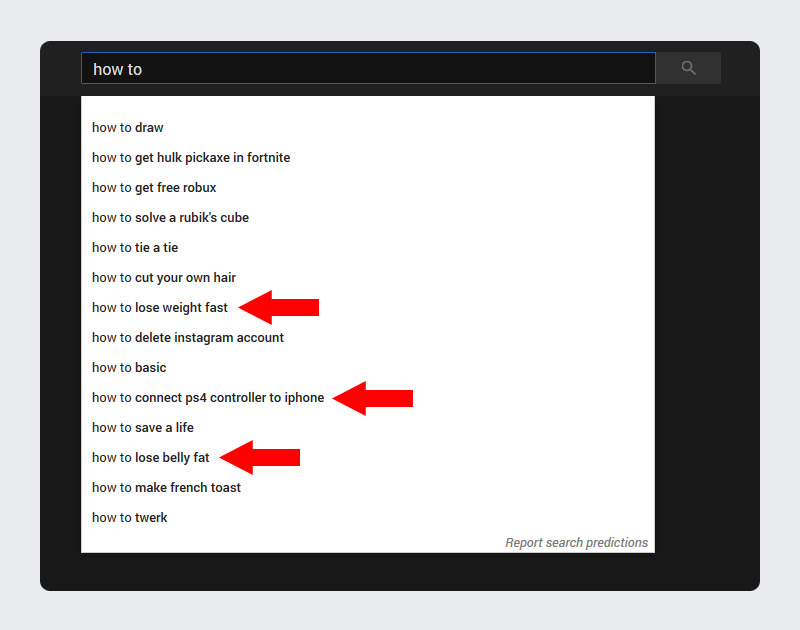 You can find popular keyword suggestions by typing your niche "best camera".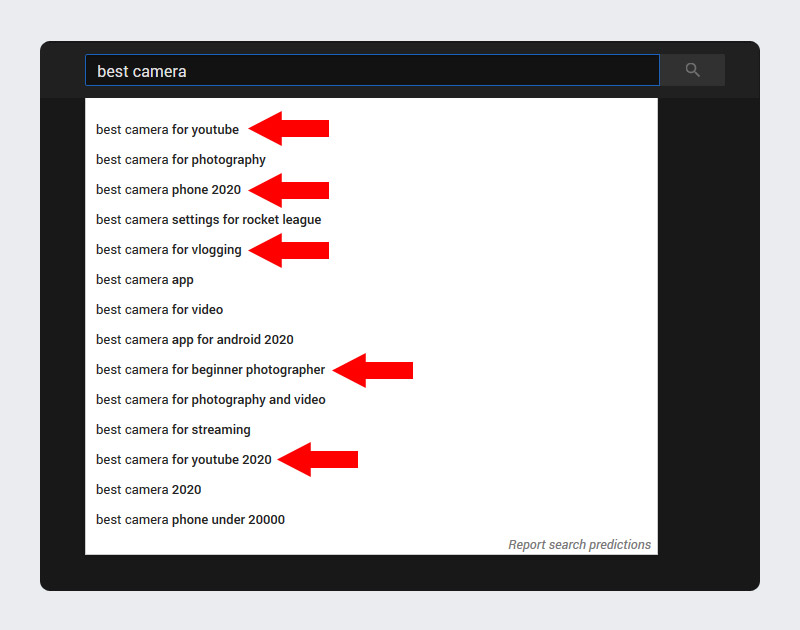 To rank fast in YouTube search results, try to find long-tail keywords. Long-tail keywords are always easy to rank and have decent traffic volume.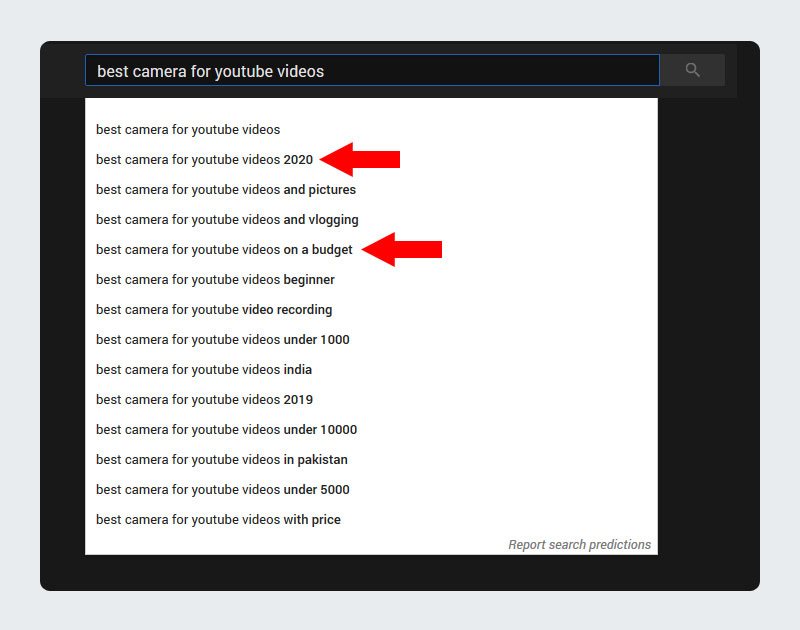 There is a hack that you can use to explore more content ideas for your YouTube video. Add " _ " underscore at the beginning of the niche keyword. You can see the different suggested topics between normal and underscore YouTube AutoComplete.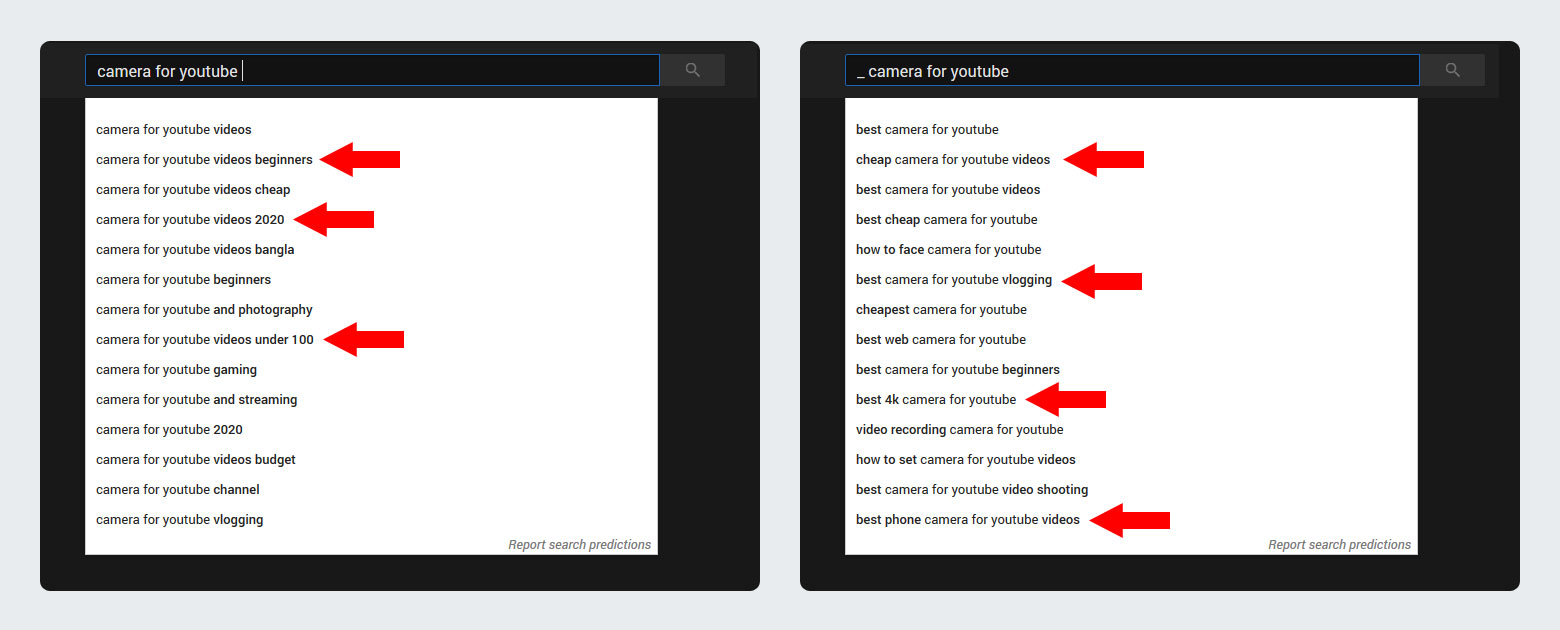 Free + Paid
Monthly Subscription
$12/mo – $40/mo (30-Day Money-back Guarantee)
Ubersuggest is a free YouTube keyword tool Chrome extension that shows you the most actionable keyword suggestions directly in YouTube search results.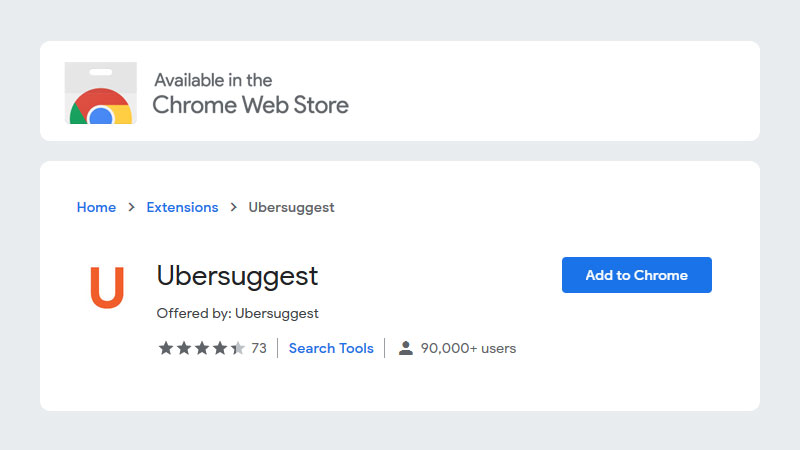 Using this tool, you will get the top result's competitive insight and a list of related keyword suggestions based on your seed keyword.
The process is the same as above, type your main keyword into the YouTube search bar and click on the "View All" link after the search button. You will get the detailed metrics for monthly search volume, search based on mobile & desktop, SEO difficulty, and age searches.
You'll also get the best YouTube keyword list with traffic volume and SEO difficulty in the video results right side.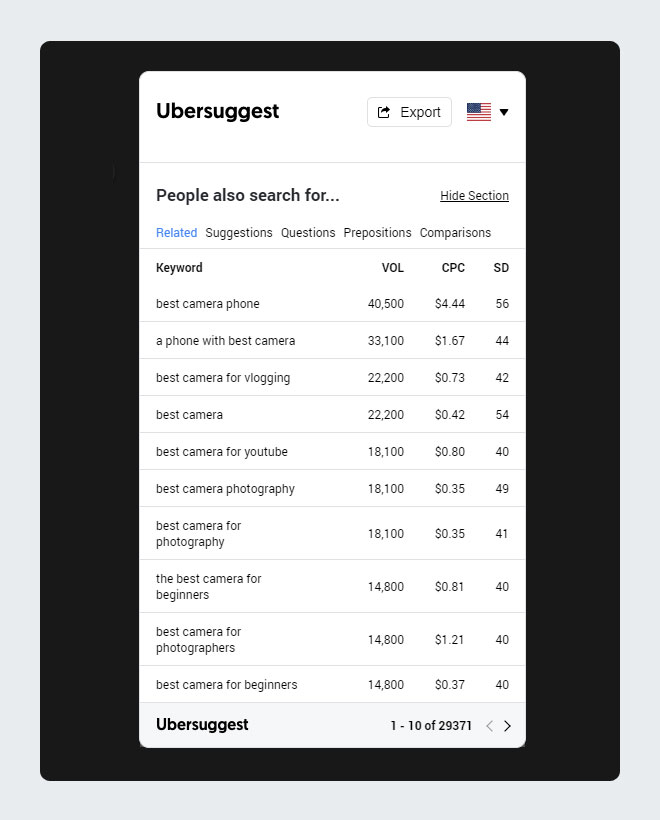 Try browser extension for free.
Free
No Subscription
$0.00
The goal of keyword research or finding video content ideas is to gain the visibility of videos by ranking higher in the search results to generate maximum views.
SEOReviewTools is the best tool and completely free right now. You can find a ton of ideas just using this free YouTube keyword tool.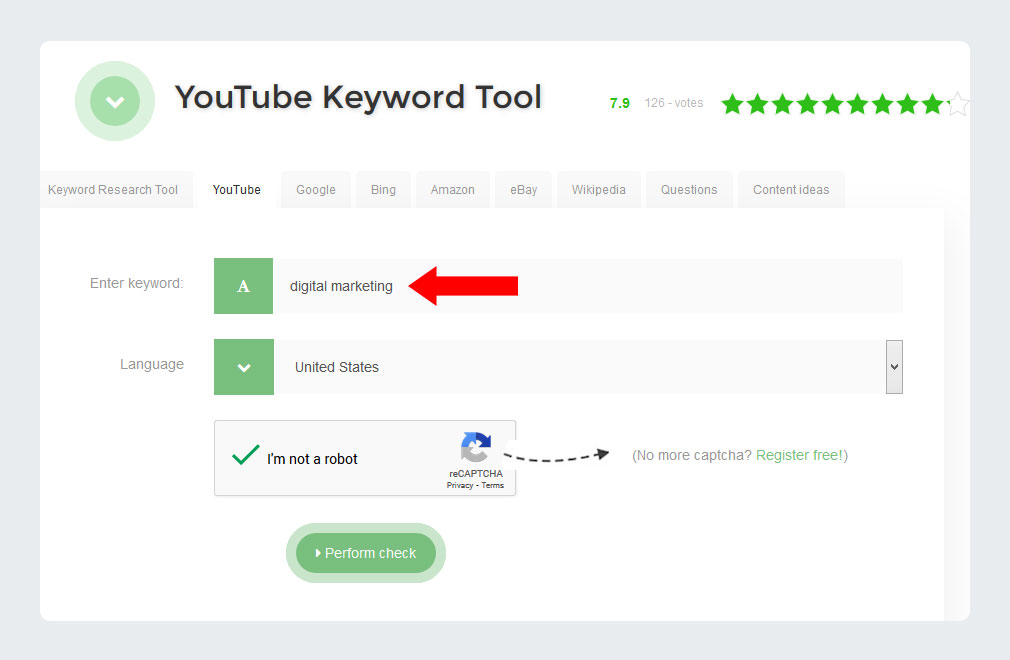 I found 156 keyword suggestions based on the main topic, "digital marketing."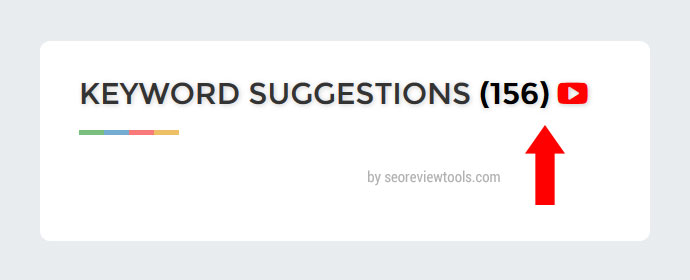 You will get many different short-tail and long-tail keyword ideas based on "Primary" and "Secondary" keywords.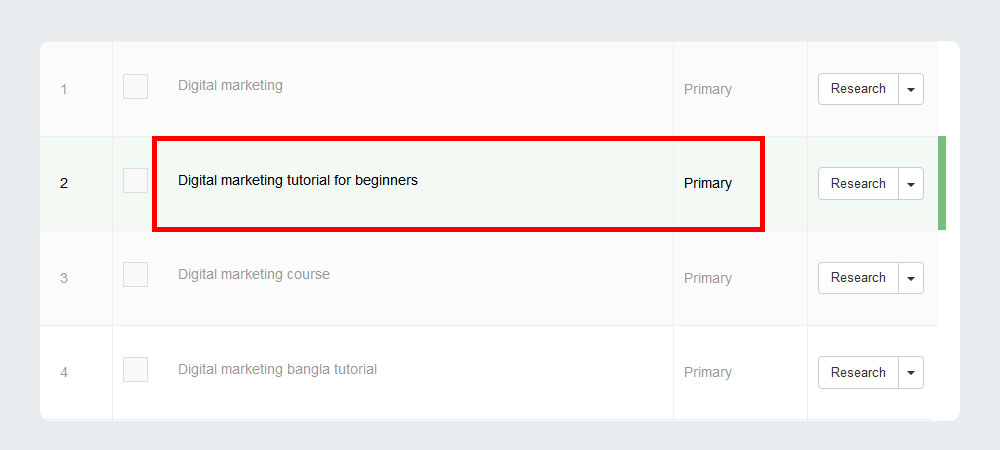 Try it for free.
4. KeywordTool.io – YouTube Keyword Tool Free
Free/Paid
Monthly/Yearly Billing
Pro Basic – $89/month
The keyword tool can help you pull popular searches and create hundreds of YouTube keywords fast and easy. You can create YouTube videos targeting these keywords and start getting more video views and subscribers.
Keyword Tool for YouTube will help you to find the most popular and unique keyword suggestions with Search Volume, YouTube Trends, and Competition that you can use to create new content for free.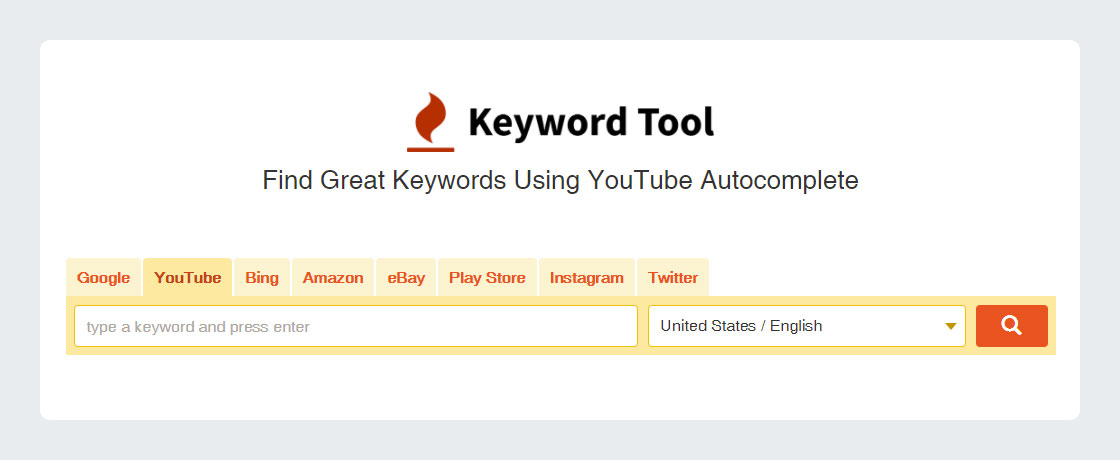 From the list, you can see some high-volume keywords with their competition that you can use to create a base and future YouTube videos. Add high-volume keywords to the YouTube video title, description, tags for YouTube, and hashtags.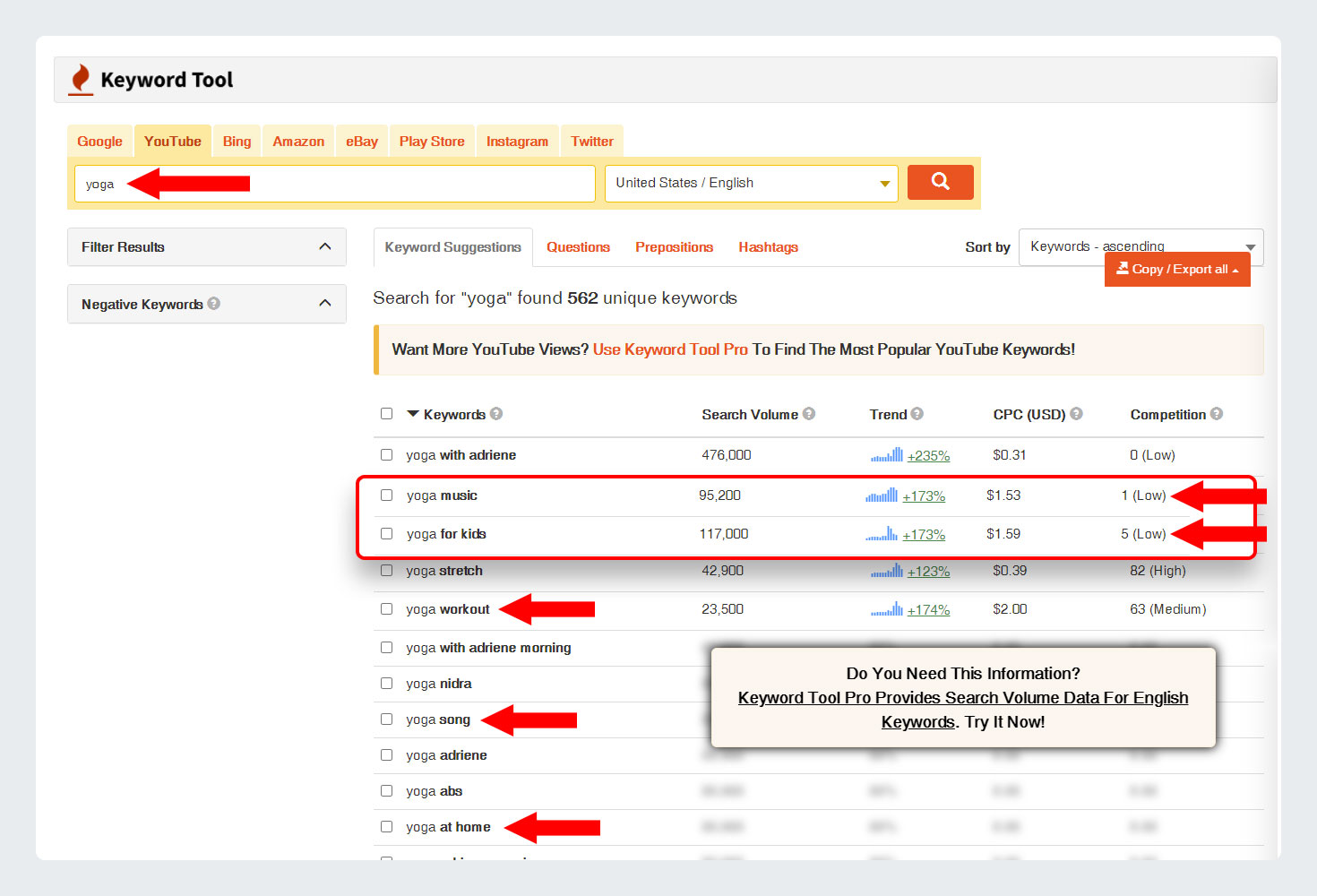 So you can find a lot of different ideas here and try to find the keywords that are going to be most relevant for people looking for information.
Try the keyword tool today for free!
5. Kparser – Keyword Suggestion Tool
Free/Paid
Pro Monthly Plan
$69 / Month (10 Days Money Back Guarantee)
Kparser does the same thing as KeywordTool. Just enter your seed keyword, select YouTube, language, and hit the start button.

You will get a ton of different keywords and the same type of popular keywords at the top with Kparser rank, which means these keywords have more volume overall. If you are working in a single niche, this tool helps you find lots of video content ideas.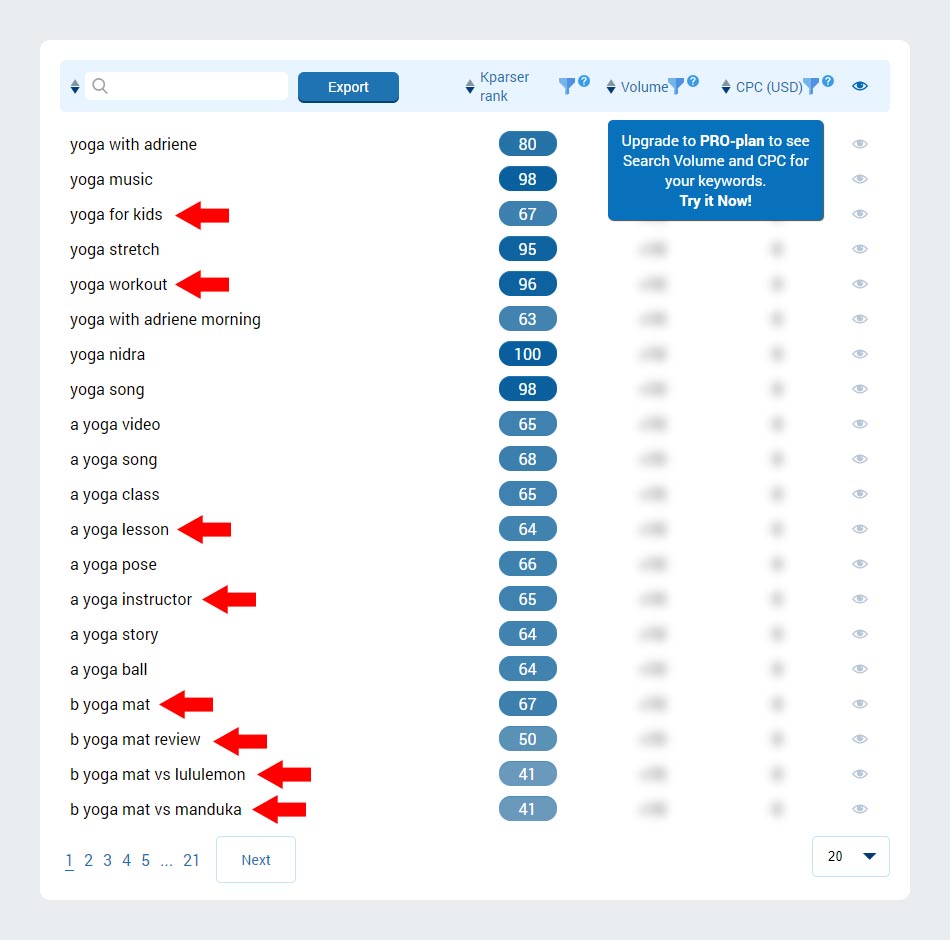 You can easily get 100-200 different video content ideas with these free tools. The tool is completely free for one-time use. If you purchase the pro monthly plan and realize that it is not for you, you can email them within ten days to get a full refund.
Freemium
1 Credit = 1 Keyword
$10 / 100,000 Keywords
KeywordEverywhere is a Chrome and Firefox browser extension that you can use for free. This extension is the best alternative of Google keyword planner.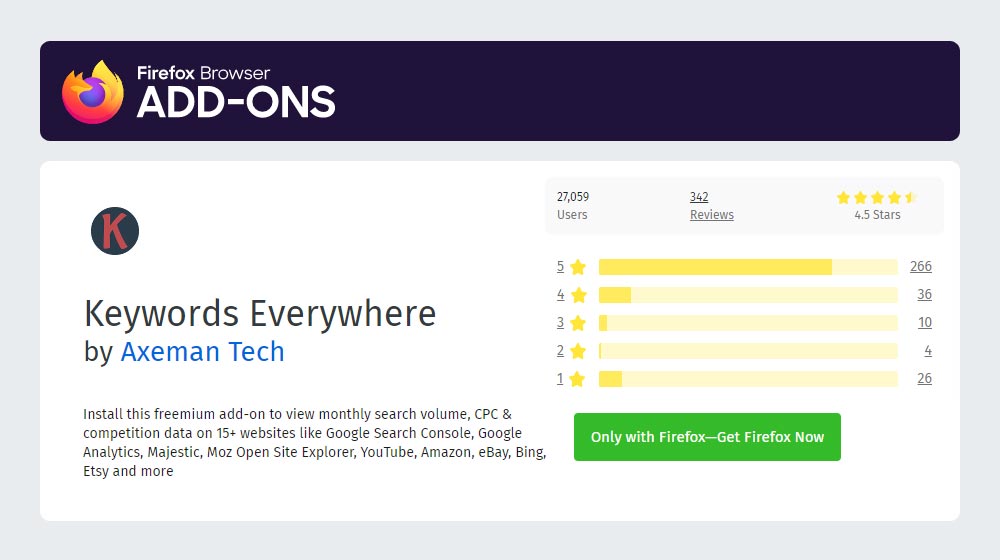 Free users can see related keywords, and people also search for keywords, YouTube search insight widget, and YouTube tags widget.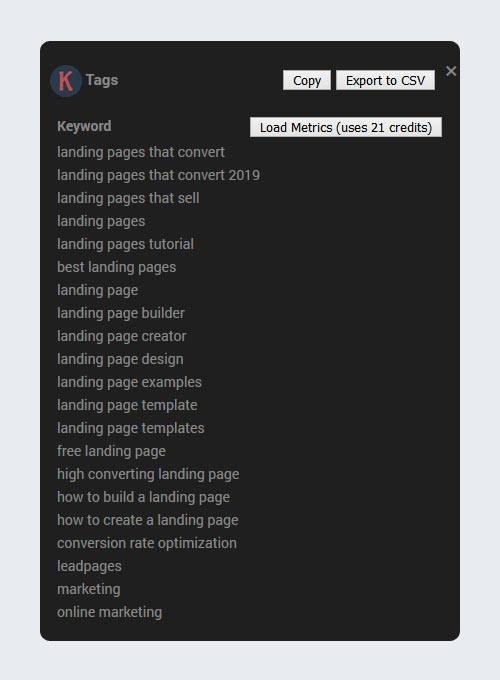 You can also check the last five years of the YouTube trend data report.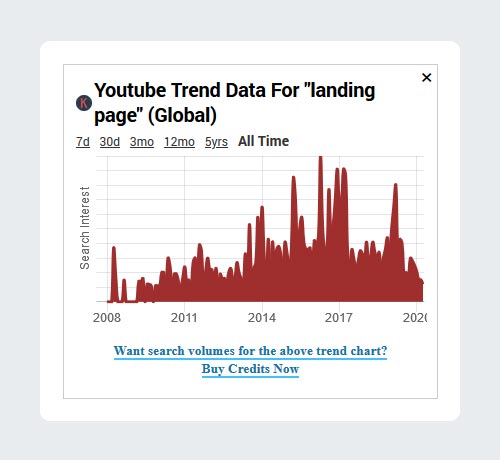 And relevant keywords to your YouTube video tags.
7. VidIQ – #1 YouTube Keyword Tools
Limited Free
Monthly Subscription
$7.50/mo. – $415/mo.
VidIQ is YouTube certified and best tool if you want to take your channel to the next level in terms of YouTube SEO. These YouTube keyword tools help you to understand what people are searching for so you can create content that people want to watch.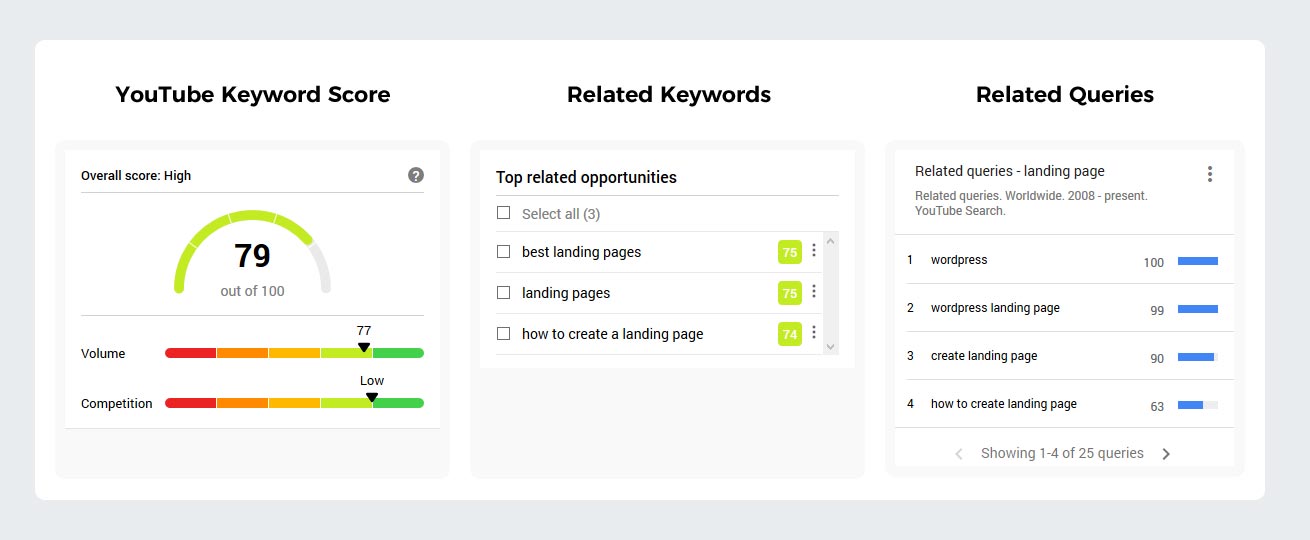 If you want to boost your Keyword research on YouTube, I recommend you to use this tool. Here are the main features that you can take advantage of to analyze keywords.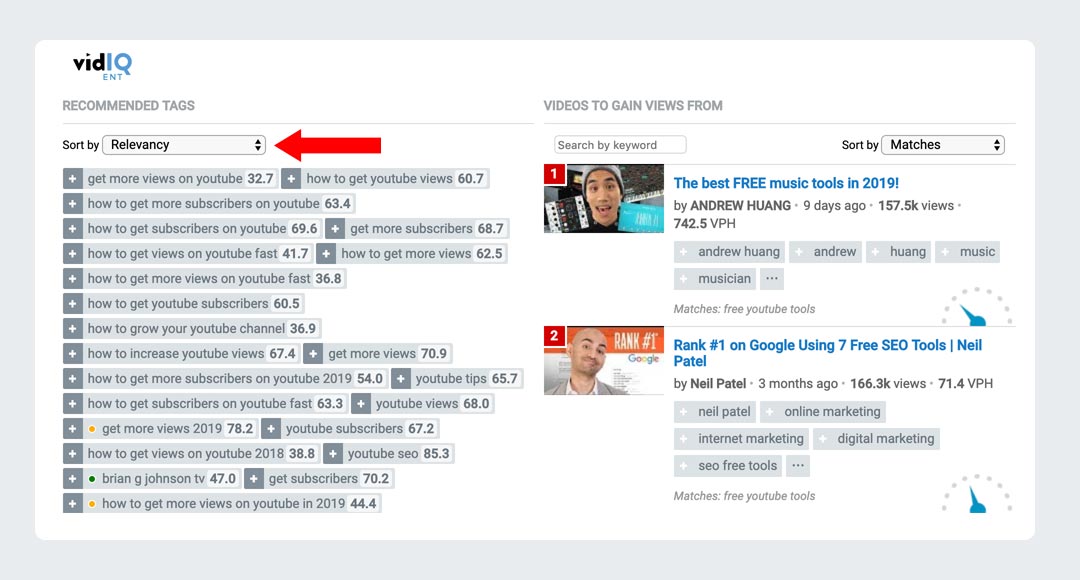 You can quickly check the YouTube SEO score and social shares of top ranking videos.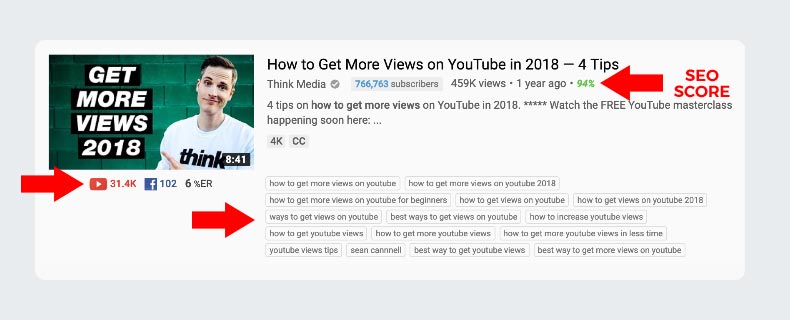 VidIQ interesting features: Video scorecard, Live stats bar, YouTube description campaigns, Keyword Research Tool, Top trending videos, YouTube SEO Title & Description Recommendations, Inline Tag Recommendations, etc.
Try VidIQ for free now.
Free/Paid
Monthly/Yearly Subscription
$9/mo. – $49/mo.
Tubebuddy is a popular tool in our YouTube keyword research tools list. This tool is cool because it lets you type in a specific word or phrase that you're trying to rank your video for, and it lets you know the score or probability of ranking for that based on your channel specifically.
You can use this Tubebuddy browser extension free. When you install the extension, it automatically adds a button to the YouTube homepage. With the help of the Tubebuddy button, you can explore everything.
You can search for keywords in keyword explorer. The main reason using this tool is this will give you the volume of how many people searching for a video on YouTube rather than Google.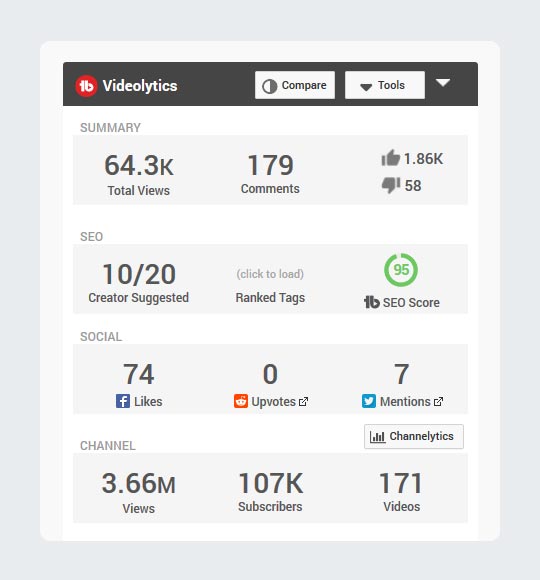 You will see the overall score of any keyword that you put in search explorer. You will find search volume, competition, and monthly searches of the keyword.
You can also get the other related video search terms and common video tag for YouTube.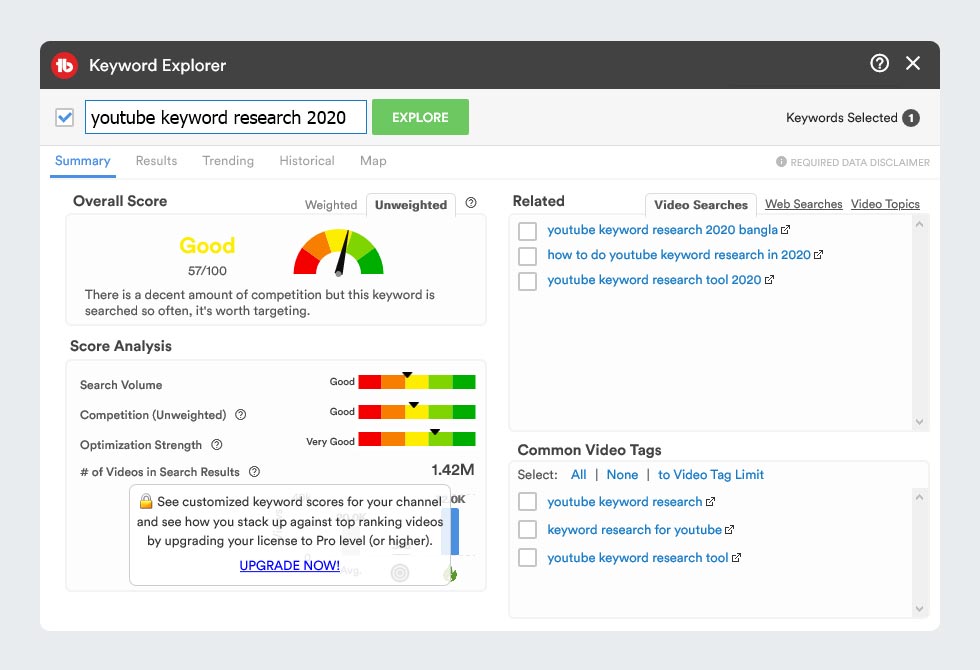 You can use this tool differently by searching a competitor video or videos that are all ranking at the top of the YouTube search. So instead of checking all videos one-by-one, Tubebuddy aggregates all of the tags and shows you what percent of videos are using each tag.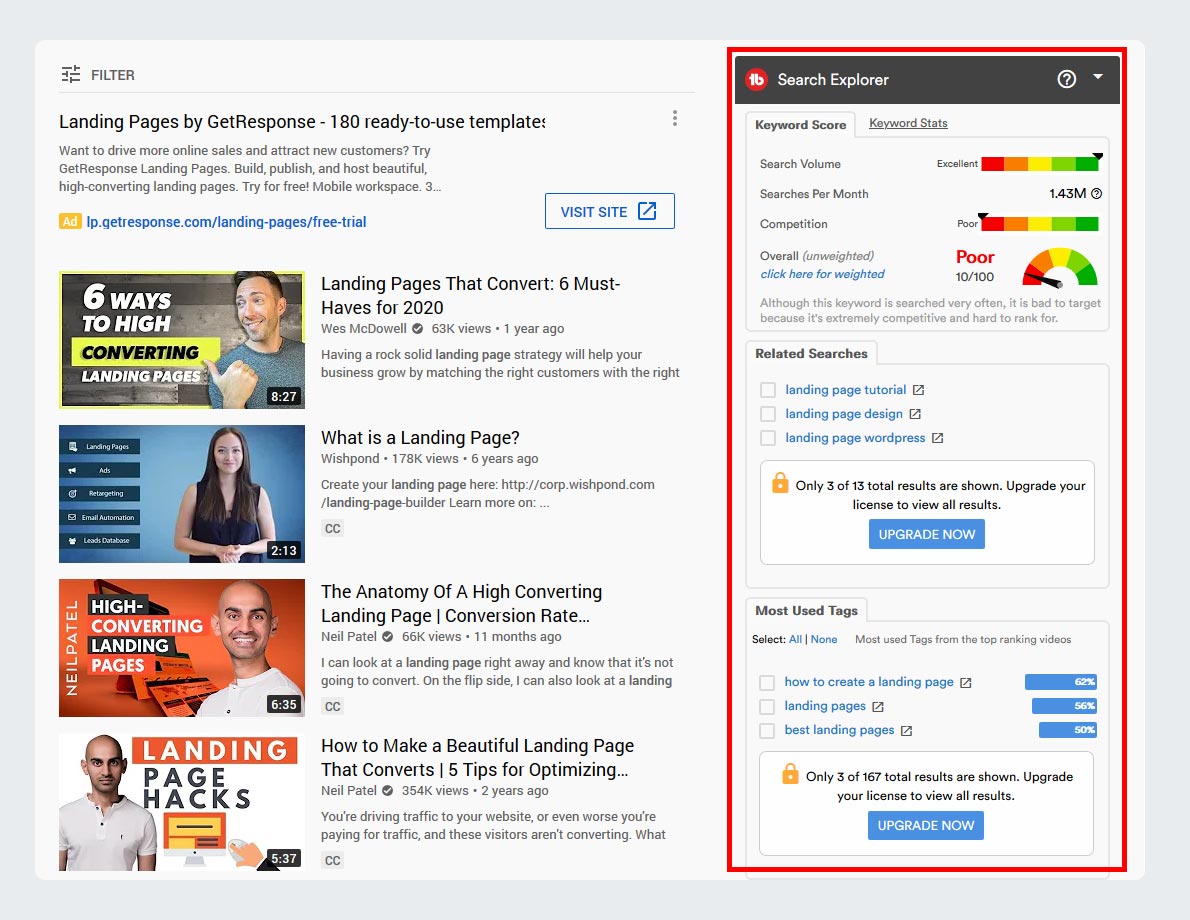 If you want to check what tags are using top ranking videos, you just need to click on the video, and this tool will show you what tags they used. You can copy all the tags in a single click.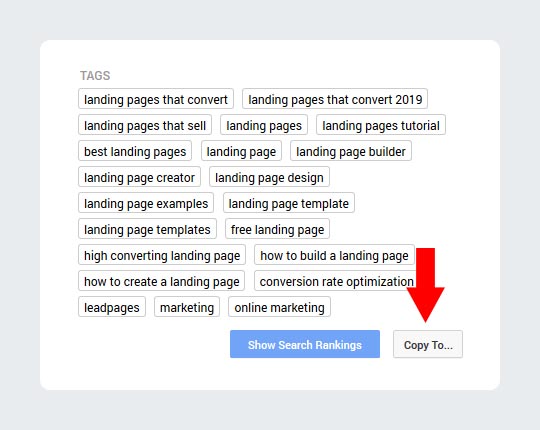 Pro Tips: Don't copy other video's tag exactly.
They have a free version and a paid version. Try for free now.
9. Ahrefs – SEO Tool
Paid (7 Days FREE trial for $7)
Monthly/Yearly Billing
$99/mo – $999/mo
Ahrefs is an all in one SEO best tool for everyone. As per Ahrefs, you don't need to be an SEO expert. With this tool's help, you can get thousands of relevant keyword ideas with accurate search volume, keyword difficulty, and advanced metrics like clicks, Return rate, and Parent topic.
You can do keyword research for Google, YouTube, Amazon, Bing, Yahoo, etc. They have a huge database of search queries for different search engines.
You can explore the database of more than 840 Million YouTube keywords.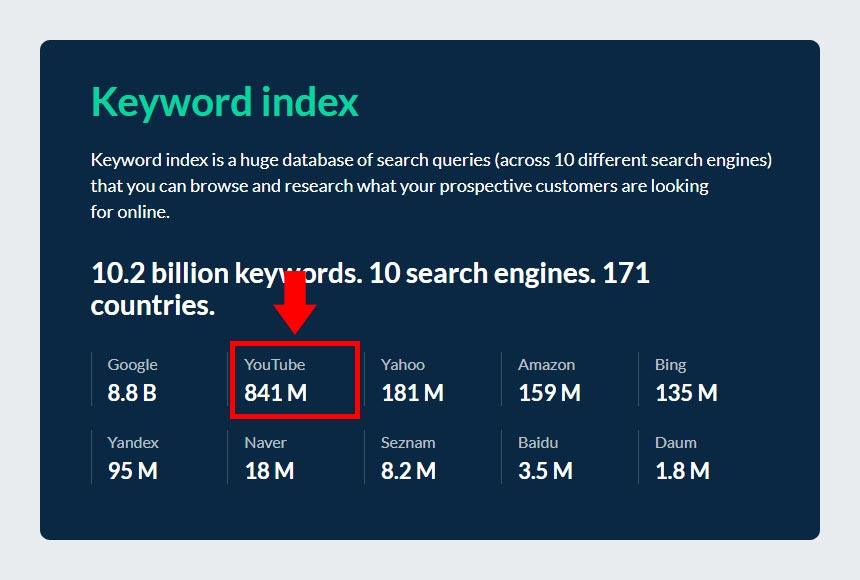 Let's take a look at Ahrefs YouTube keyword research tool.

You can search for any keyword and see the metrics like country-specific and global search volume.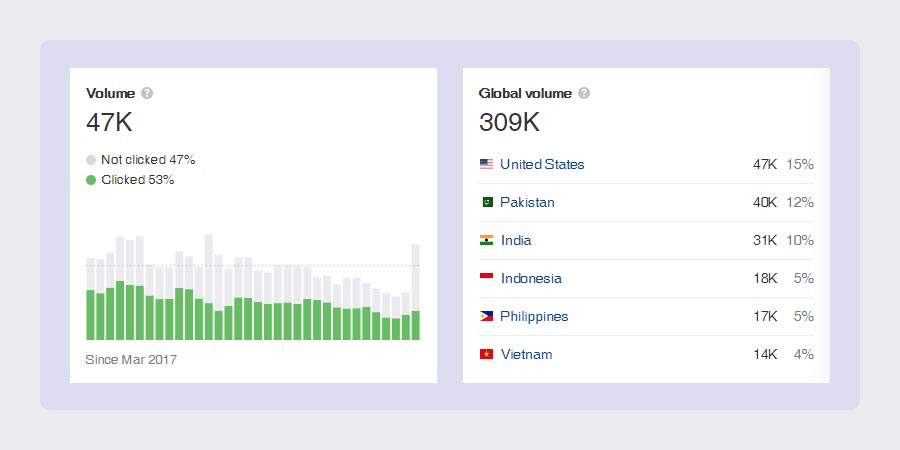 Also, you will get tons of keyword ideas to create YouTube videos.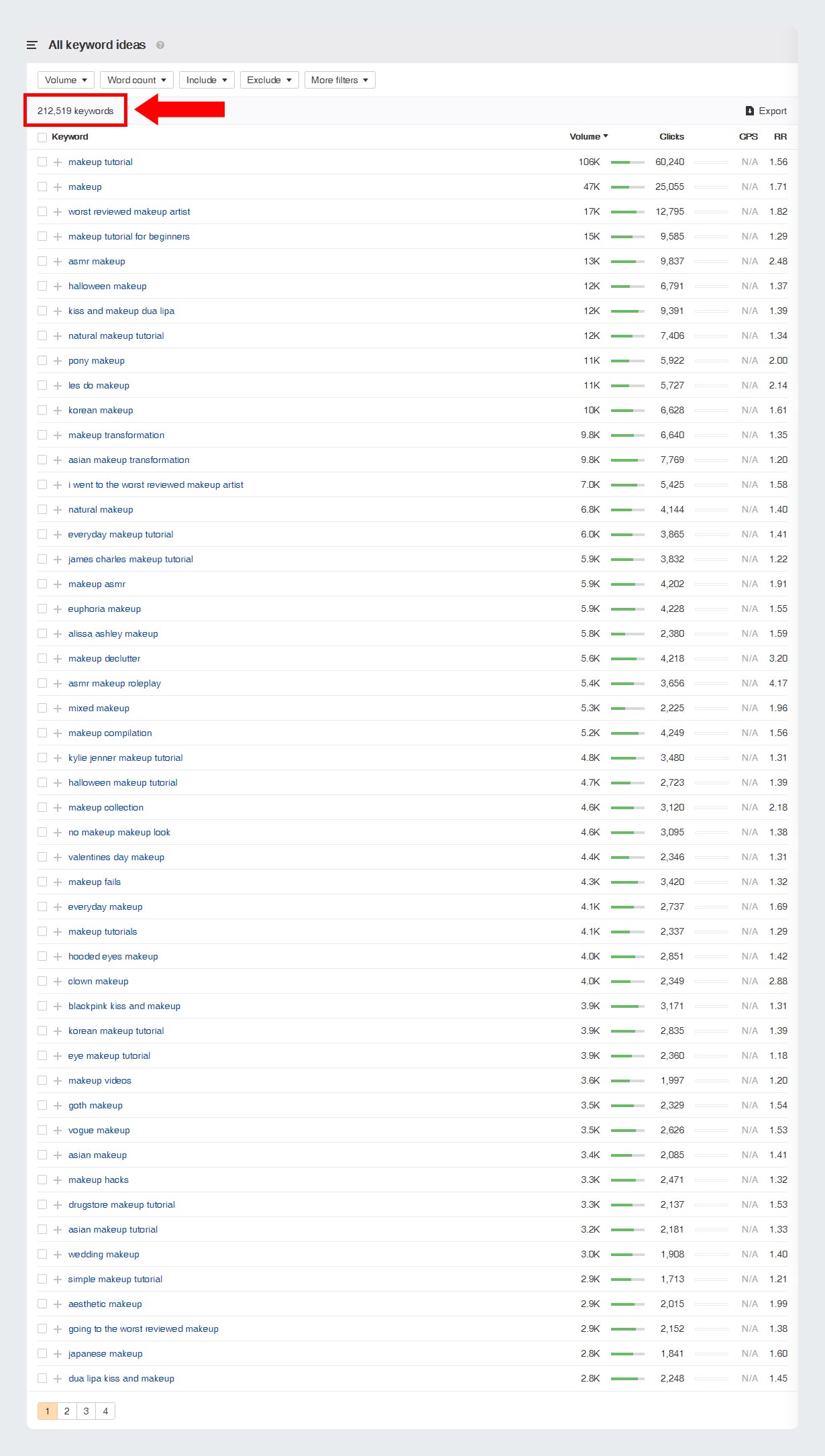 You can also explore the content ideas using content explorer and check the over-all topic trends worldwide.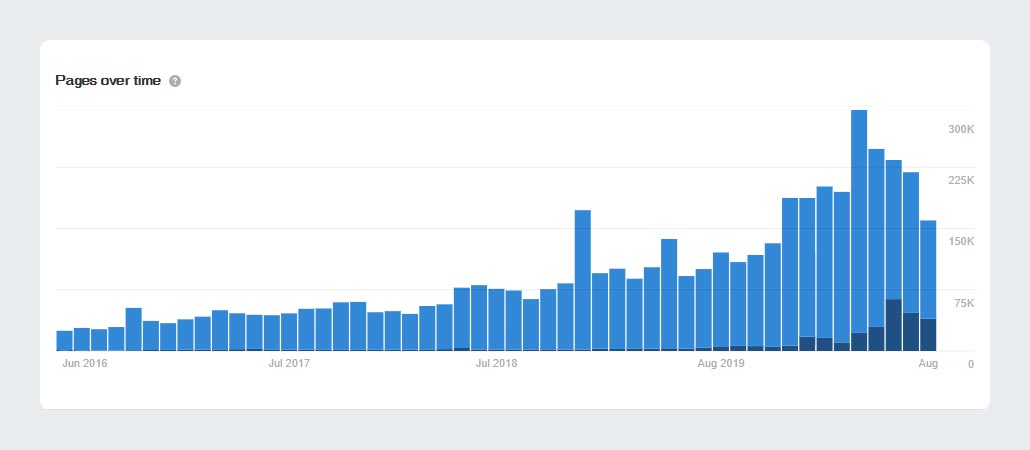 Content explorer helps you find the topic to create videos that can rank on YouTube + Google.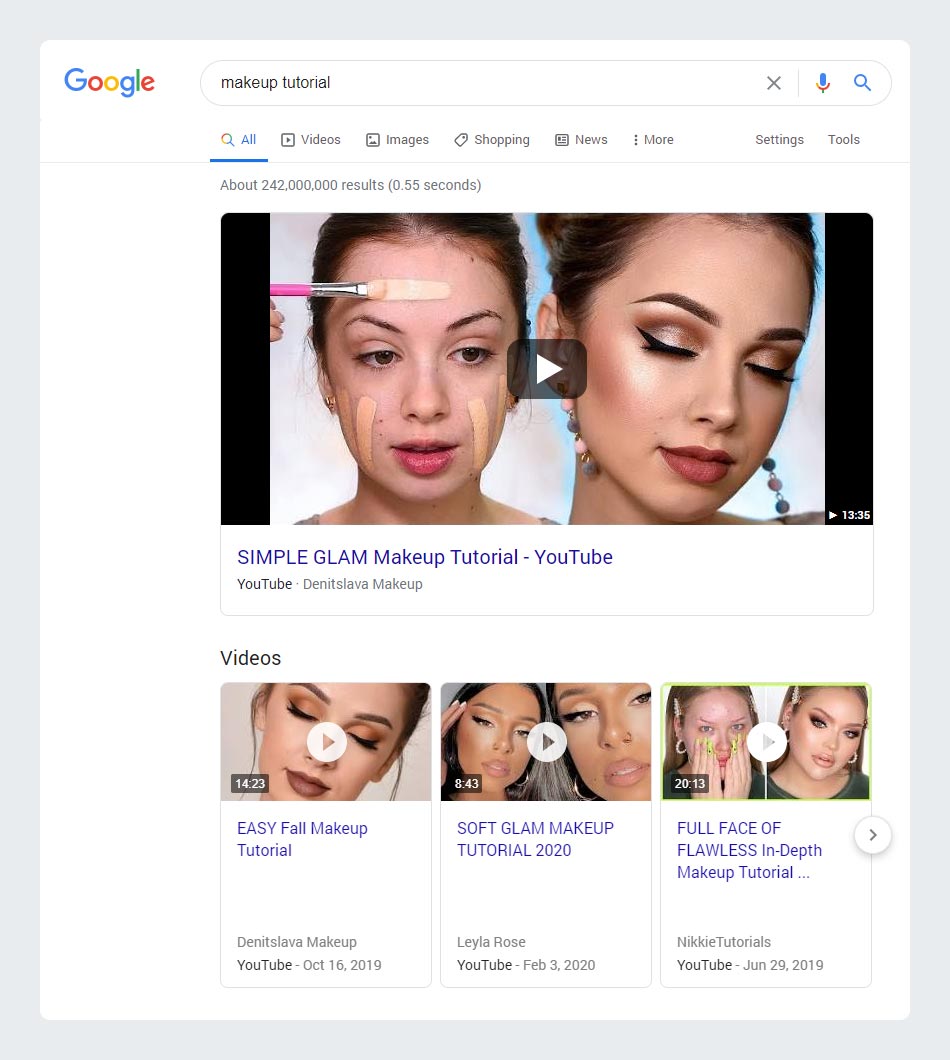 Start your 7 Days FREE trial for $7
Free for Limited Time
Monthly/Yearly Subscription
$4.90/mo. – $12.90/mo.
They have a feature walk you through the process of optimizing your video for YouTube search.

All you have to do put the topic that you want to rank.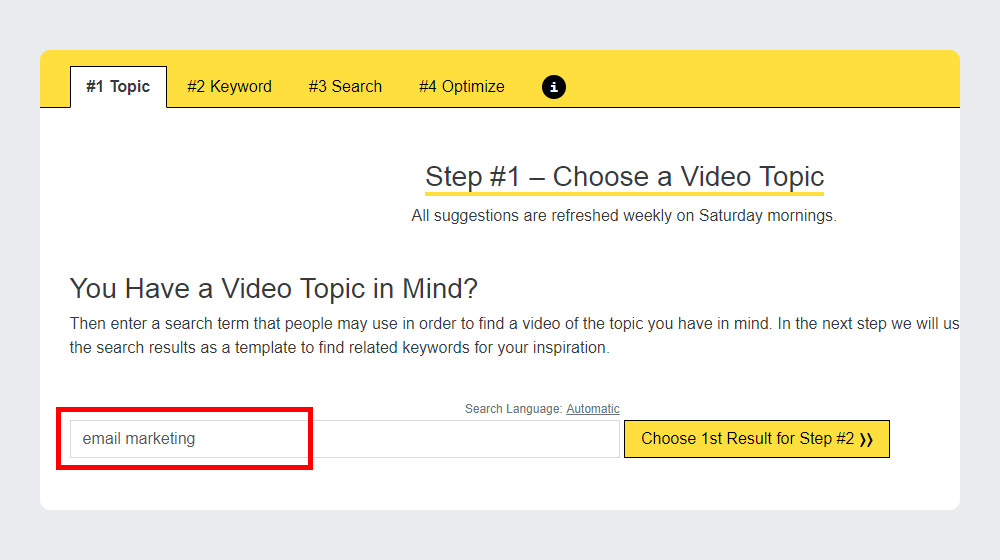 Once you put the topic, it will show you common and uncommon keywords based on said topic. If you have a larger channel, you can choose the common keywords or have a smaller channel than you should go with uncommon keywords.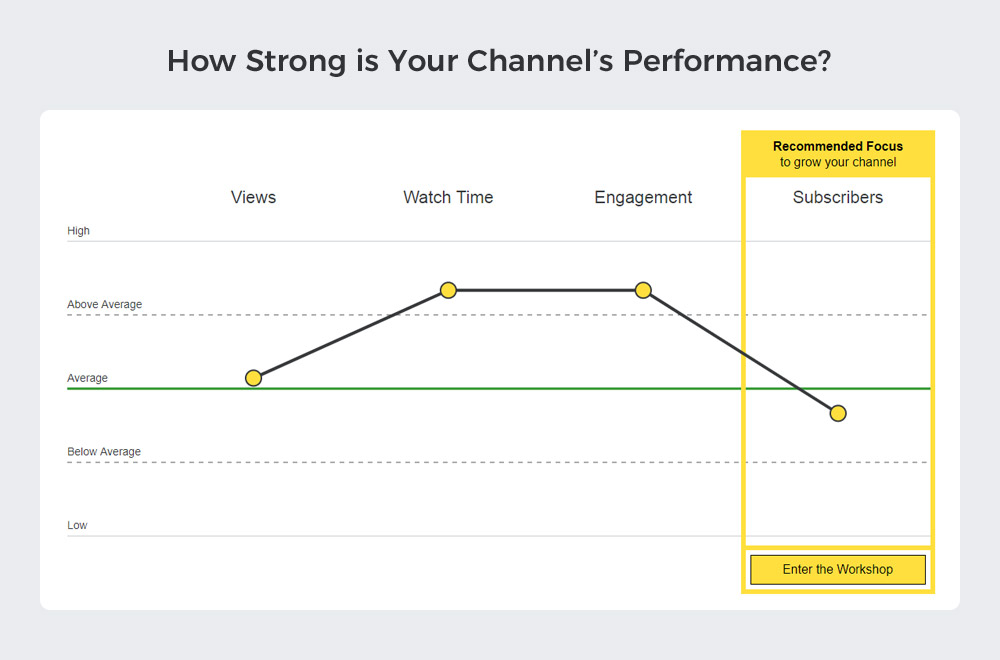 As I said above that keywords just help YouTube to understand your content and target audience. Suppose you are not producing high-quality and informative than keywords never help you grow your channel.
Pro Tips: Choose a specific niche to create videos for your channel to grow faster.
If you are going to sign up for Morningfame, you need a Invite code. But don't worry you can get access through this link – https://morningfa.me/invite/wejc27we
11. KeywordKeg – YouTube Keyword Tool
Paid
Monthly/Yearly Subscription
$38/mo – $762/mo
KeywordKeg is another tool in our best YouTube keyword research tools list 2020. It helps you to generate tags based on your main keyword and boost your video views. The tool is very simple and easy to use.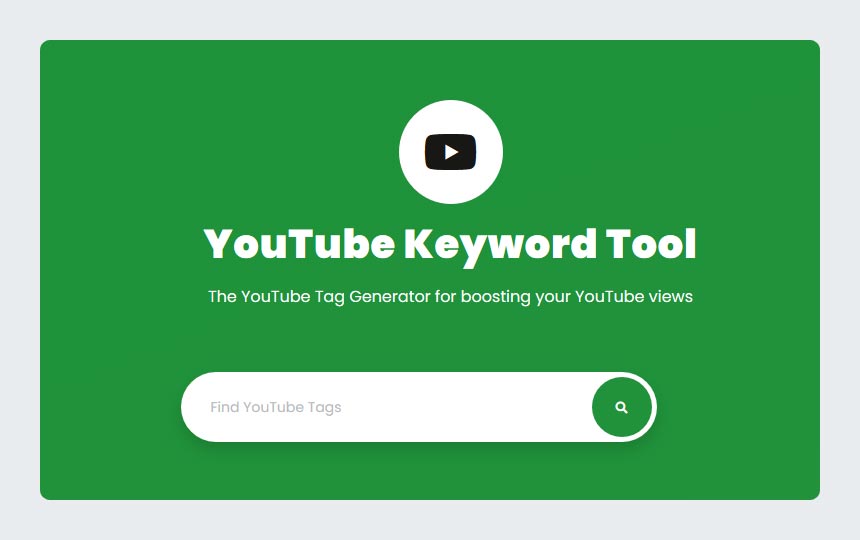 You can find the keywords by adding multiple seed keyword searches. I found 491 unique keywords for the "YouTube views" search.
The keyword result gives you all details that you need to know about the keyword. They do not have a free trial so that you will get only 3 top keywords. You have to buy the subscription to use this YouTube keyword research software.
If you are not 100% satisfied with the tool, you can get a full refund within 48 hours, just sending an email to them.
Pro Tips: Create high-quality and informative content that people love to share to video and subscribe to your channel.
Conclusion
Making creative or informative videos is just not enough. The best and easiest way to get more video views and subscribers do keyword research for YouTube and create videos on the related topics.
Leave us a comment below and let us know which one tool is your favourite for keyword research for YouTube?