Download the HD Thumbnail Image from Video with YouTube Thumbnail Grabber
Now you can download free YouTube video thumbnails in Full HD (1080p), HD, SD, MQ, and small sizes from any YouTube format, whether it is HD, 1080p, or 4K video.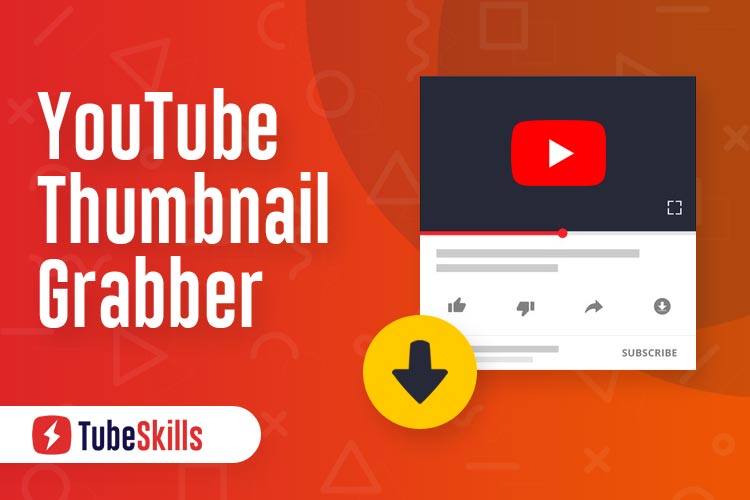 What is YouTube Thumbnail Grabber or Downloader?
Tubeskills's YouTube thumbnail grabber (also known as YouTube Thumbnail Downloader) is an online tool that can help you to download any video thumbnail image in different sizes and resolutions.
You can't get or save the other creator's video thumbnail directly from YouTube. These free online thumbnail downloader tools used by bloggers, graphic designers, and marketers need YouTube video thumbnails to share in their blogs, videos, projects, friends, and other work purposes.
How to Download YouTube Thumbnails?
Downloading the thumbnail image process is easy. Copy the YouTube video URL and paste in the above input box and click on the red "Grab Thumbnails" button to show all available thumbnails in different sizes and resolution.
Once you hit the download button, you'll get all the thumbnail images. As per your choice or requirement, you can save the image in your system or phone.
Right-click on the thumbnail image and choose the "Save image as…" option to save the images.
What is a YouTube Thumbnail?
YouTube thumbnail is a cover or preview image of any video uploaded to YouTube. It grabs the attention of viewers and helps people to understand what the video is about. Thumbnail is one of the most critical elements to raking your content and getting views.
YouTube thumbnails are also an important part of video optimization. Without an attractive thumbnail, you won't grab the attention of your potential viewers.
How to Make Custom a Thumbnail for YouTube Videos?
As you know, custom thumbnails are one of the most important parts of actually getting people to watch your videos and for having success on YouTube. It can be hard to make thumbnails like the pro-creators.
The first thing that you need to know about is thumbnail size. The size recommended by YouTube is 1280 x 720 px (width x height), with a minimum width of 640 pixels. The aspect ratio is 16:9. Make sure the thumbnail file doesn't increase the size of 2MB, and the best file format to upload is .JPEG, .PNG, .BMP or .GIF.
Thumbnail Image, Color, and Fonts
Take separate high-quality photos of your own (selfie) or filming a video with your phone or camera is one the best strategy to get better results. You can also consider taking a screenshot from your video that you can use in your video.
How do I download a YouTube thumbnail?
There are many online tools, software, and app available on the web that can help you download a YouTube thumbnail easily. You just need to copy the YouTube video link and paste it into the input text box to download the thumbnail. Here is my favorite YouTube thumbnail downloader.
How do I get a full-size thumbnail on YouTube?
You can use Tubeskills free YouTube thumbnail grabber online tool to get a full-size thumbnail from YouTube video. It depends on the creator, what size they uploaded. Most of the video's thumbnail size is 1280 x 720 px.
Can I use the other Creator's Video Thumbnails on YouTube?
Just like a video, the creator has their own copyrighted material with thumbnails. So if you want to use a thumbnail of other videos for your content, you should have permission from the video creator.
How do I capture a thumbnail from a video?
You can use the YouTube screenshot tools to capture thumbnail from a video. When you upload a new video, YouTube generates thumbnails from your video and gives you four options to choose one.
How do I make a free thumbnail?
Canva is a perfect and most recommended online graphic design tool. It has thousands of pre-made thumbnail templates, photos, elements, and fonts. You can get started for free.
How do I get more YouTube views?
Getting more YouTube views depends on your content, strategy, planning, promotion, and most important, video optimization. Here are 25+ YouTube marketing tools that you can use for your YouTube videos.
What do YouTubers use to make thumbnails?
Every YouTuber uses different types of tools according to their needs. Here are some; Adobe Photoshop, Photopea, Online Graphic Editors like Canva, Snappa, Placeit, etc., and Thumbnail blaster.
Is there any Android/iOS app for downloading thumbnail images?
Yes, there are many Android and iOS mobile apps available that you can use according to your need or which you like.