Whether promoting your brand or sharing your expertise, an engaging and informative YouTube description plays a major role in YouTube video marketing and promotion. The YouTube description generator is designed to help you create compelling and concise introductions for your videos. With just a few clicks, you can generate descriptions that will capture your audience's attention and provide them with all the essential information they need.
What is YouTube Description Generator?
An online tool that helps content creators to generate captivating descriptions for their YouTube videos. The tool uses artificial intelligence and natural language processing algorithms to analyze your video's content and come up with relevant keywords and phrases that can be used to describe the YouTube video.
This helps the video to rank higher in YouTube search results and attract more views. The generator can also suggest relevant tags, titles, and other metadata to help optimize the video's performance on the YouTube. Additionally, they provide templates for creators to fill in their details and enhance their video's visibility and reach.
Why Should You Use It?
As a creator on YouTube, you must have an effective YouTube SEO strategy to rank your videos higher in search results and increase your visibility to potential viewers. One of the crucial elements of YouTube SEO is the YouTube video thumbnail, video title and video description. Writing an optimized and compelling video description can help you attract more viewers and increase engagement on your channel. This is where the YouTube description generator comes into play.
It saves you time and effort by creating a comprehensive and SEO-friendly description for your video, including relevant keywords, tags, and links. By using a YouTube video description generator, you can focus on creating high-quality content while still improving your channel's discoverability and audience reach.
Optimize Your Video for YouTube SEO — It helps you optimize your video for YouTube SEO, and also it provides you with an easy-to-use platform where you can create descriptions that include the right keywords, tags, and links to your website or social media pages. This helps to get 1000 Subscribers on YouTube fast.
Drive More Engagement — By creating attractive and informative descriptions that catch the attention of your audience, the YouTube description generator helps you with more engagement. Also, with relevant keywords, links, and a call-to-action, you can encourage viewers to engage with your content so they can leave comments.
Save Your Precious Time — It saves a lot of time by automatically creating a description for your video. You don't have to spend time thinking about what to write or worrying about making mistakes. This tool provides a quick and easy way to generate descriptions that are clear, concise, and optimized for SEO.
How to use YouTube Video Description Generator?
Using the video description generator is very simple and straightforward. A user simply needs to input the necessary information, such as the title, tags, and key phrases related to the video. The generator then generates a generic and effective description that will help attract viewers to the video.
Add Your Video Topic/Title
Initially, to start with, you need a Topic or Title of your YouTube video. You can use YouTube Title Generator for generating a variety of catchy and attention-grabbing titles for your video, whether it's a vlog, tutorial, or product review. Also, you have the option of choosing a description for your video. YouTube description Templates provide you with a pre-written outline or guide to use when creating the description for a YouTube video.
Add Your Target Keywords
The second step is to add keywords to make your video SEO-friendly. To help you out with it, this one can get his hands on the YouTube keywords tools. Some free tools are helps you to discover relevant and popular keywords for your YouTube videos, as well as to see the competition and search volume for each keyword.
Select Your Description Copy
Lastly, once done with the above steps, you can finally choose your description copy. A YouTube description copy is a brief summary of a video's content and includes relevant information about the video's creator, purpose, and audience.
Best YouTube Description Generator Tools
These tools help video creators save time by generating descriptions for their videos automatically. Currently, if we see there are N number of generator tools in the market. Some of the best tools are given below:
Writesonic – AI YouTube Description Generator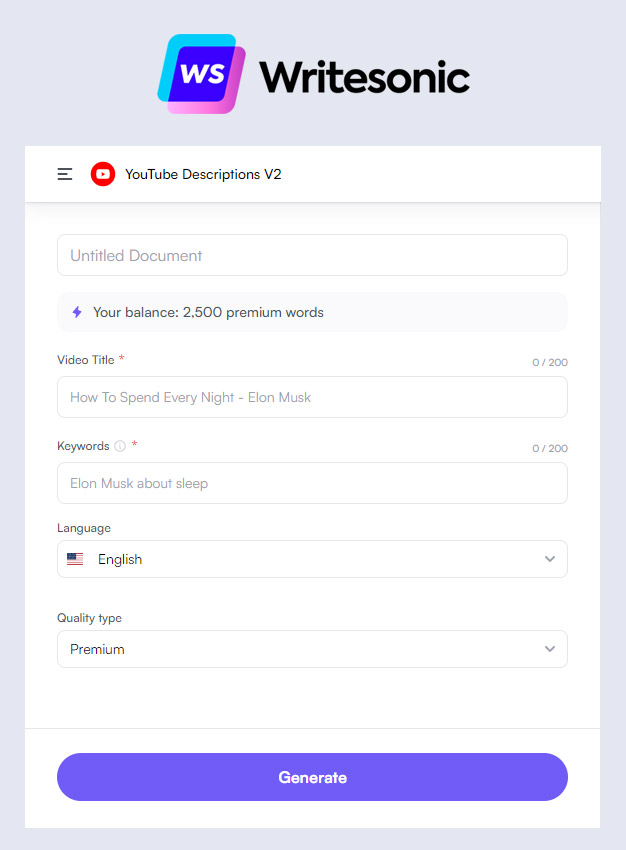 Writesonic is an AI-powered YouTube description generator that allows creators to effortlessly generate compelling and engaging descriptions for their videos. It uses advanced algorithms and natural language processing technology to generate high-quality descriptions that are SEO-friendly and cater to the audience's interests.
With Writesonic, content creators can save time and focus on creating excellent content without worrying about writing descriptions from scratch. It also allows users to customize the tone, style, and length of the descriptions to fit their preferences.
Features:
Write compelling and optimized video descriptions.
Customizable templates to target various niche audiences.
Supports multiple languages, allowing you to create video descriptions in your preferred language.
Pricing: Get 2500 Premium Words for Free. No credit card required.
Hypotenuse AI – Get SEO-friendly descriptions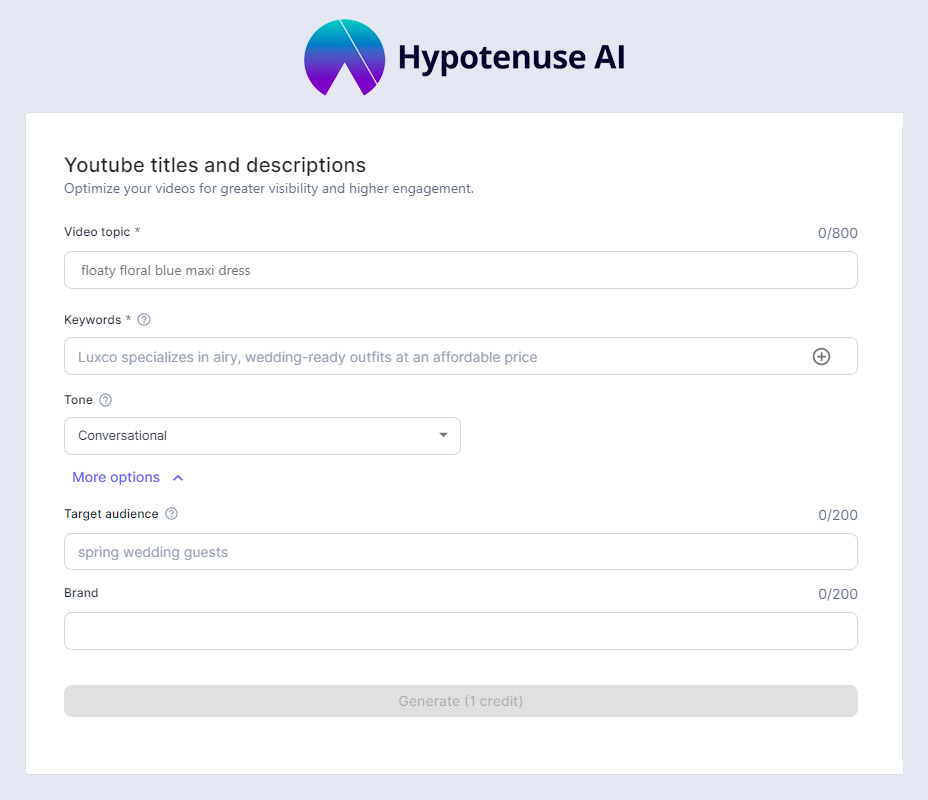 Hypotenuse AI is a leading SEO-focused content creation platform that provides businesses with high-quality, SEO-friendly descriptions that are optimized to rank higher on search engines. With its advanced AI technology, Hypotenuse AI delivers unique and relevant content that is tailored to the specific needs of each business.
Its team of expert writers uses keyword research and other SEO tactics to create descriptions that are optimized for search engines and appeal to potential customers. Whether you need descriptions for your products, services, or brand, Hypotenuse AI can help you achieve better visibility and drive more traffic to your website.
Features:
Generates SEO-friendly descriptions for your YouTube videos.
The User-Friendly Interface makes it easy for even non-technical users to use the platform and generate descriptions for their videos.
Write SEO products description better and quicker.
Pricing: Free trial with 15 Credits.
Simplified – Best Free AI YouTube Video Description Copy Generator
Are you tired of manually writing video descriptions for your YouTube channel? Introducing the best free AI Youtube video description copy generator. This tool helps you quickly generate high-quality video descriptions that capture the essence of your content.
AI technology uses natural language processing and machine learning algorithms to create unique and engaging descriptions in seconds. Simply enter a few details about your video, and the tool will do the rest. Save time and effort with our free AI YouTube video description copy generator and focus on creating more great content for your channel.
Features:
Provides high-quality content that is both SEO-friendly and engaging for more views.
Allows you to create and collaborate on videos for Instagram and YouTube.
Stunning templates for every type of content.
Pricing: Free Forever. No credit card required.
Rytr – Write video descriptions instantly using AI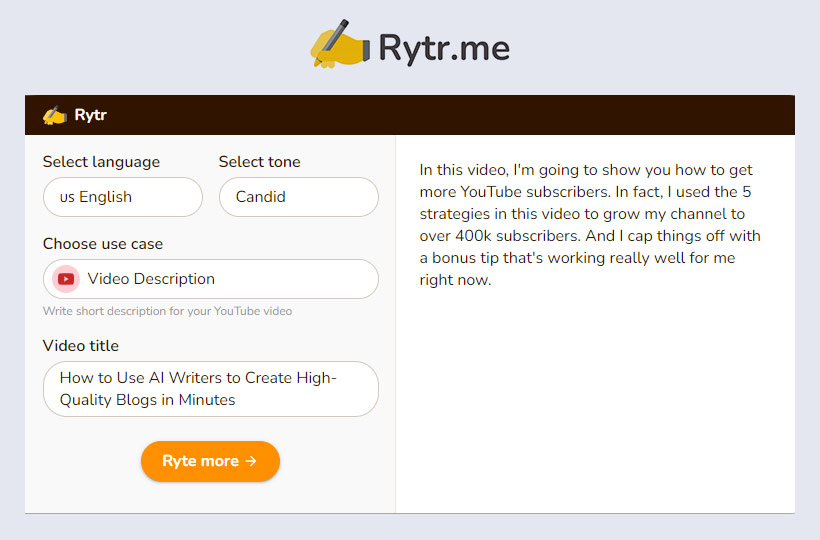 Rytr helps you save time and effort by providing you with an automated solution to create video descriptions that are optimized for search engines. With its intuitive and user-friendly interface, Rytr makes the process of generating descriptions easier than ever. All you have to do is input your video's details, and Rytr will take care of the rest.
The tool utilizes advanced algorithms and machine learning to generate descriptions that are not only engaging but also keyword-rich. Rytr is a perfect tool for content creators, marketers, and video publishers looking to save time and boost their content's reach.
Features:
Helps to generate video descriptions in a matter of seconds, allowing content creators to publish their content quickly and efficiently.
Suggest keywords and phrases based on the content of the video, ensuring that the description is relevant and accurate.
Pricing: Free forever. 10K Credits every month.
Maekersuite – YouTube Video Description Generator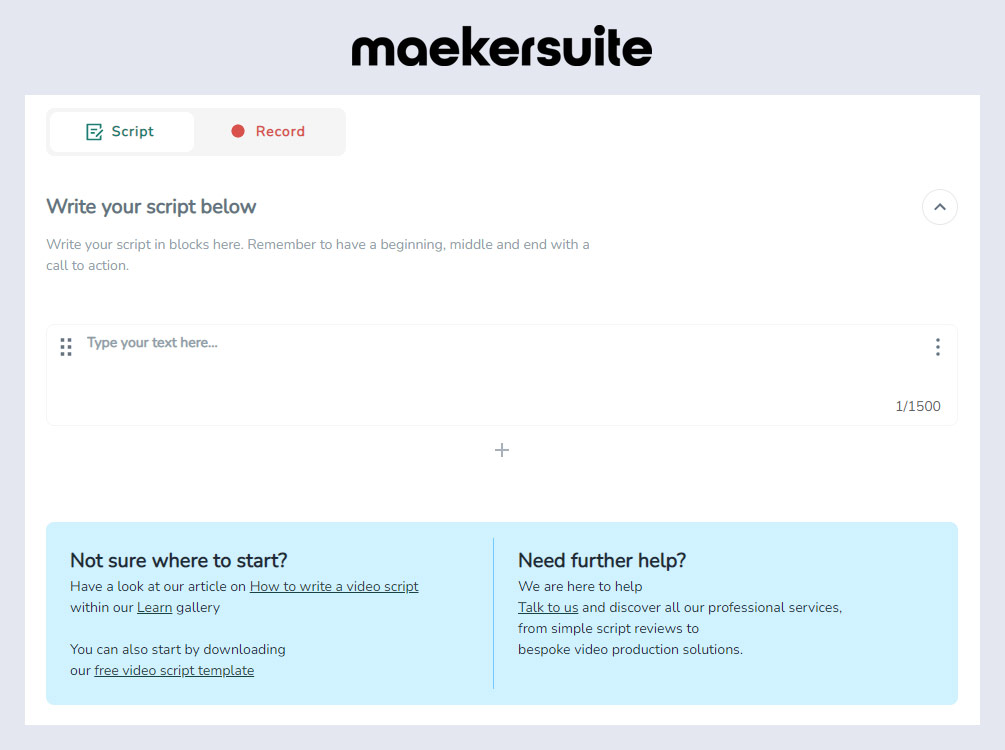 Maekersuite is an exceptional YouTube Video Description Generator that creates captivating and relevant descriptions for your YouTube videos. This platform is a must-have for all YouTubers looking to increase their views, engagement, and subscriber base. With Maekersuite, you can create video descriptions that are optimized for SEO, making it easier for your content to be discovered by your target audience.
It is effortless to use, with a simple and user-friendly interface that requires no technical knowledge. You can customize your descriptions with relevant keywords, hashtags, and links to your social media pages, websites, and other videos.
Features:
Generate killer hooks.
Easy templates for every type of content.
Keywords search to rank your content.
Pricing: Free
Conclusion
Conclusively, using a YouTube description generator can save time and effort when creating video descriptions. These tools can help ensure that important information, such as video titles, keywords, and links, are included in the description.
However, it is important to review and edit the generated description to ensure it is accurate and reflects the content of the video. Ultimately, a well-crafted description can help increase visibility and engagement for your videos on YouTube.
FAQs
How do you write a YouTube video description?
To write a YouTube video description, summarize the content of the video. This should include the topic, main points, and any key information, such as guests or presenters.
Can I copy other video's YouTube description?
No, it is not ethical or legal to copy other videos' YouTube descriptions. It is considered plagiarism and can lead to copyright infringement issues. Moreover, duplicating the same description as another video can also harm the credibility of your content and negatively impact your YouTube SEO.
What should I write in my YouTube description?
While writing a YouTube description, it should provide a brief summary of your video, including its topic and main points, and include relevant keywords for search engine optimization.