Are you thinking to start your own YouTube channel? Great! You know that YouTube is an online video-sharing platform, where you publish your videos and make money. So there are three most important things you need to create a video. That is, Audio, Video and Script. And here YouTube starter kit will help you to start your channel in the budget.
YouTube video starter kit includes all the basic necessary items for video creation and your channel branding. Also, we'll share tips on how to use everything so that you can get awesome looking videos.
What is the YouTube starter kit?
YouTube starter kit (also known as YouTube starter pack) is a list of most basic and essential equipment for starting a YouTube channel that a beginner needs.
YouTube equipment for beginners – NO INVESTMENT
What do you need to start making YouTube videos? It depends on you, first decide what type of video you are planning to make for your YouTube channel. As a beginner, here are the YouTube starter equipment without investing any penny.
Smartphone Camera: You can start shooting any video with your smartphone camera. Nowadays, the mobile phone has good quality and high-resolution cameras, and it solves both problem, video recording and audio recording. Your phone is your first best gear — no need to spend dollars on camera and microphone.
Screen Recorder: Presentation, animation type video doesn't require a camera. It would help if you had a screen recorder on your computer or phone.
Computer Camera: You can start streaming on a computer camera. Don't think about video quality, for now, take a start. Once you have a good subscriber base, you can plan a webcam for quality video streaming.
What equipment are needed to be a YouTuber?
So when you're on the beginning stage on YouTube and figuring out what equipment to buy can be kind of overwhelming. Here is the list of YouTube channel starter kit that you need to start making videos for your channel.
We've divided YouTube video starter kit into two parts (What you need before uploading your video and after uploading your video on YouTube):
1. Video Creation – Best YouTube Starter Kits 2021
A lot of people want to be a YouTuber and start their own YouTube channel, but the problem is, they don't know what equipment are required to get started most simply. So, today we'll explore the best YouTube starter video kit to begin your channel in the budget:
Tools: Best YouTube Channel Name Generator – with Tips and Check Availability
Ultimate Smartphone Video Kit
Smartphone Video Kit V8 with Mini Tripod, Grip Rig, Wireless Shotgun Mini and 360° Stereo Microphones, LED Lights, and Remote – for iPhone, Samsung – YouTube Vlogging Equipment.

Read more: Best YouTube Profile Picture Maker – Online and Templates.
Stereo Smartphone Video Kit
Smartphone Video Rig Kit V7 with Grip Rig, Stereo Microphone, LED Light and Wireless Remote – YouTube equipment for iPhone/Android Smartphone Video Kit.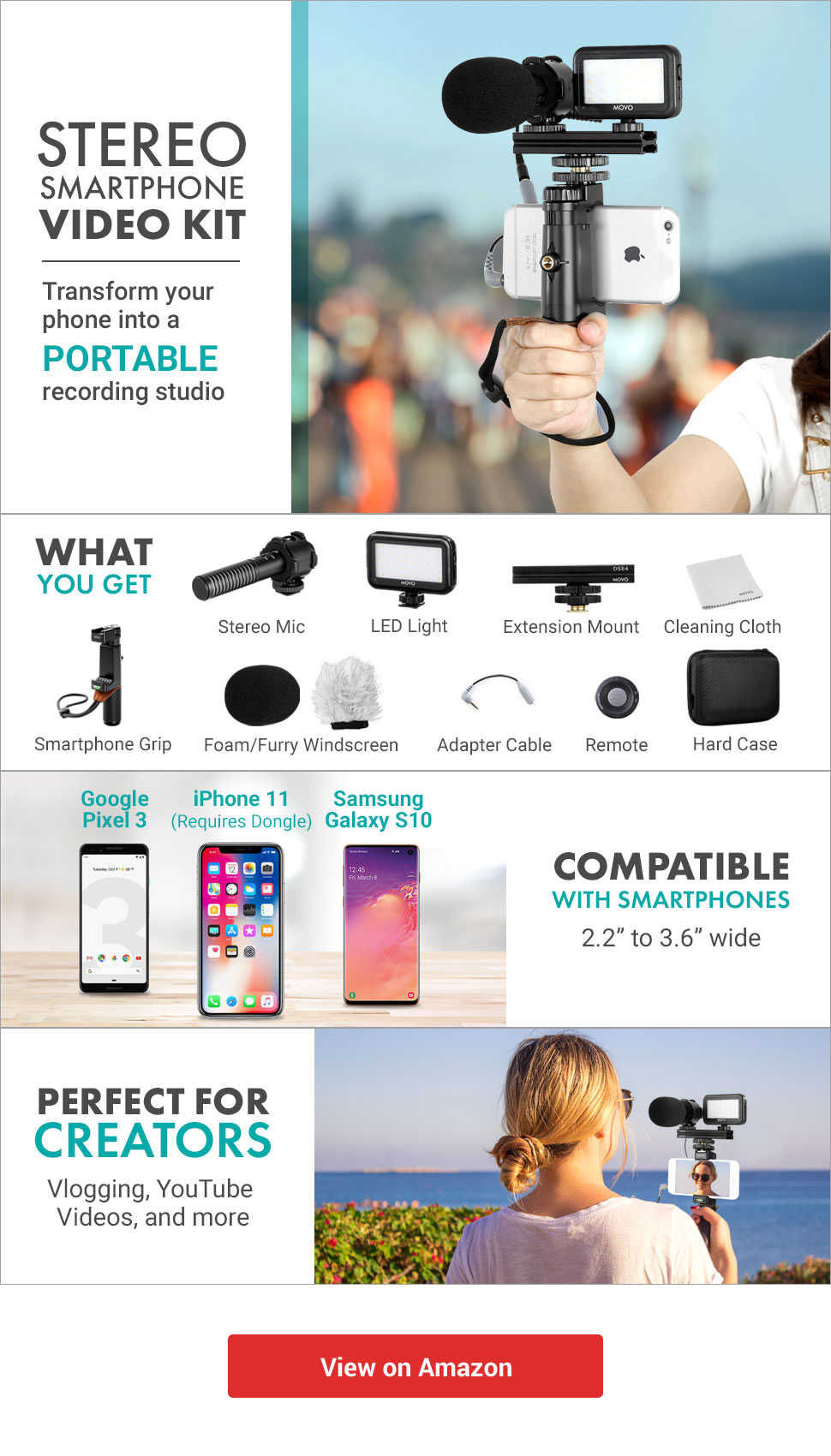 Read more: 10+ Keyword Research Tools for YouTube – Free + Paid.
Starter Smartphone Video Kit
Smartphone Video Rig with Shotgun Microphone, Grip Handle, Wrist Strap for iPhone, Android and Other Smartphones – Perfect for YouTube equipment.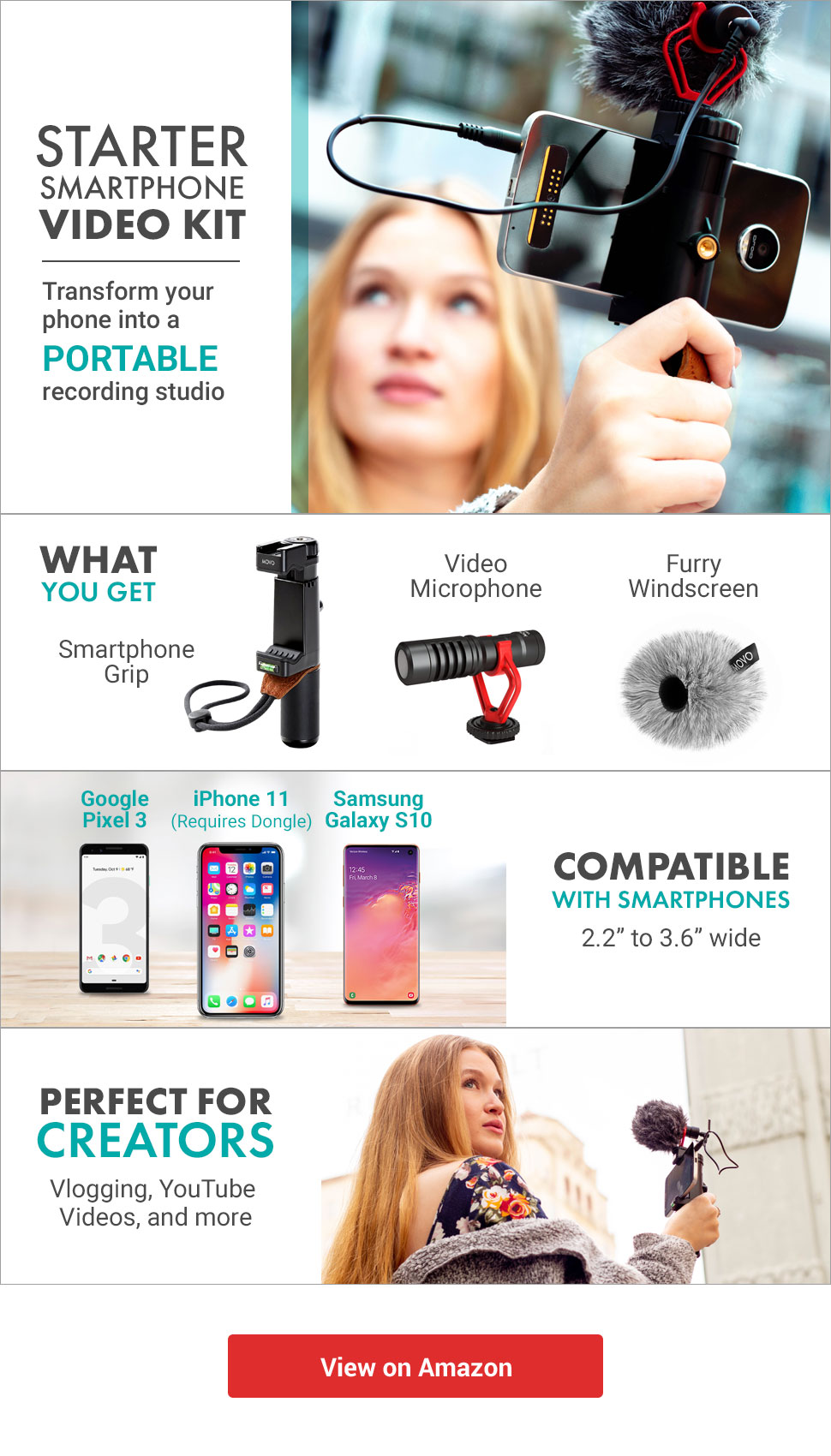 Read more: Best YouTube Intro Maker – Free Download Without Watermark.
Selfie Ring Light with Universal Video Microphone
Desk Ring Light with Stand and Phone Holder with VXR10 Video Microphone Compatible with iPhone, Android Smartphones – Smartphone Video Recording Kit Perfect for Vlogging and YouTube Equipment.

Read more: 20 Free YouTube Outro Templates – Increase Watch-Time of Videos.
SmartCine – Turn your smartphone into a video recording powerhouse
SmartCine-W1 Wireless Smartphone Video Kit Tripod Bundle with Phone Rig, Wireless Lavalier Microphone System, LED Light, Wide Angle and Fisheye Lenses for iPhone and Android Phones.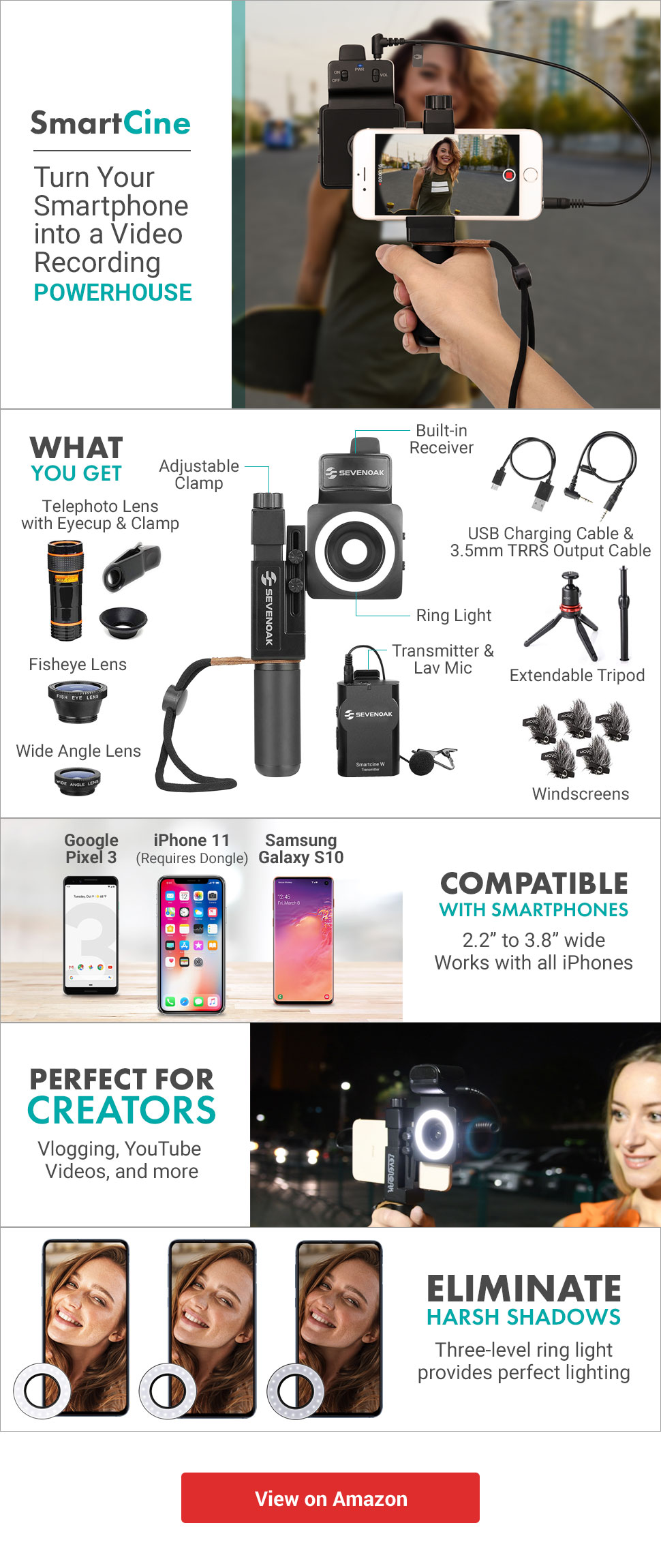 Read more: 12 YouTube Thumbnail Makers (Free + Premium)
2. Video Publication – YouTube Starter Channel Kit for Branding
Create thumbnails that gets more clicks, and professional channel branding helps build a better experience — over 100+ download templates for YouTube beginners.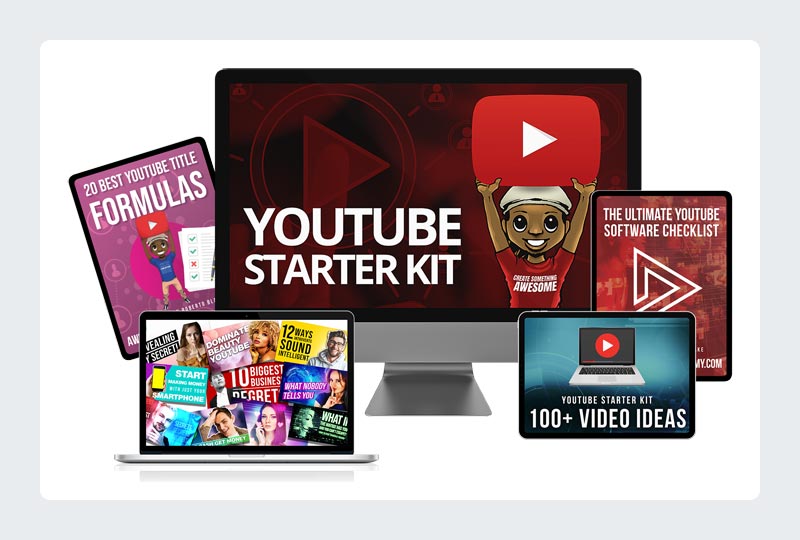 The package includes:
20 Best Title Formulas for YouTube
100+ YouTube Graphics to Download and Customize (PSD)
100+ Free YouTube Fonts
100+ Video Ideas
Video Upload Planner Workbook
YouTube Video Gear Guide
Ultimate YouTube Software Guide
YouTube Thumbnail, Launch, Trailer Checklist
Dozens of Canva Assets for Non-Photoshop Users
Video Success System Guide
Buy in $99 (actual value is over $997) and get the unlimited access to all new downloads for life.
YouTube Promo Kit 2.0
A new pack made for YouTube creators and creatives.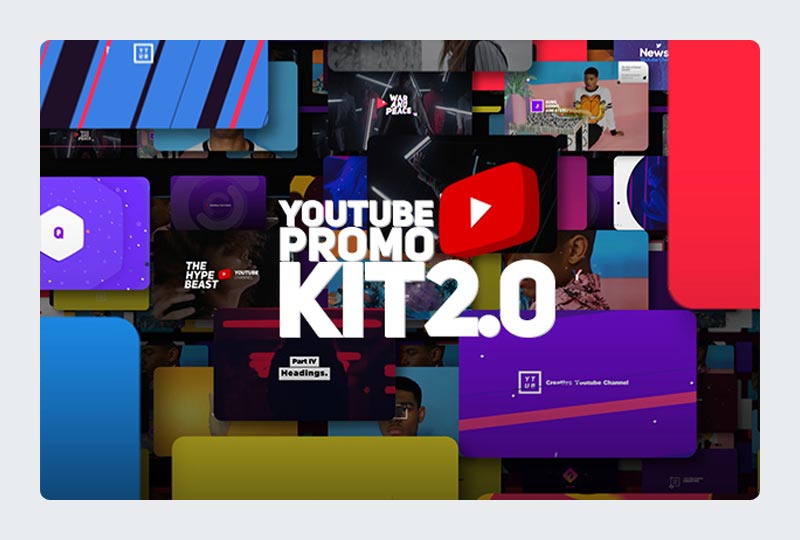 The package includes:
20 Channel Openers Templates
25 Logo Reveals Templates
25 Broadcast Titles Animations
10 Headings Animations
20 Lower Thirds
70+ Social Media Variations (links)
25 Transitions
Info Bars, Shapes and Elements
Social and Subscribe Buttons
VideoHive YouTube Kit – Free Download After Effects Templates
This YouTube Kit is a complete pack of elements to help grow your YouTube channel.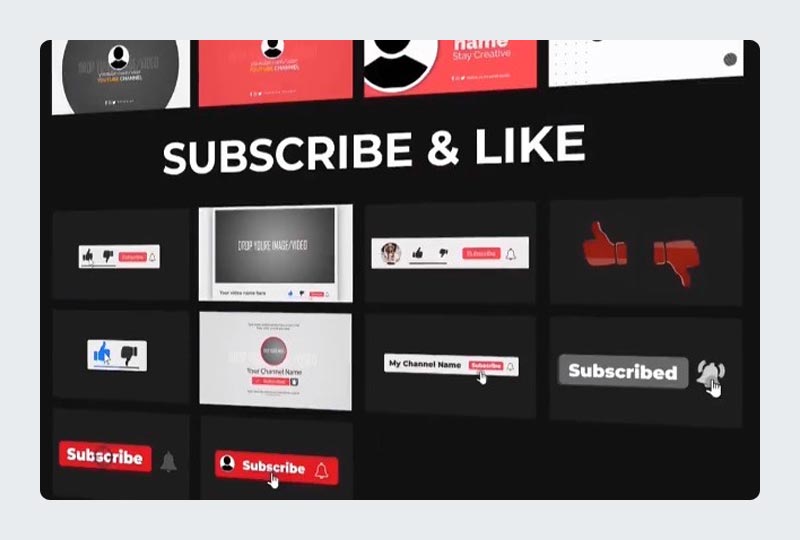 The package includes:
YouTube Opener
Subscribe & Likes Buttons
Lower thirds
Social Lower thirds (Single)
Social Lower thirds (Multiple)
YouTube Titles
YouTube Backgrounds
Video Transitions
Free Download Now or Premium Version
FAQs
How much does it cost to start a YouTube channel?
ZERO Dollar!! Yes, you read correctly. There is a zero dollar cost to start a YouTube channel. Sign-up for free and start making videos with your mobile phone and upload it to your YouTube channel. That's it! You don't need to invest any money.
Can I start a YouTube Channel with my Phone?
Yes, you can start a YouTube channel with your phone. Nowadays, all smart phones have a quality camera, mic and interesting features for recording videos. YouTube official app for creating channel and Studio App for analyze your channel. Also, there are numerous apps for YouTubers for video editing, sound editing and custom graphic design.
Is starting a YouTube channel worth it?
Yes, you can promote your product, business and website or make money online. YouTube is the world's second most popular and free video content sharing website.
Over 2 Billion users visit YouTube each month, and every day people watch over a billion hours of video and generate billions of views from 100+ countries and 80+ different languages.
How to get paid by YouTube?
You need to join the YouTube partner program and setting up the monetization feature on your channel. You can apply your YouTube channel for monetization once you have first 1,000 subscribers with 4,000 hours watch time. Your earning potential determined on your niche, engagement and views you generate.
What is the best topic to start a YouTube channel?
You have to find and choose the topic you're passionate about. Creating a video in your niche helps you grow faster on YouTube. To help and inspire you, we found some popular channel ideas to start a YouTube channel.
Conclusion
Starting a YouTube channel is just like building your own business. Above, we looked at YouTube channel starter kits with the necessary gears and elements that help you start a new channel.
Building a successful YouTube channel required passion, grit, and vision. Make sure you're doing something you enjoy, and think carefully about how to brand and position your content. Other than that, all the luck with your channel.