Meet the brand new free YouTube mockup with the perfect mobile layout design. You can use it for your YouTube channel presentation and social media marketing purpose. The mockup template helps to preview your video thumbnails, channel art, and logo.
As you know, YouTube allows you to change the color theme from bright white to deep dark. So, we also create YouTube dark mode mockup PSD for you. You will have two themes (Light and Dark), and both are easily editable in Photoshop.
Download Mobile YouTube Mockup PSD Free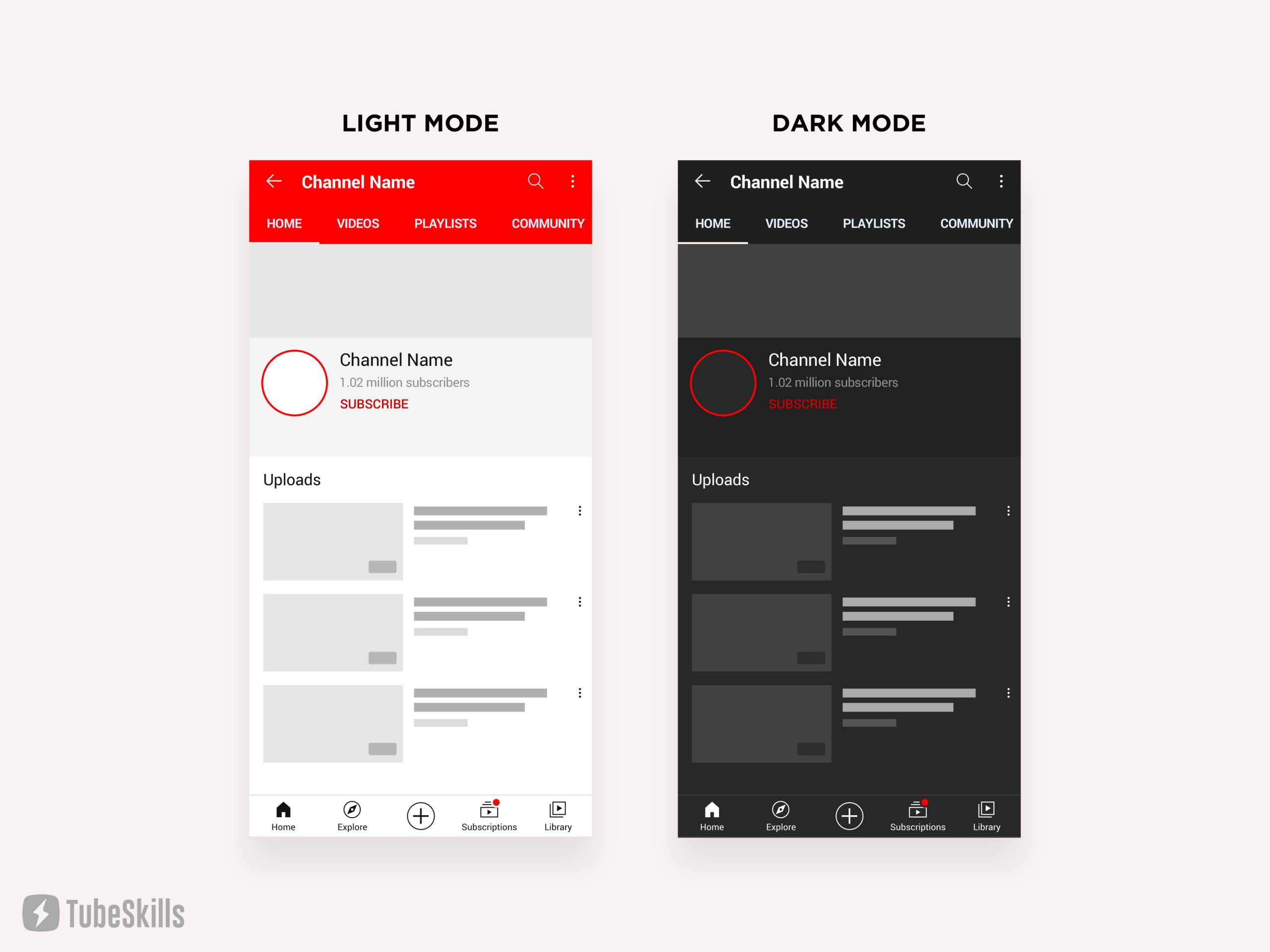 You'll be able to change:
YouTube channel art
YouTube video thumbnails
Your YouTube logo, channel name, and subscriber count
License – The YouTube mockup PSD free for personal and commercial purposes with attribution. We highly appreciate for giving credits to us. The website/blog owners are allowed to share our mockup freebies templates. Please link to the download page with the name (TubeSkills) in the credits section.
Why do we offer a free mockup template?
Creating free mockups for a presentation takes a lot of time and effort. Most graphic designers offer freebies to increase their visibility online to build an online community and get more projects.
How to edit PSD (Photoshop) Mockup File?
There are two ways to edit PSD files. First, you can use the Adobe Photoshop software (only paid version available), or second, try the Photoshop alternative. Now it's up to you which one is suitable for you. Here are the steps to edit the PSD file.
As said above, the mockups are available in Photoshop (PSD) format, so to edit the PSD file, you should have Adobe Photoshop software on your PC or Mac. But you may use any other software for editing as well.
First, you need to learn the basics of photo editing using Photoshop. The best resource to rely on for valuable information is the Adobe website, where details about everything are provided to make you understand all the concepts.
After the learning process ends, all you need to do is practice all the different PSD file techniques and make the necessary edits on it without any hassle.
Photopea – Online Photo Editor
Photopea is one of the best free image editors online. Photopea looks similar to Photoshop and has similar kinds of tools. It is a free online editor and supports PSD, Sketch, XD and CDR formats (Adobe Photoshop, GIMP, Sketch App, Adobe XD, and CorelDRAW).
Placeit – Online Mockup Generator
In case you can't use photo editor software and tools, you can use online mockup maker free. These makers have a bunch of pre-made mockup templates, and you have to add your logo, text, or photos as per your choice.
Placeit helps you with branding and design made easy and ready-to-use templates to download your design in seconds. They have the largest collection of mockups on the internet.
Final words
If you face any problem with our mockups, please feel free to contact us via the contact form or email us at [email protected] Cheers!
More freebies are coming soon. Stay connected by subscribing to our weekly newsletter.