Copy and paste our YouTube description template to increase YouTube SEO results of your videos. We have manually checked top YouTuber's videos descriptions and drafted this template and you can use it for free.
A good YouTube description will help your video get discovered in YouTube search.
Every YouTuber have their own style for the description for their videos.
Here are some essential points and a template (copy and paste) that you can use for your videos right away.
I hope it helps!
How to write best YouTube Descriptions
YouTube SEO checklist complete all your requirement for video SEO and YouTube description is an important aspect from it.
Here's some suggestion and tips for writing a robust YouTube video description template that shows up your video in suggested videos and search results:
Attention-Grabbing Snippet

Describe your video content in the first two lines (attention-grabbing part). YouTube only displays the first few lines of your video description without clicking the "SHOW MORE" button. Include the primary keyword in the first two lines to rank your video in YouTube search results.
Detailed Video Description
In the second paragraph, write a minimum of 150 words and try to add primary and secondary keywords in the natural way. Explain about your video and why the video is important in detail.
Call to Action

Most of the creators use an affiliate link, product link or freebie link but if you are newbie, you can use YouTube subscribe link in a call to action. You'll find consistent growth in the numbers of subscribers if you ask to "strong>subscribe our channel" in the YouTube description box.
TimeStamp Link
If your video is more than 15-20 minutes long or have different sections or topics included, use YouTube timestamp links in your video description. Timestamps work well in long videos.
Equipment Used
People are curious and want to know what YouTube Gears and Tools, YouTube video editing software and YouTube starter kit you are using to create videos. Insert your Amazon or product affiliate link and earn a commission. If you have a blog website, you can also set up a resource page.
Website and/or Social Media Links
Having a good number of followers on social media sites, i.e. Facebook, Instagram, Snapchat, Pinterest, or any other will be beneficial for you. People are actively using social media platforms in daily life.
You can interact with them, solve their problems, discuss the future video and the main big thing, you will get new undiscovered ideas for the next videos. Post your new video on social media too, and you can instantly increase your video views.
Disclaimer and/or Credits
Affiliate sites have different terms and conditions. Disclaimer notice is essential to limit your liabilities for the outcome of the use of your or other sites.
Give credits to resources used in your video and prevent your channel from YouTube strikes.
Here's the Free YouTube Description Template
You can download the templates OR copy and paste the text in your video description. Make sure, replace or fill in with your own information before using this template.
In this video, you're going to learn how to create compelling YouTube description template to grow your channel in 2021. Enjoy!
(Insert your main keyword)
Write 100-150 words about your video.
(Insert your primary and secondary keywords)
Download free YouTube description templates.
(Insert a call to action)
Subscribe for more YouTube templates.
https://youtube.com/thehotskills?sub_confirmation=1
(Insert your YouTube subscribe link)
– – – – – – – – – – – – –
Here's what you'll see in this video:
(Insert Timestamps links here)
– – – – – – – – – – – – –
## Tools & Equipment: ##
Adobe Premiere Pro CC:
YouTube Starter Kit:
Camera/ Lighting:
(Insert your gears and products affiliate links)
– – – – – – – – – – – – –
## Let's Connect: ##
Support on Patreon: (Patreon URL)
Subscribe: (YouTube Channel URL)
Twitter: (Twitter Profile URL)
Facebook: (Facebook URL)
Instagram: (Instagram Profile URL)
Snapchat: (Snapchat URL)
Website/Blog: (website URL)
– – – – – – – – – – – – –
## Disclaimer: ##
Links included in this description might be affiliate links. If you purchase a product or service with the links that I provide, I may receive a small commission. There is no additional charge to you! Thank you for supporting me so I can continue to provide you with free content each week!
Weshare – YouTube Description Template Generator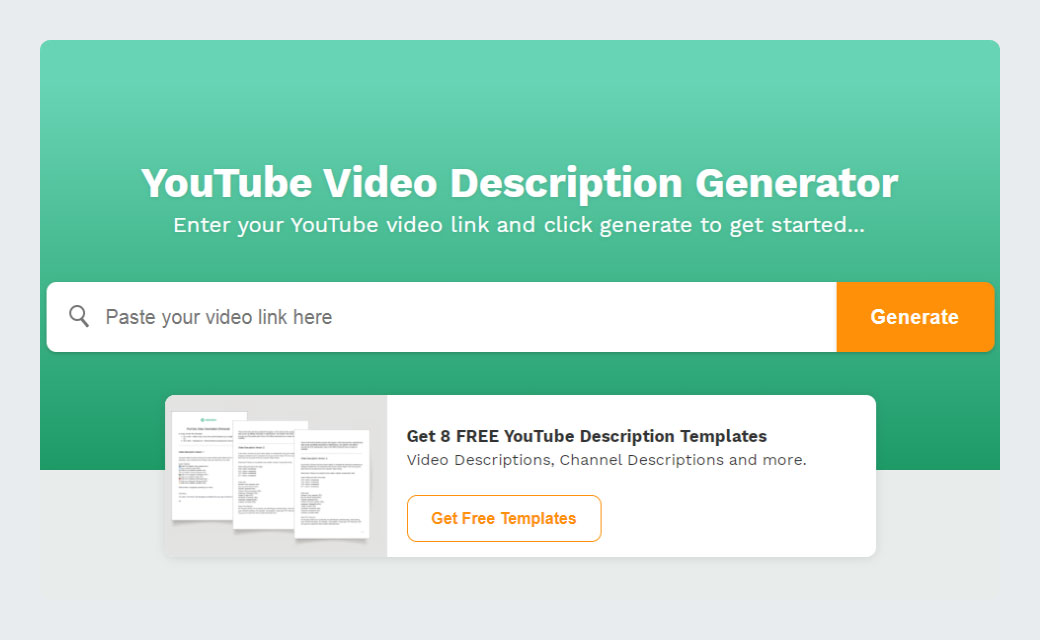 Weshare YouTube description maker helps you create a perfect YouTube video description. You need to paste your video link in the input box, and Weshare's backend system auto-generate the best video description for you. They also provide some useful tips and get 8 FREE YouTube description templates.
How to Create Default YouTube Video Description Template
YouTube offers a great feature to set default video description, which will be filled in automatically to all newly uploaded videos. This is where you put everything you want to be a part of every single video that you upload. If you have some default text, you always want to be added to every video; you can do using this feature.
Here's are the steps to set default video description: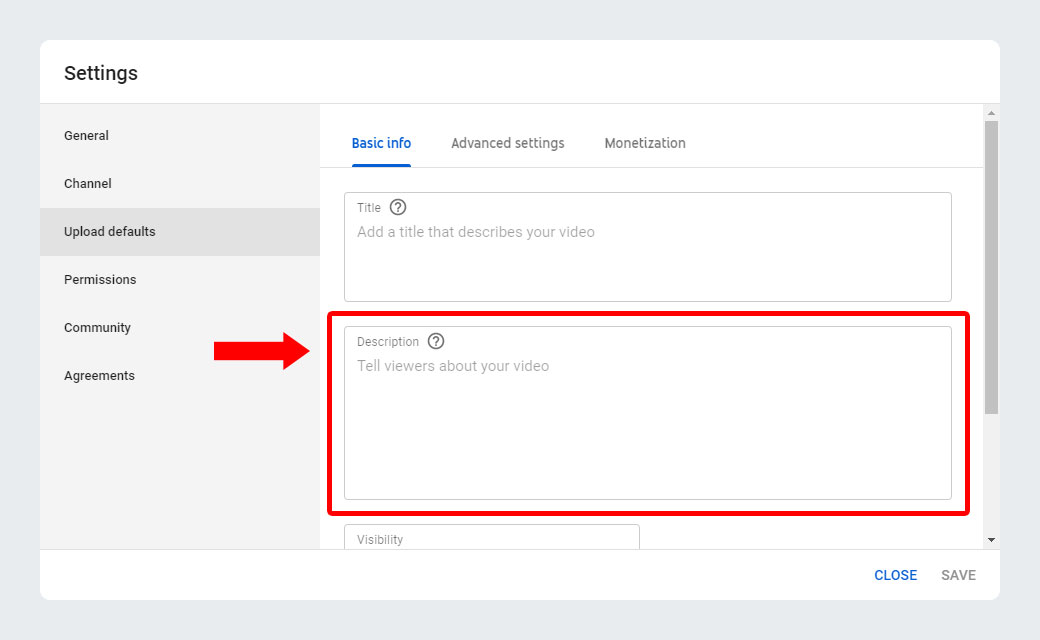 First of all, you need to log in to YouTube, come down to your creator studio, go to channel "Settings" tab, and then tap to "Upload defaults".
Under the "Basic info" paste your custom YouTube description template in the YouTube description editor and hit the "SAVE" button.
This feature helps you to be more productive by making default your custom YouTube video description template.
How to find keywords for your YouTube video description
YouTube keywords used to optimize your video content. It tells YouTube about your video you produce and who your target audience is. Keywords help to increase your channel visibility on YouTube. Explore the list of free and paid keyword research tools for YouTube.
Final words
A good YouTube description template will help your video get discovered in YouTube search and YouTube suggestions. It can help engage your audience and also the YouTube algorithm to understand your video about.
In the comment, please share your thoughts, and how do you create or optimize description for your videos?