YouTube, the most engaging platform nowadays can play a vital role in social media marketing, affiliate and so on. Today lets discuss on YouTube Outro. And we will also recommend 20 free YouTube outro templates that can come very handy for you.
So today you will learn the basics of YouTube outro and also learn to make some of your own.
Look, it is not important that how many things you have started on your life but how many have you completed properly. A YouTube outro is the portion that completes your videos. It enriches the video, finishes it properly and also increases the watch time of your channel.
What is a YouTube outro?
In short, a YouTube outro is a video clip that calls it a day for the video that you made. But it is not just that. It is a final show-down which will help you create a call to action. You may ask your viewers to do something after watching the video. You may recommend them another video. You can promote some affiliate product.
It can be anything. It's the outro that provides you that golden chance to express something at the very end of your video.
So, what you can do with a YouTube Outro:
Ask the viewers to subscribe, like the video and so on.
Send them to some playlist or single video.
Send them to your site.
Provide them some affiliate links. etc.
What is YouTube outro template size?
Now as you know the benefits of using YouTube outro, you may want to make a YouTube outro for your own channel. So, to make a custom YouTube outro, first thing you need to know is the size and dimension of the outro. We are considering that you are going to use a 1920 x 1080 px for HD or 1280×720 px which is exactly the same size that we use for YouTube thumbnail size. In that case, we are going to suggest the size of YouTube outro.
Free Outro Templates for YouTube Videos
We will provide you 20 free YouTube outro templates in this section.
License
Free for personal and commercial purpose with attribution. Just place our website link at the footer of your video description, website or blog, or in the credits section.
# Template 01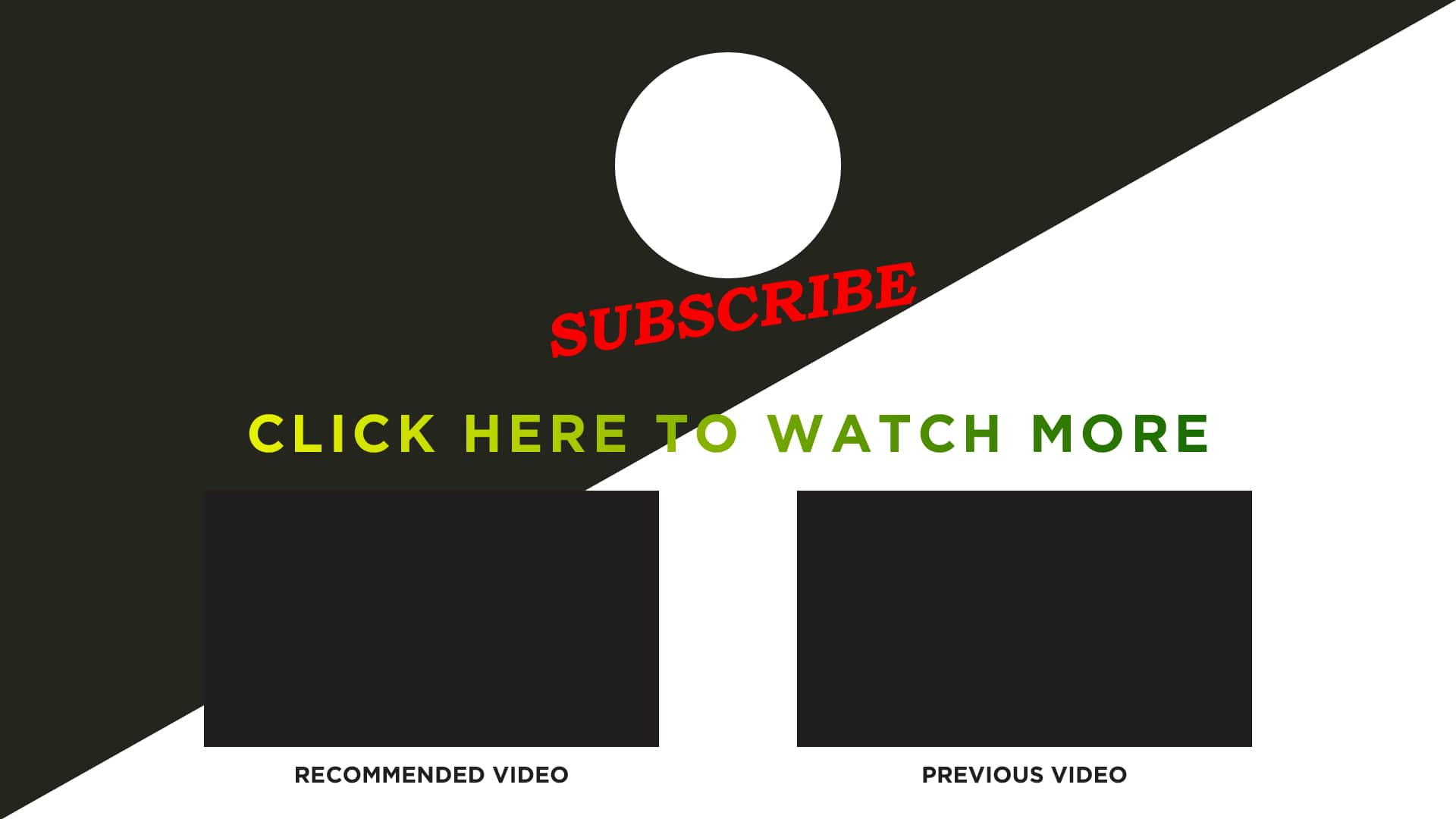 A simple yet elegant design. This template is black and white in colour which can be very effective for any educational video. Any channel whose main intention is to grow audience for itself can use it. It has subscriber button, previous and next video button. All that is necessary to grow audience.

# Template 02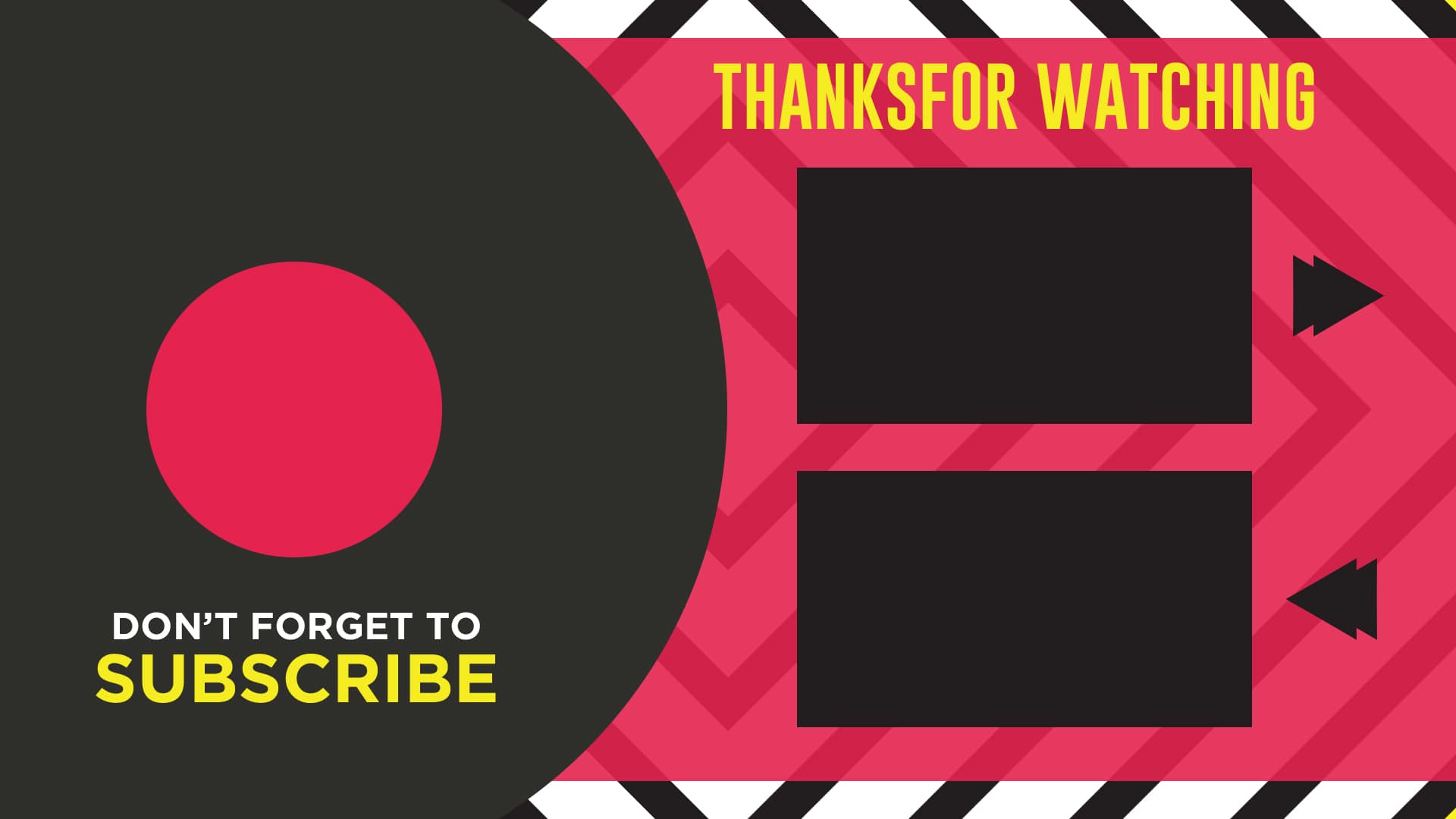 This design has some colourful and bright texture which will work like magic to grow female audience. Female audiences always like pink colours and this template follows the same. Any fashion or other channel that wants to grow audience can go for this awesomely designed YouTube outro no copyright template.

# Template 03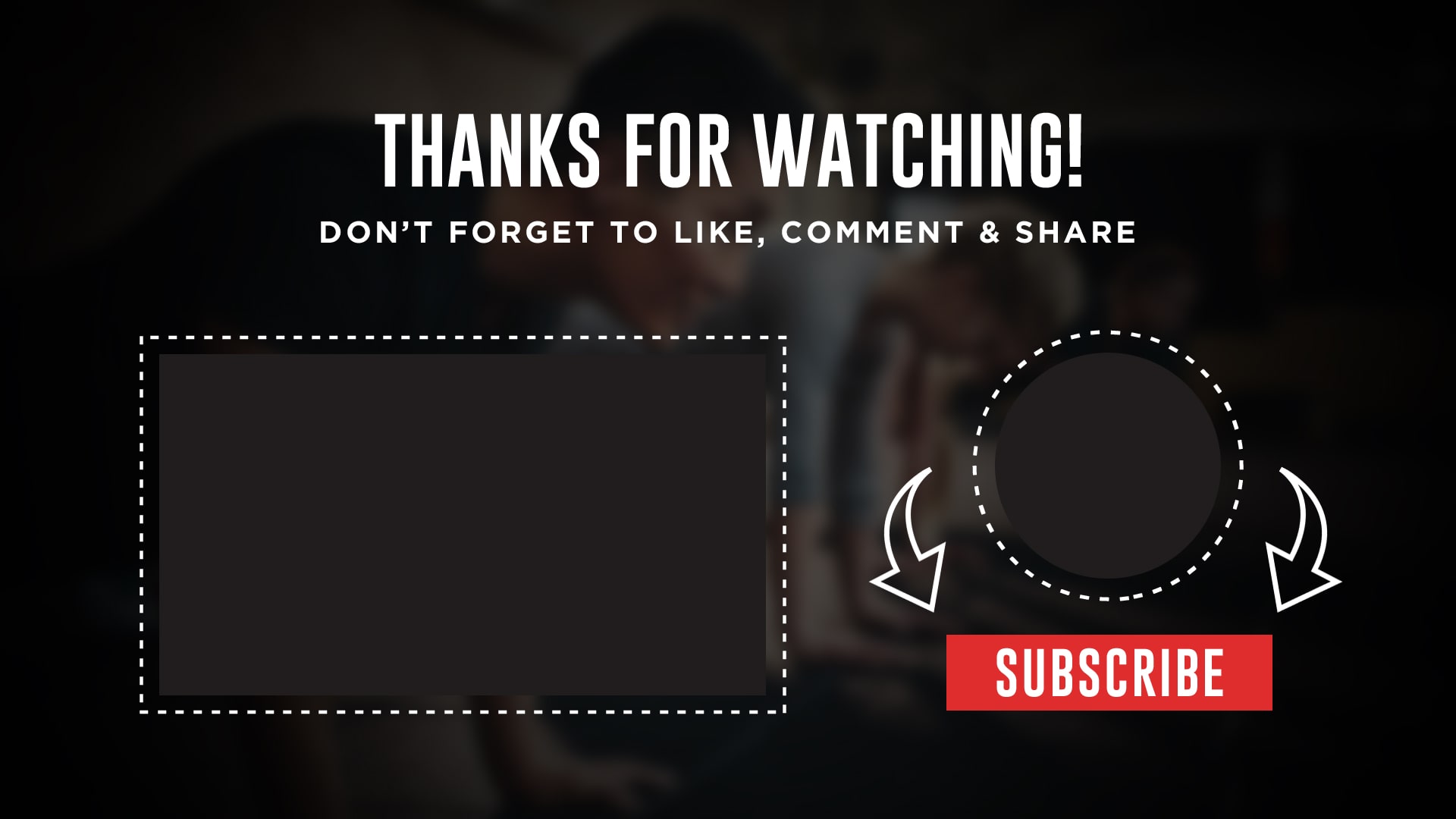 If you are a person who like everything minimalistic then this design is for you. Nothing much here. Neither bright colours nor too much options. Just the very basic subscribe button and a video suggestion in a free 2d outro template.

# Template 04

A suitable free YouTube outro template no text for any tech related YouTube channel. The red and blue lines simply illustrate some abstract design which is normally shown in cyber crime movies or series. So any tech channel will surely appreciate it with its two video and one subscriber buttons.

# Template 05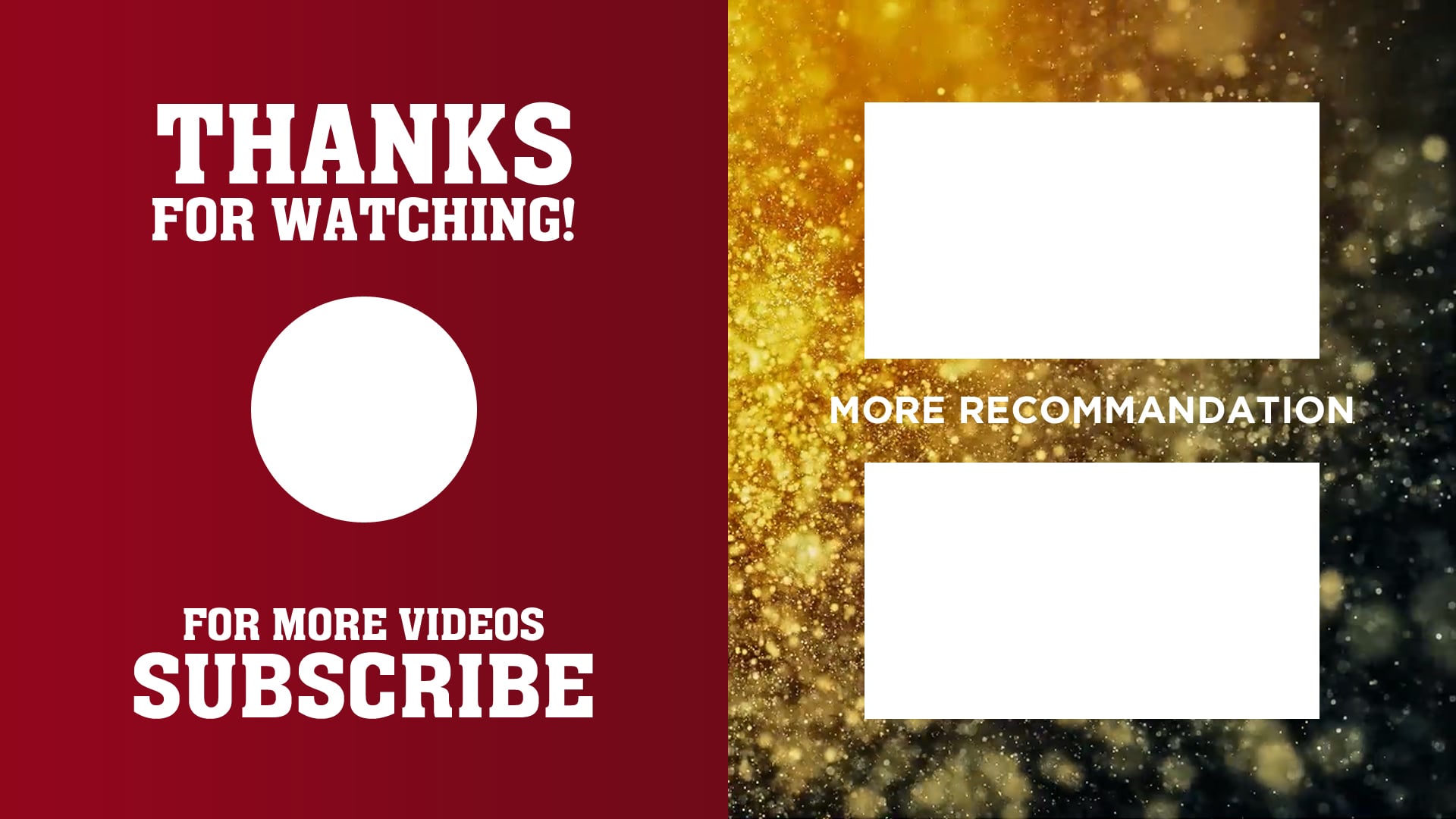 This design is purely dedicated for increasing subscription. Here your channel's subscribe now button gets highest exposure which is situated in a red background. Any new site can try this free template and expect good results from it. It also has two video recommendations which is also worth noting.

# Template 06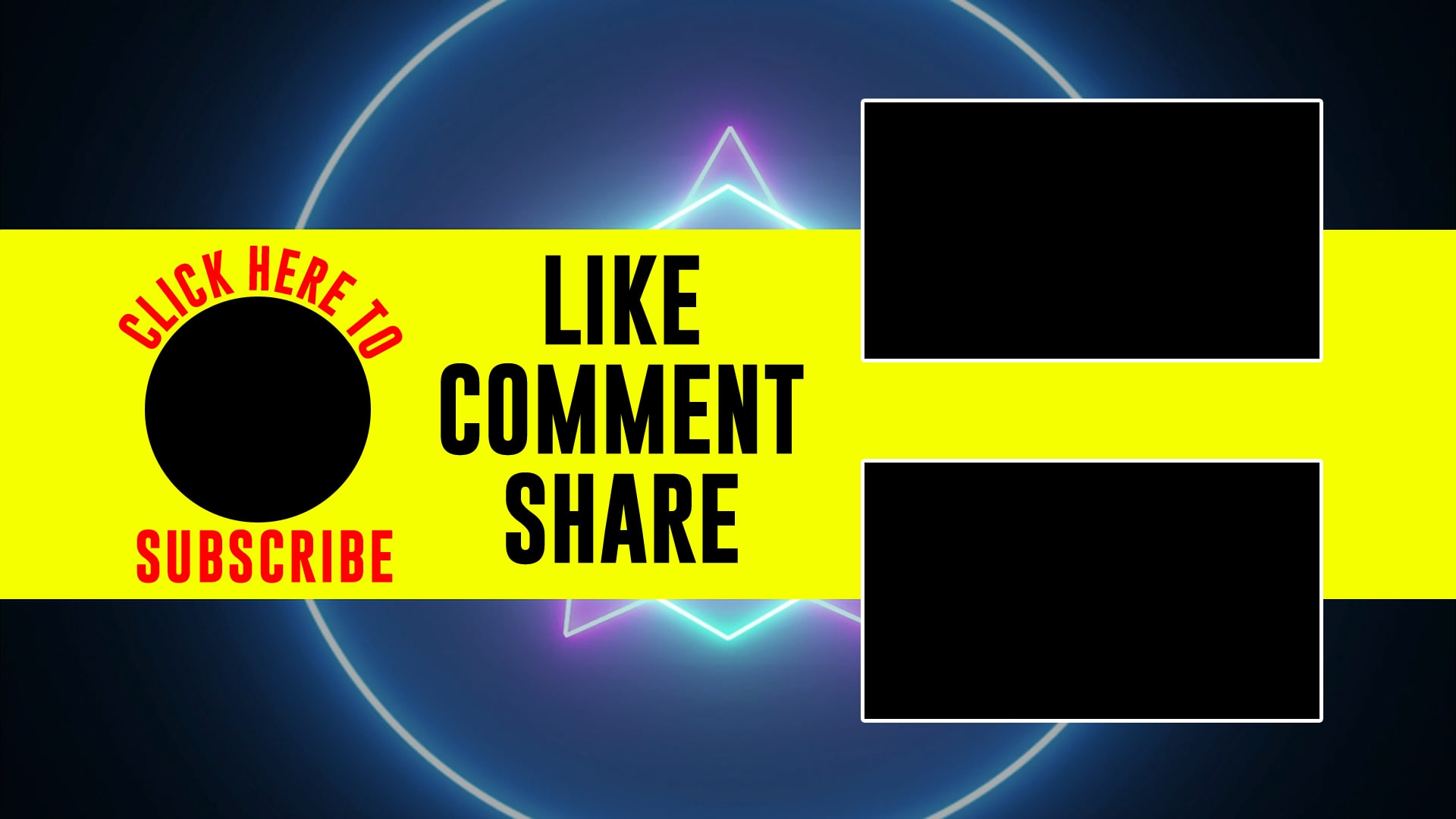 A total package for any educational channel. Any online education forum or tutorial forum should use templates like this. Students will find it easy and well-oriented. And this design has a feel that it is neither childish nor boring. It is just basic. What it needs.

# Template 07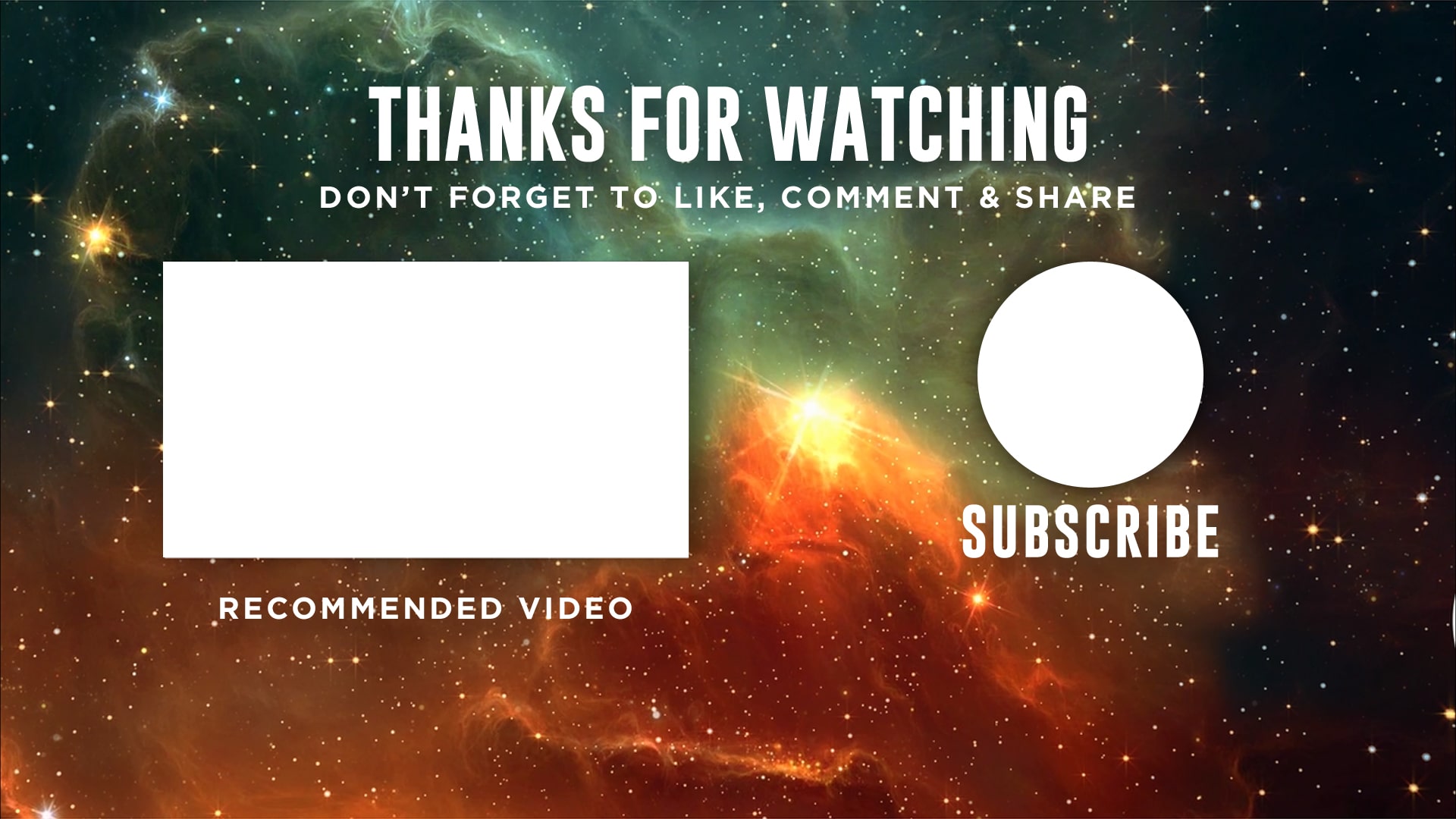 I simple design with some great image choice. Galactic images are very eye catching and in this case this image may result in grabbing high numbers of subscribers or some extra view on the recommended video.

# Template 08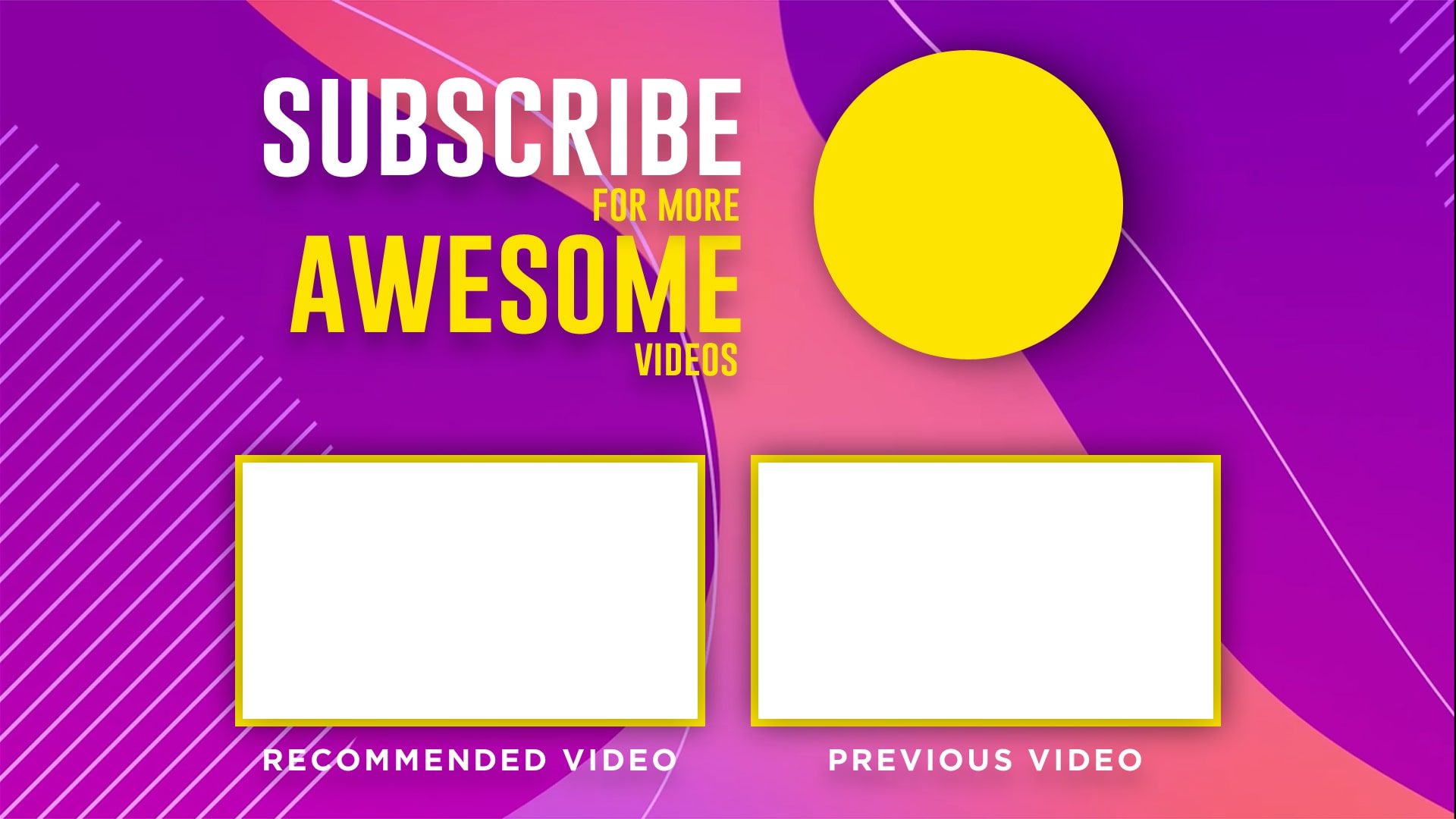 Another abstract designed template. Very easy to customise. The colours are vibrant and really eye catching. Suitable for any channel. If you are promoting any product or anything very worth noticing at the end of your video, you must try this template. At the suggested videos or playlists and then customise the subscribe button. And you are done.

# Template 09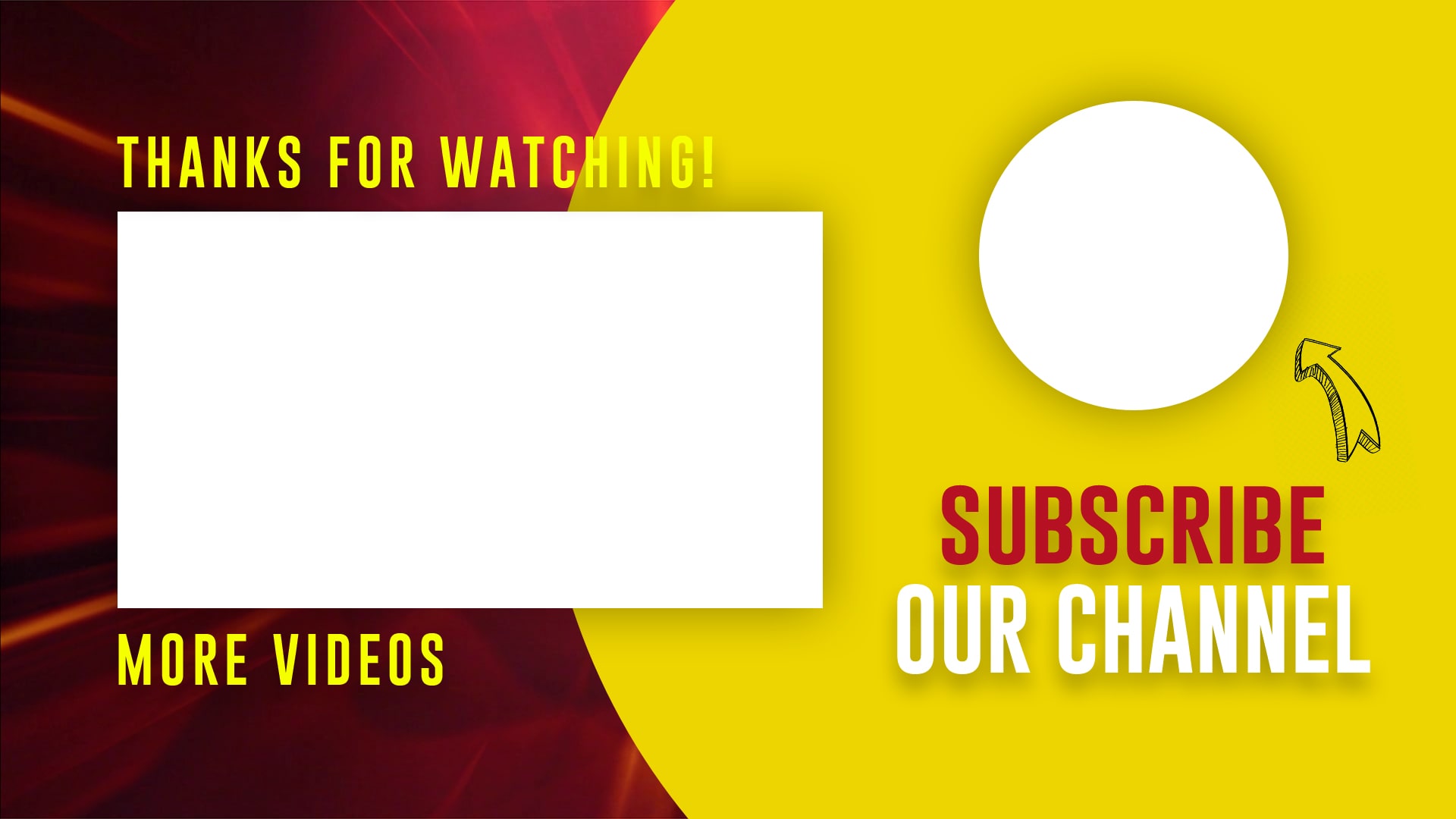 This type of colour pattern is really suitable for recipe channels. Recipes channel pictures and thumbnails are very well suited beneath this type of colour. Any juice recipe or delicious cake recipe thumbnail will go like a blow in this free video outro template for YouTube.

# Template 10

A very lively template. Any travel channel or channel based or nature, wildlife or something like that will really love to have this type of templates. And this type is template is not very common for free. And those who are trying to find outro template for YouTube will this template really handy.

# Template 11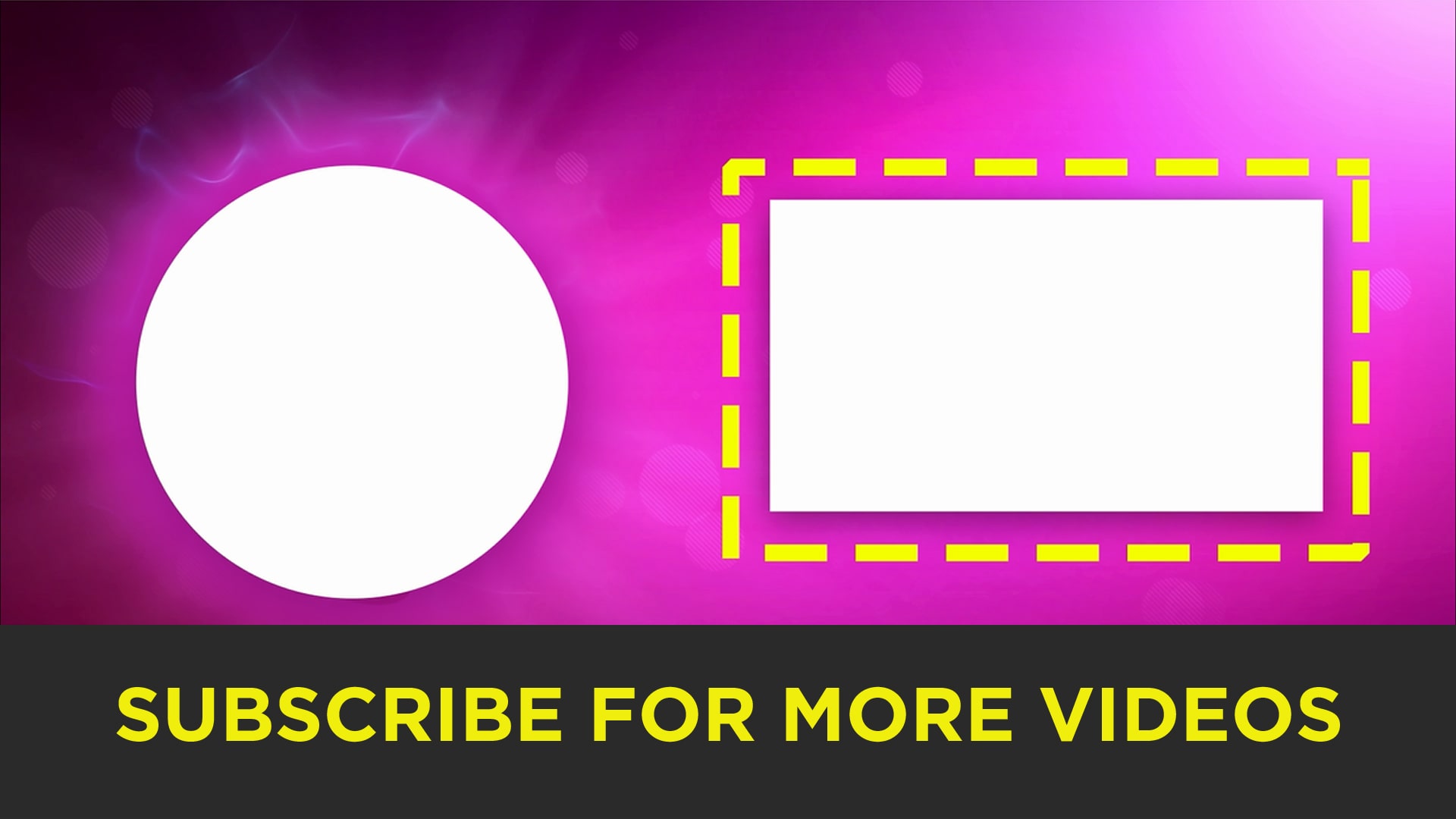 Pretty basic looking template. But it also has something special. The yellow dotted line will surely attract viewers to video you are suggesting. I hope anyone who is using this template will surely add their most important video there. So that they can ensure highest possible exposure to their most important video.

# Template 12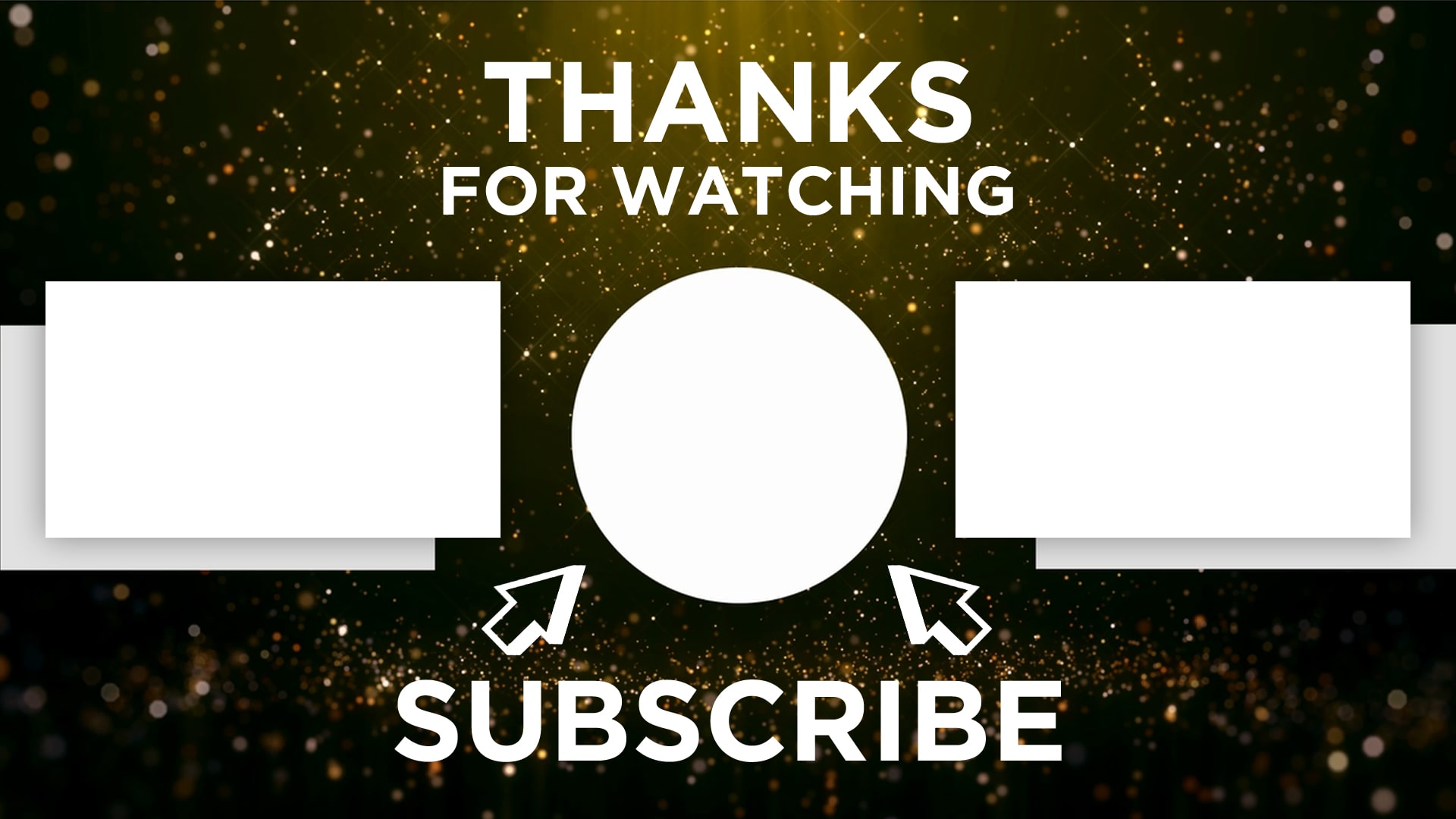 A very party looking outro template. Many of us are now creating YouTube channel for promoting many products related to Diwali, Christmas or Eid type of social and religious programs. For them finding an outro is often impossible and for free is total rare. For them this outro will work like magic.

# Template 13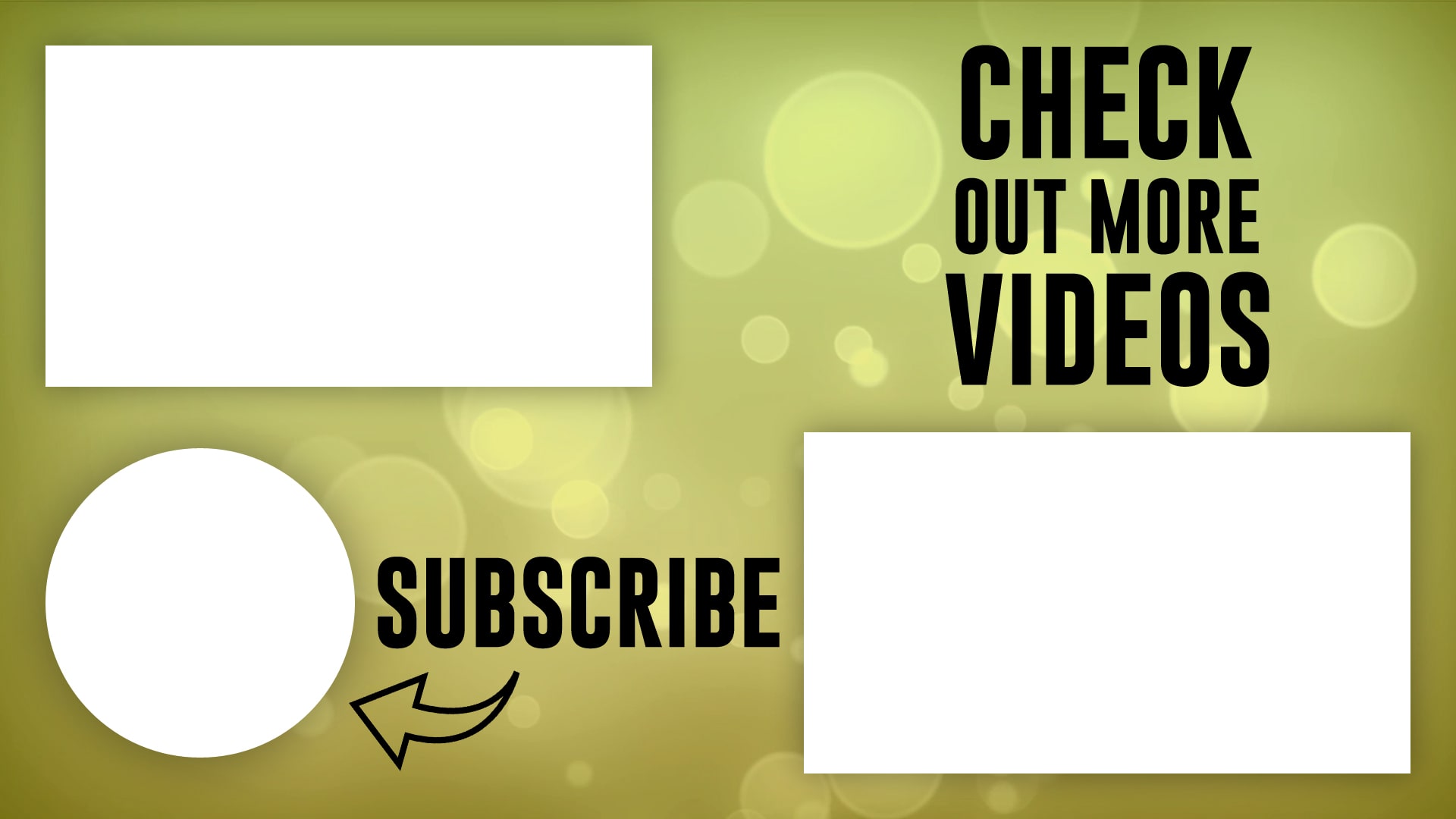 This template has some similarity with the previous one. It is also very suited for party style videos. But it is milder than the previous one. So, one can use it for other types of videos as well. It has a very modern look and a fantastic way to represent your brand.

# Template 14

A template with snow falls in the background. Very impressive for channels who are working on mental health, motivation, relaxation etc. And this template will also help others. Many multi niche site looks for this type of free templates which they will use for all their videos. And at one time this outro will become a part and parcel of their video.

# Template 15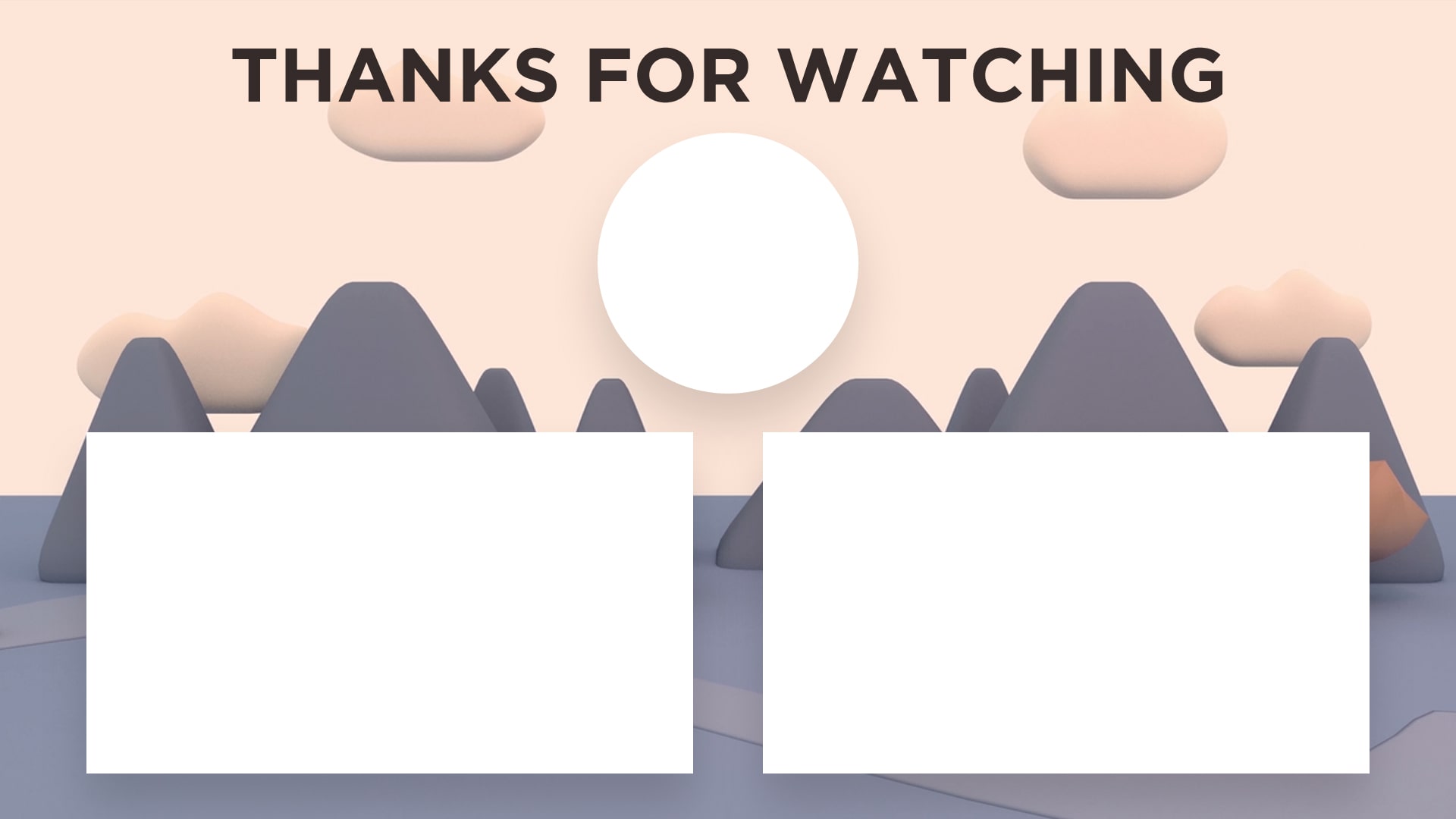 I hope the image says it all. This free outro template for YouTube is mainly made keeping kids in head. Basically, any channel that works in baby niche or something related to small children will love this template. Moreover, the little baby education channels can also take this template. It will work smoothly for these purposes.

# Template 16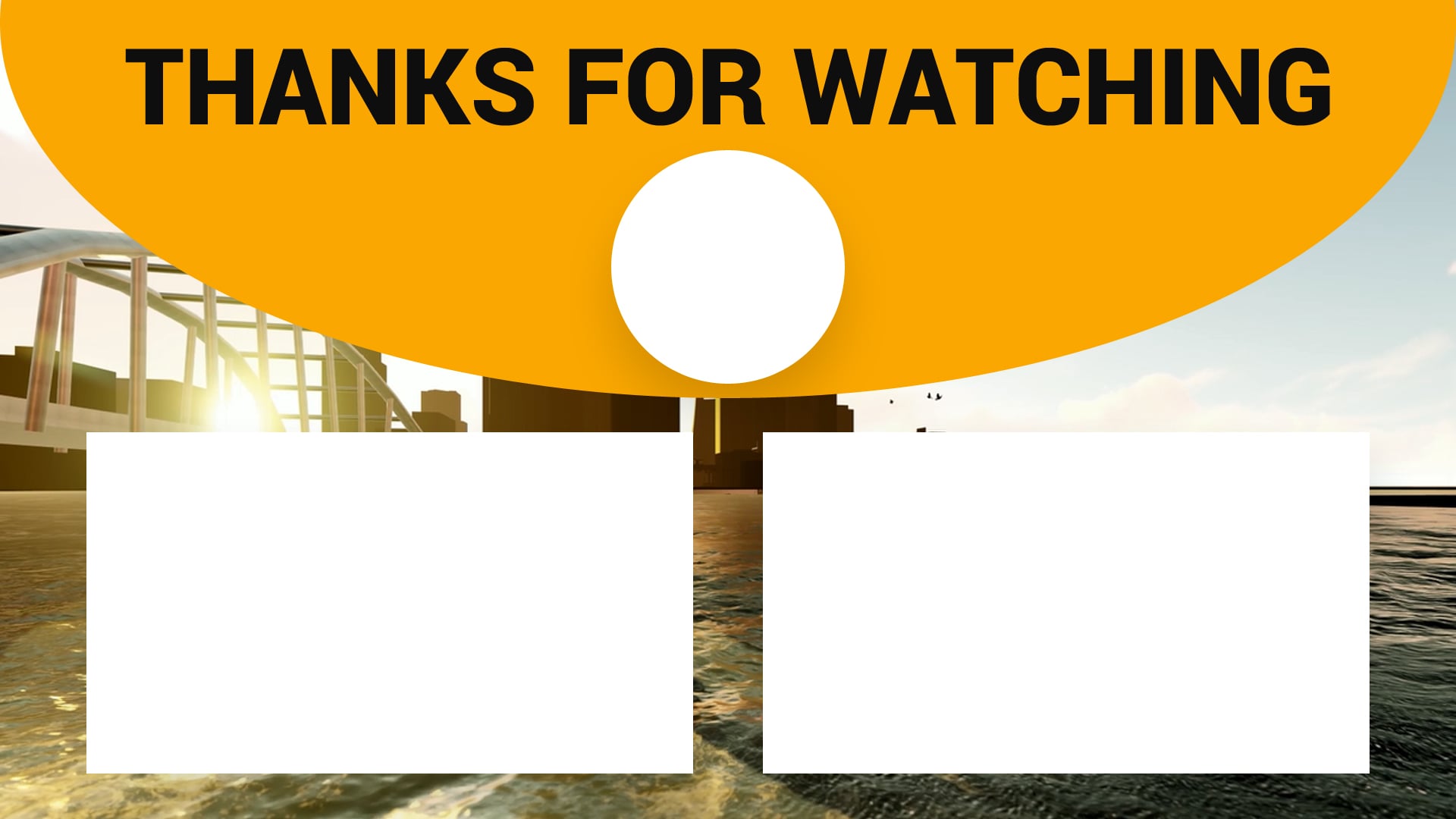 This template is made for mainly travel oriented channels. For travel channels outros are really important because they normally promote their affiliate links or products at the very end of the video and this attractive 2d free outro template will definitely them in this case.

# Template 17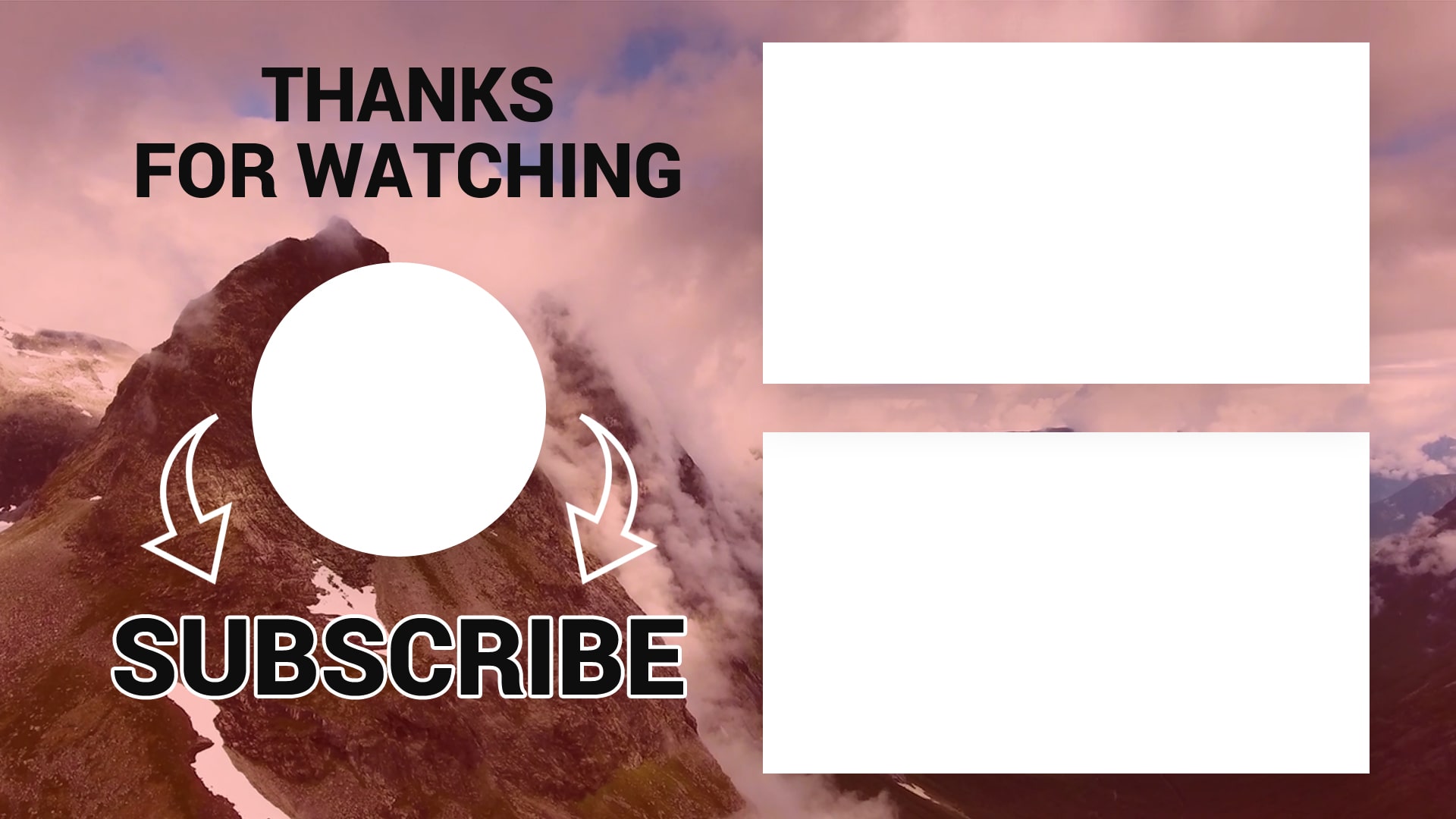 Another free outro template largely dedicated for travel channels. Travel channels will use this template specially if they are interested in hiking and mountain climbing. This free template will definitely encourage the viewers to subscribe more.

# Template 18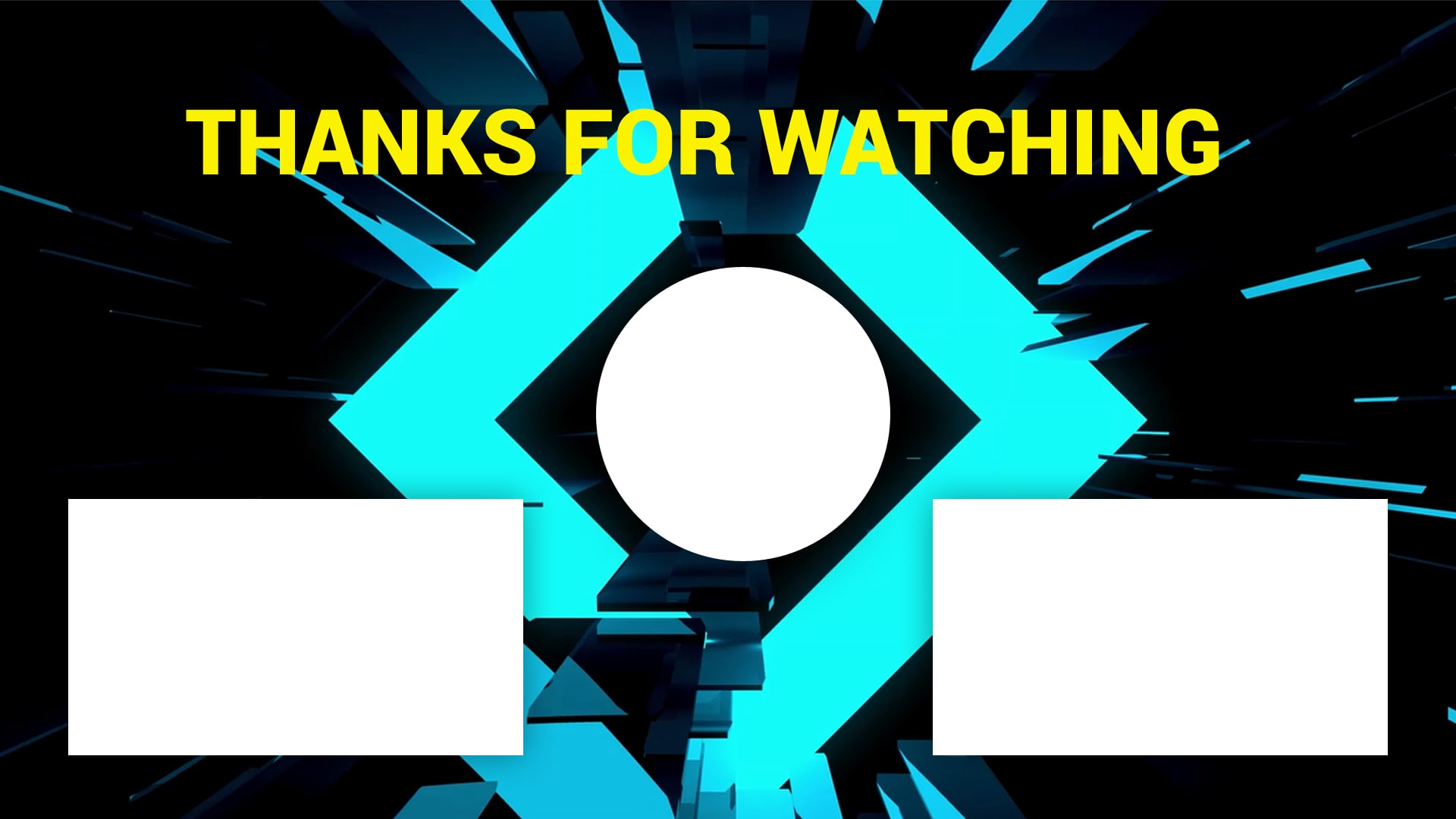 Fantastic free outro template for gaming channels. Normally gaming outros are the most expensive ones. But in this case, this outro is free and is it so eye catching. It will definitely raise the eye brows of many gaming channels.

# Template 19

Necessarily this template is also well settled for gaming, It, and technology channels. So elegant looking template and that also for free is quite out of imagination. A premium choice for tech channels. Easy recommendation for any IT related channel.

# Template 20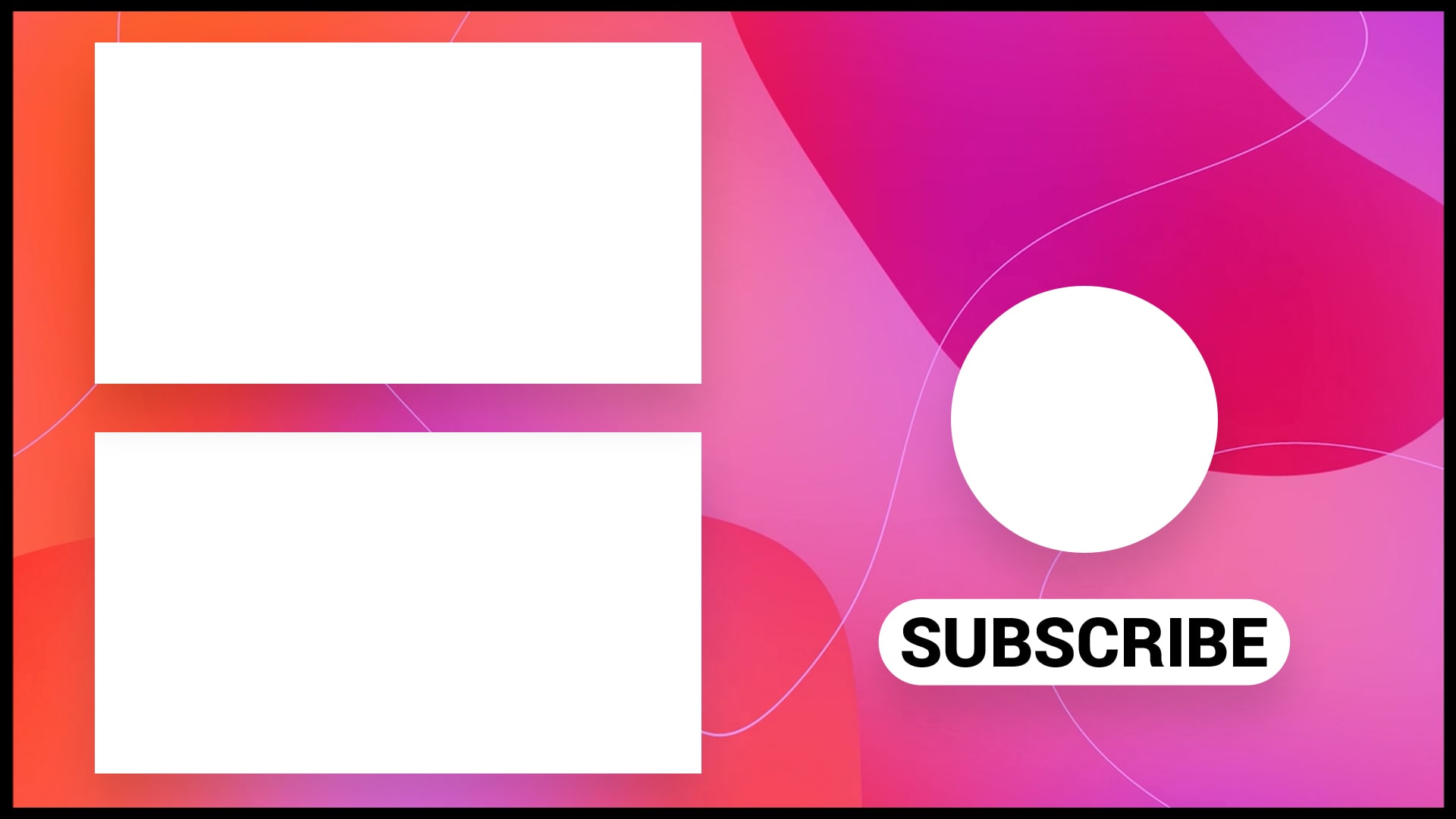 Perfect for any female channel. The colour flow and gorgeous design will attract female viewers more and more. It is well suited for any art based channel as well. At present, many channel is getting huge success showing drawing tutorials. For them this colourful free outro template will definitely be great.
How long is a YouTube outro?
Now as you have a proper idea on YouTube outro video templates, lets discuss about its duration. Many times it is seen that some channel have made their YouTube outro too long which is quite boring and viewers just close the tab in the mean while.
The golden duration for a YouTube outro stands from 15 sec to 25 sec. This means at least it should be 15 sec long and at max it can be 25 sec long. Shorter than 5 sec will be of no use and longer than 25 sec will be boring. I prefer min. 20 sec mostly. For me this time is ample enough to attract my viewers.
How to make an outro for YouTube?
Now with all these described, you have come to know what is a YouTube outro, what is the proper dimension of a YouTube outro and what is the proper duration for a YouTube outro. We have also provided you with 20 free templates for your own YouTube outro design.
Now you may directly ask us, how to make a YouTube outro? You questioned and here is our answer.
You can follow the Invideo.io outro maker. This is one of the best and easiest software that you can use to easily make your very first YouTube outro. Or otherwise you can go for Placeit, another fantastic YouTube outro templates provider. At first lets have a look at the Invideo.
Invideo
Just go and signup to invideo.io and then start going through their huge library of templates. You have almost thousands of templates there. They have covered almost each and every category out there.
They have text to video option as well. Moreover they provide custom sizes which are suitable for social media like Facebook and Instagram. It will definitely help you grow a huge social position.
If you are looking for a larger library, then you should check out Placeit. Though it comes with fewer features and is slightly more difficult to use, it boasts about 2,000 more images.
They have a fantastic library and with that you can easily find the proper YouTube outro templates you are looking for. Although it is not as easy as Invideo.
There are some bad reviews on placeit. Like they do not actually provide any free service. They ask for email address and then other things. But as a matter of fact they are good. If you do not like anything they have provided they make a full refund which is really great.
How to add an outro to a YouTube video?
Once you have created your custom outro for YouTube, please make sure that you have placed all the things properly. Then download it as an animated MP4 (without watermark) file or PSD file. This will be just like another video. Just the difference is this video is very small in duration.
Now that you have downloaded your custom outro for YouTube, you have to upload it to YouTube and append it at the very end of your selected video or videos. This is a regular procedure and you will do it many times.
Google has published the steps like this:
1. Open the Videos page in YouTube Studio and select a video.
2. From the left menu, select Editor.
3. Select Add an end screen.
I hope now you clearly understand how to upload the YouTube outro that you have designed for your YouTube videos.
Conclusion
Right now YouTube videos are important more than ever. And so you should try your best to give the full potential so that you do not miss anything. And a YouTube outro templates is an add-on which can play a vital role in your YouTube journey.
If you like the templates, please share it on social media. We need it!