YouTube thumbnail makers are the key to the success of any online marketing business channel. Users can easily create thumbnails by choosing any of the given thumbnail makers for YouTube.
YouTube thumbnails are the precise attractive designs created in order to grab the attention of viewers and to provide the appropriate information about their YouTube video. Moreover, there is a huge variety of YouTube thumbnail makers available online that can provide a wide variety of features to make your thumbnails unique from others.
Before you start creating custom thumbnails for your YouTube video, you must know that what is the perfect dimensions of YouTube thumbnail. Read our details YouTube thumbnail size guide 2020.
Top YouTube Thumbnail Makers Online
Now let's have a look at some of the most wonderful best free thumbnail maker that can simplify the complex process of thumbnail making and can create spectacular thumbnail designs in just a few minutes.
Adobe Spark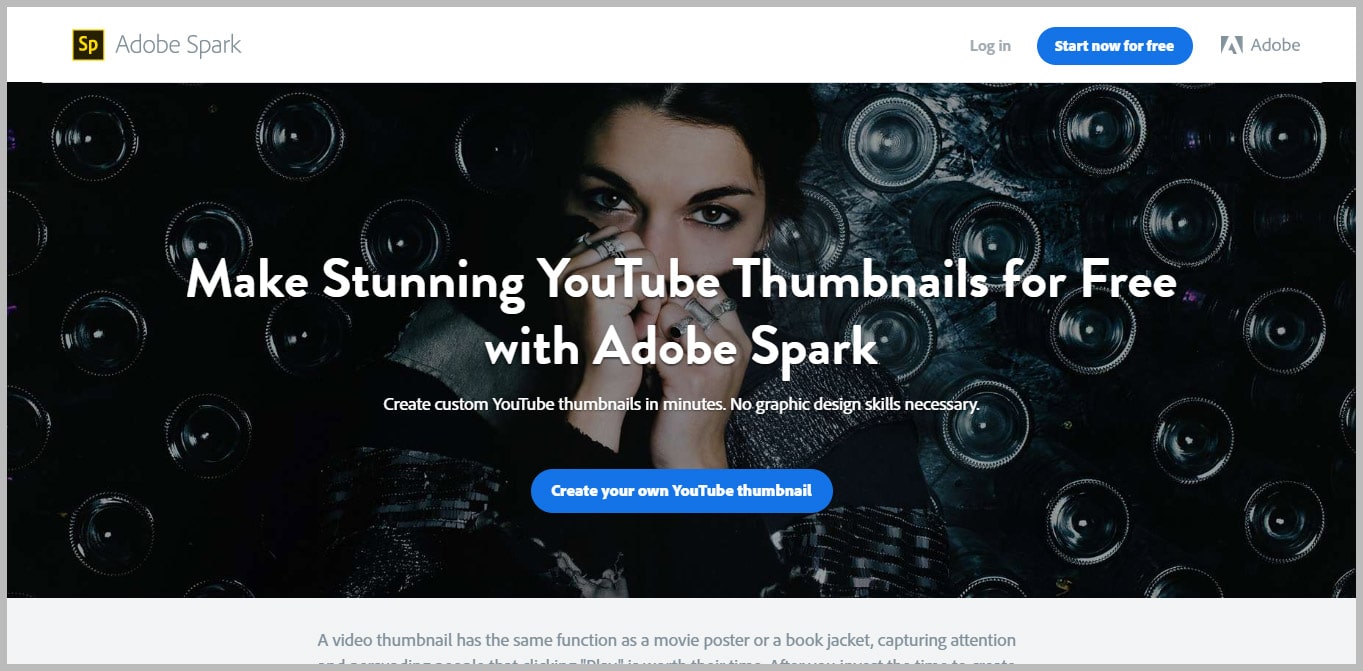 Your YouTube video is not completed without an attractive thumbnail. To get a professional-quality thumbnail to take help from Adobe Spark where you have huge creative possibilities for your desired designs. You can feel free to work with Adobe as it allows you effortless erasing and new attempts.
Unlimited themes, images, and typography are available here to create eye-catching custom thumbnails for the audience. With Adobe Spark YouTube thumbnail maker, you have the chance to create, save, resize and reuse the specific graphics to make your video recognizable.

Picmaker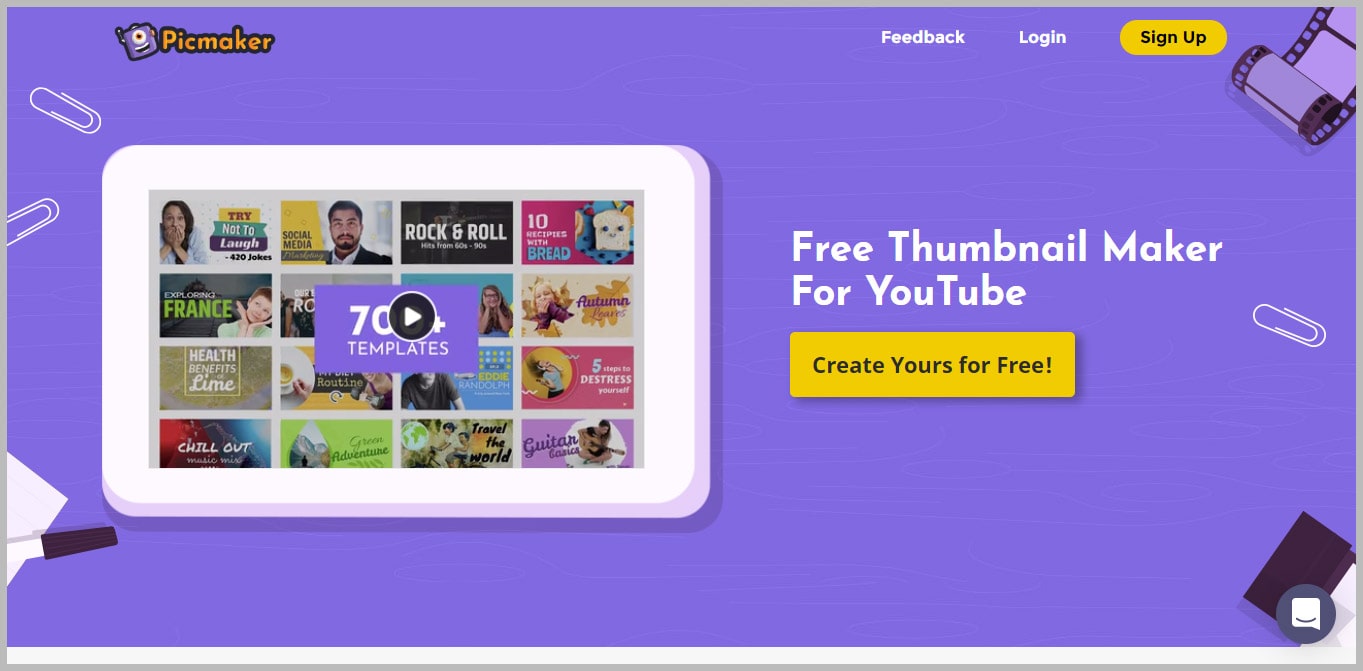 Create amazing YouTube video thumbnails with Picmaker and don't let your viewers scroll down further. The Picmaker has thousands of YouTube thumbnail templates that are actually free. To get the perfect thumbnail for your video you can use Picmaker's endless graphics and stickers.
You can also upload your preferred image and remove your image with the automatic background remover tool. There is also a big collection of images, icons, filters, and texts to create a cool thumbnail for your video.
Create Thumbnails with Picmaker

Fotojet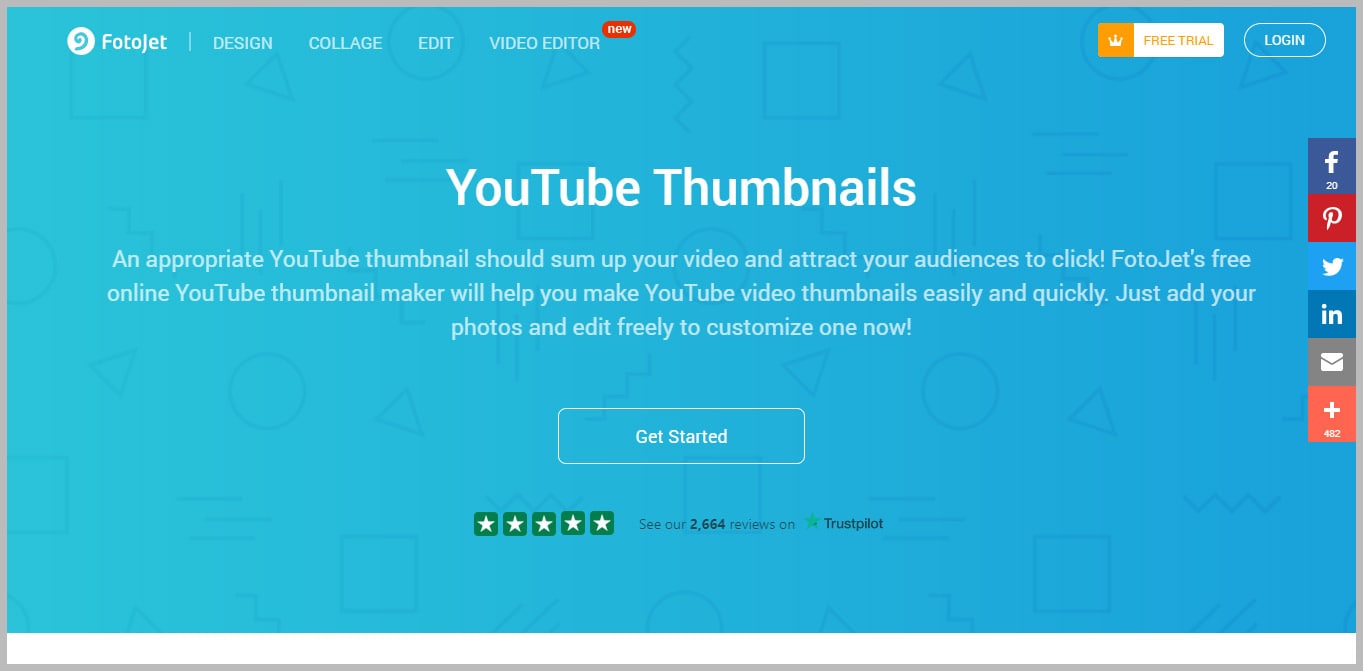 You put effort and time into creating and editing your video and Fotojet will help you with getting the recognizable thumbnail for it. Fotojet provides you different types of templates, clip arts, images and other resources for a tempting YouTube video thumbnail. Taking help from this tool you can easily make your custom thumbnails in a few clicks.
Fotojet has unlimited professionally designed templates also. So save your time by using this tool and make your own designed thumbnails absolutely free.
Create Thumbnails with Fotojet

Bannersnack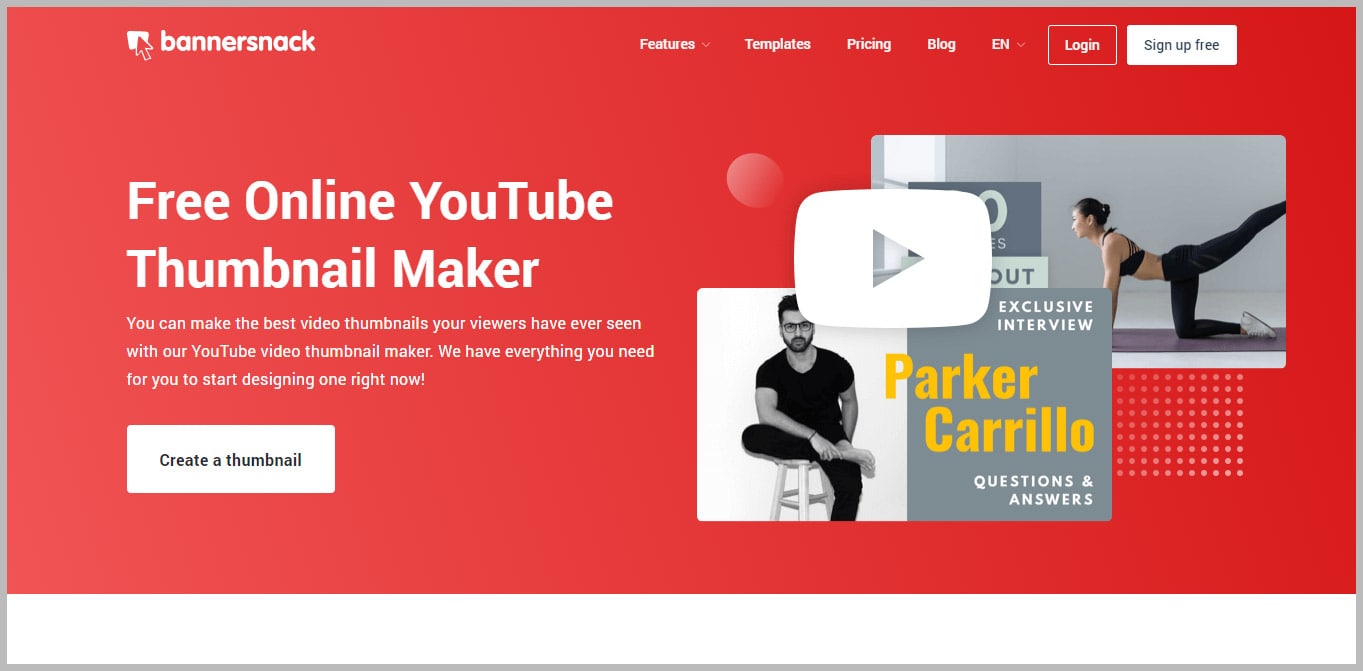 Create your YouTube video thumbnail with Bannersnack and give your viewers a clear idea about the video. Bannersnack is so easy to use that you can get your preferred video thumbnail in a minute without having any designer skill.
This online thumbnail maker has plenty of professionally designed templates that you can also customize. Starting from templates, font presets, stock images, textures, elements Bannersnack provides you everything you need. You can also use millions of stock photos available here for your thumbnail background.
Create Thumbnails with Bannersnack

Crello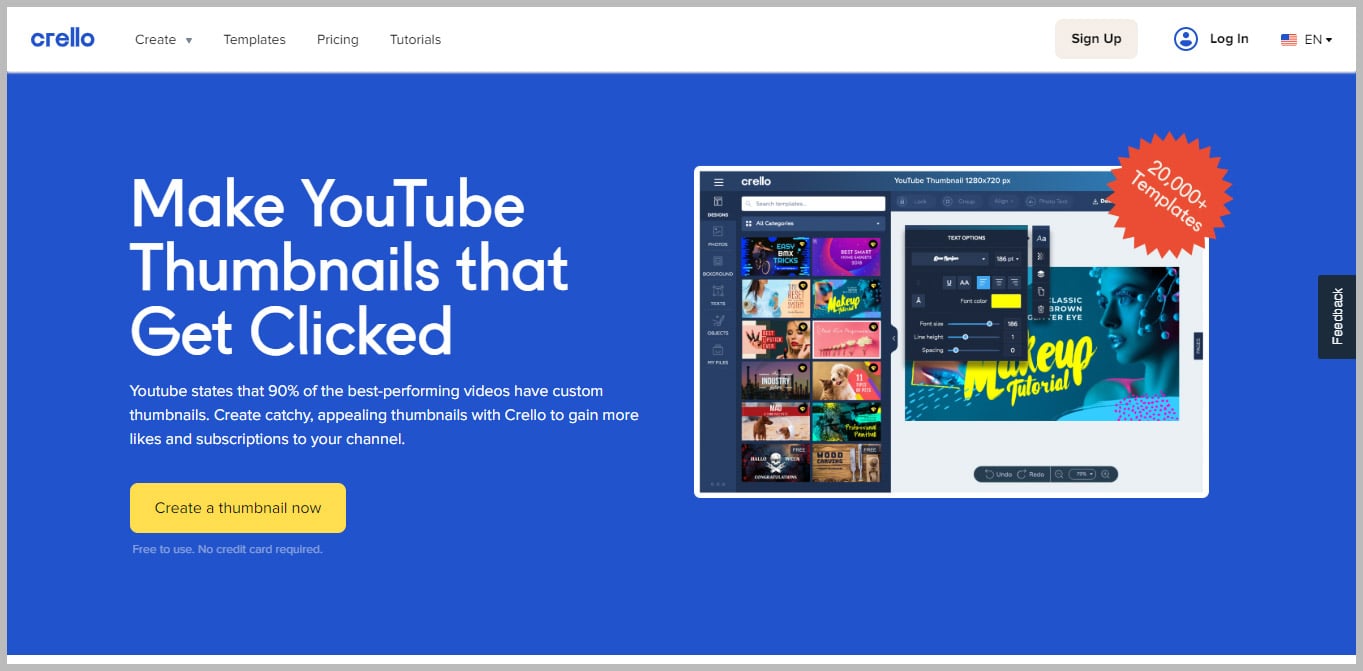 Your YouTube video thumbnail plays an important role for the audience to stop scrolling and watch your video. You can get unique designs with Crello's thumbnail maker.
Crello has more than thousands of professionally designed templates in stock. You can also choose fonts and size for a perfect video thumbnail. Make use of Crello's library for unlimited static templates and get the most creative thumbnails for your video.

Fotor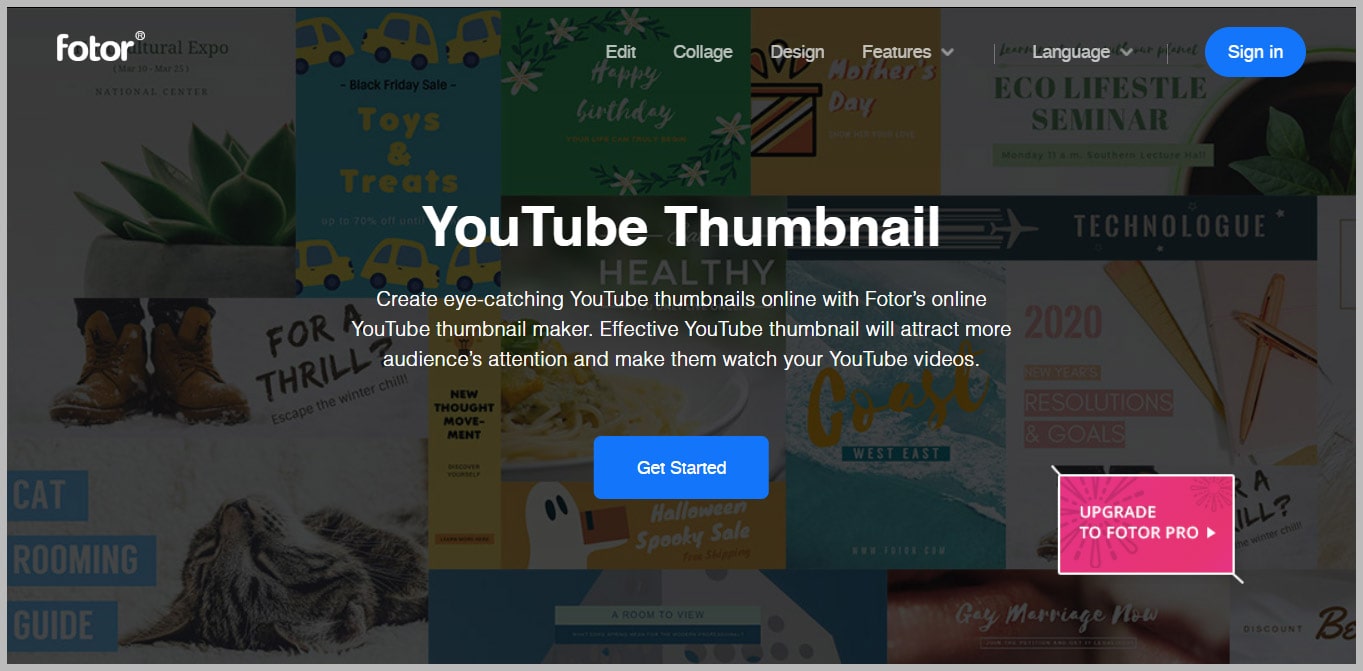 Create attaching thumbnails with Fotor's online YouTube thumbnail maker and get more subscribers for your channel. Fotor offers you abundant thumbnail templates of different themes. You can also avail of various sizes and shapes and make thumbnails of your own choice.
With a drag-and-drop facility, it is very easy to create a customized template in this tool. You can manage overlays and backgrounds and select your preferred format, size for the best YouTube thumbnails of your video.

Placeit

Within a few minutes, you can get your perfect YouTube video thumbnails with Placeit. You can make thumbnails with this easy to make thumbnails tools. There are endless YouTube thumbnails including beauty, fitness and gaming thumbnails.
Placeit has a huge collection of designed templates for everything. You can easily edit any template and choose your colors, fonts to make effective YouTube video thumbnails.
Create Thumbnails with Placeit

Snappa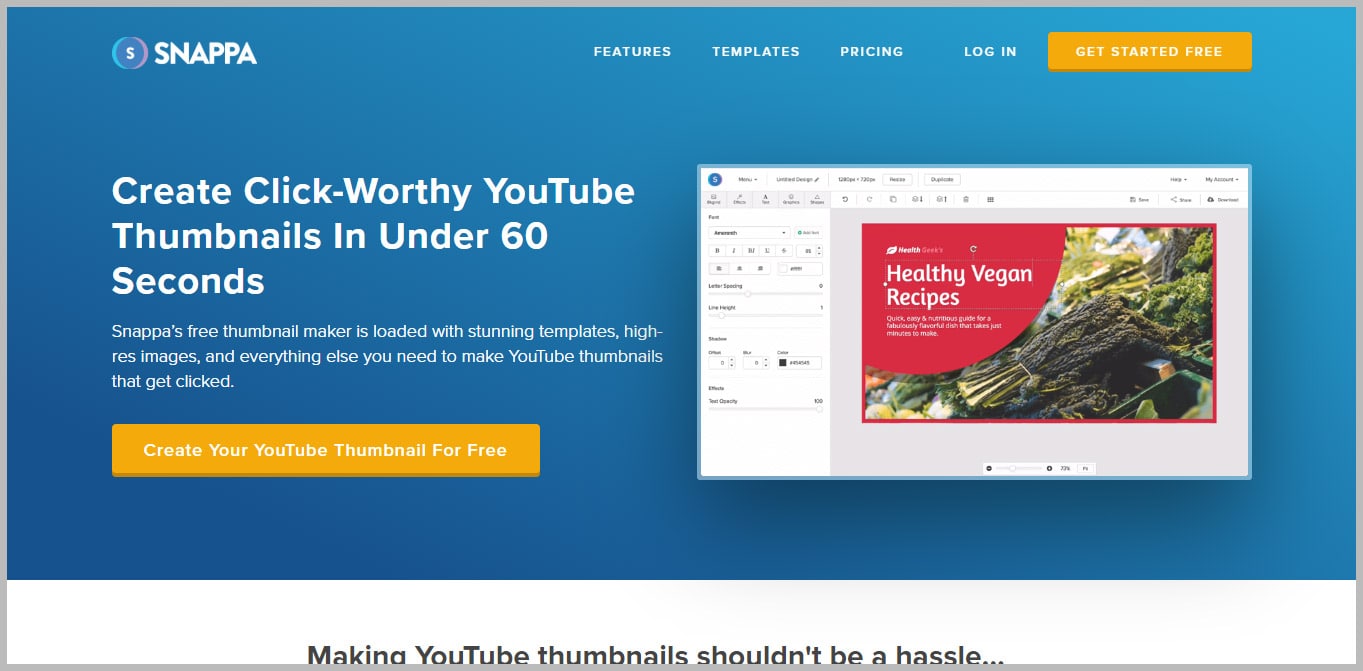 YouTube video thumbnail making becomes easier with Snappa. With this tool, you can make engaging thumbnails though you do not have any design skills. Snappa helps with lots of stunning templates and high-res images which are absolutely free.
You can get countless professionally designed templates and also customize them with drag and drop facility. You have all the scopes to add, subtract and modify your graphics, texts, and shapes until you have the thumbnails exactly needed.
Create Thumbnails with Placeit

Visme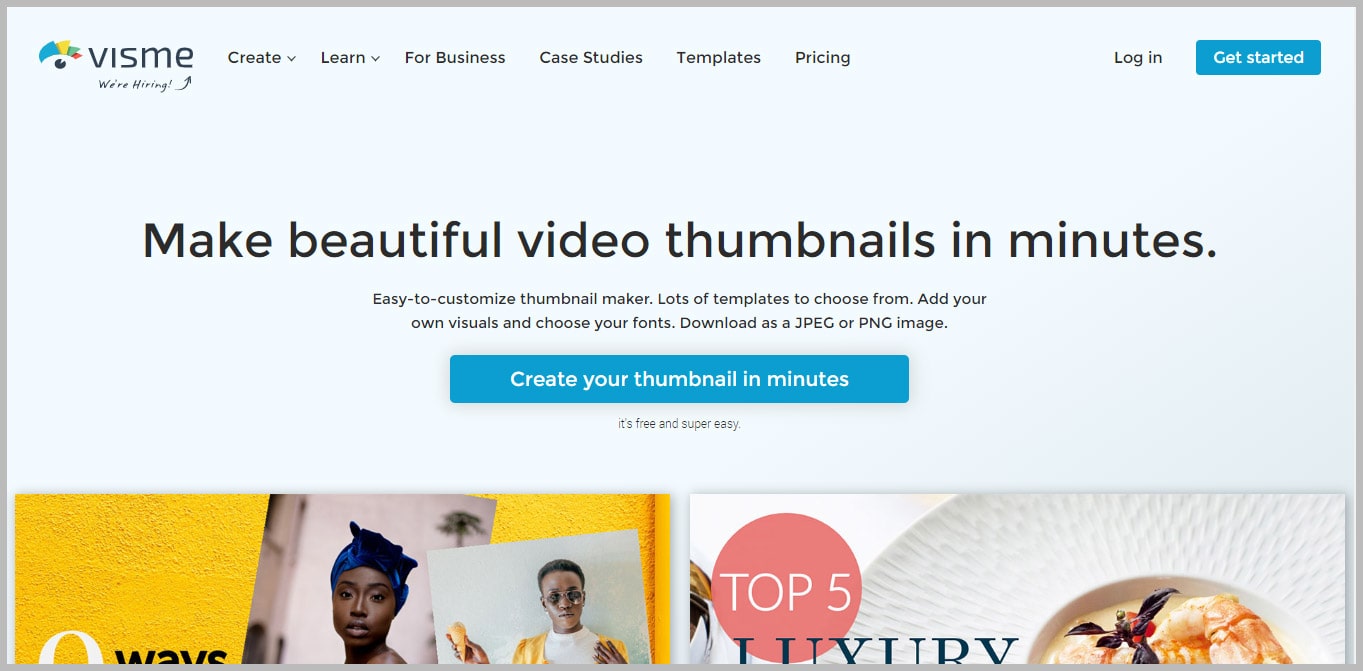 With the help Visme, you can have the most professional looking thumbnails for your YouTube videos. This free YouTube thumbnail maker has a wide collection of designer templates. You can also customize the images, graphics, colors, and fonts as per your requirements.
Visme has different sections for editing and adding texts, icons, and graphics. Make use of the available shapes, size, and fonts and convey your message within an image to your viewers with Visme YouTube video thumbnail maker.

Pixteller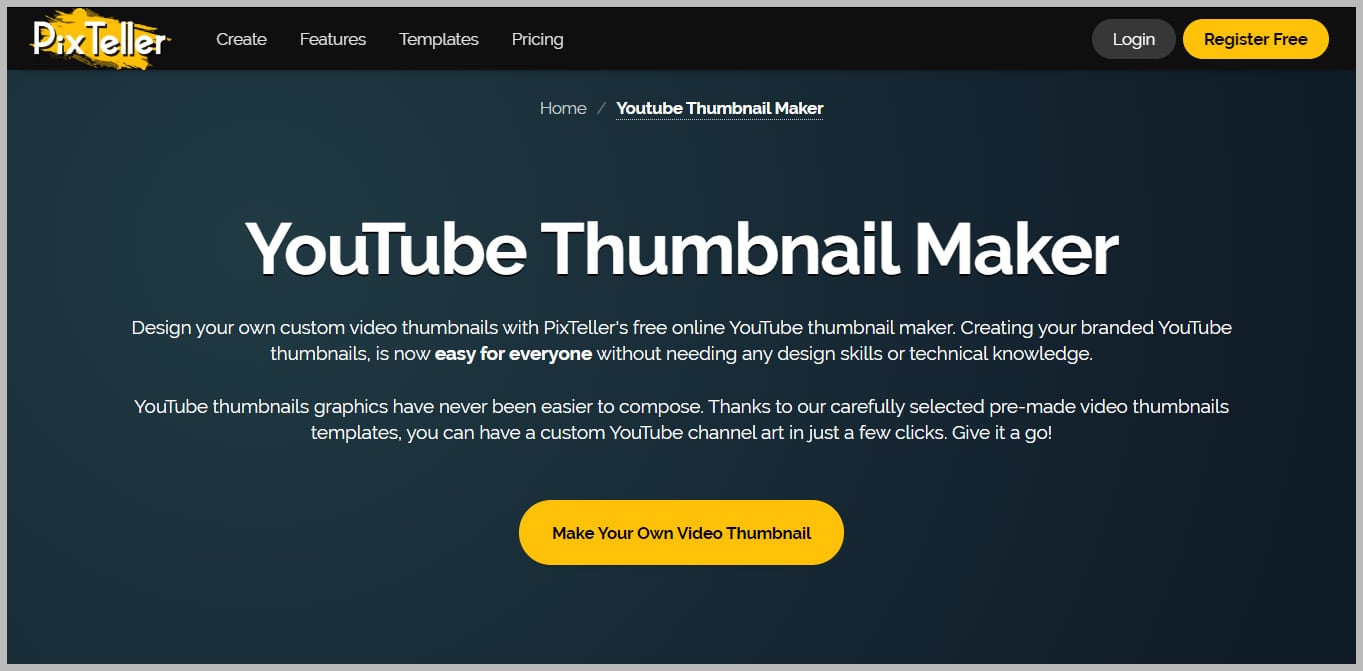 It is now easy to create your YouTube video thumbnail without any hassle with the assistance of Pixteller. This online YouTube video thumbnail maker shows you how to make professionally-looking thumbnails easily. You can have extensive designer templates here and can also edit it according to your choice.
You can get a personalized thumbnail by editing the text, photos, and shapes. Pixteller has some wonderful features including a folder where you can organize your thumbnails along with professional made layout and image clipping crop.
Create Thumbnails with Pixteller

Canva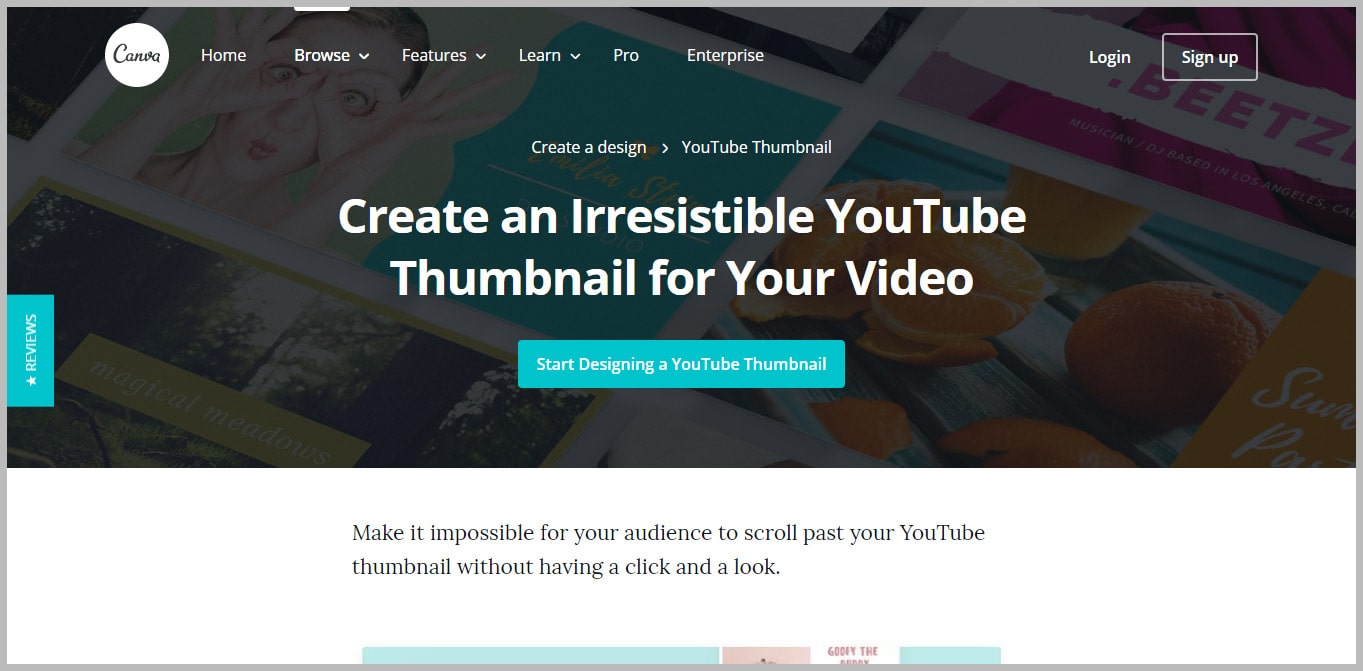 YouTube thumbnail for your video is no less than a movie poster. Create your video thumbnails with Canva and impress your viewers to stick to your channel. Unlimited professionally designed templates are available here and you can use them as per your choice with Canva's easy drag-and-drop interface.
With this tool, you can easily customize your YouTube thumbnail dimensions or you can choose templates, images, and icons from the gallery. Canvas also gives the chance to add texts to your video thumbnails that contain the full-length video in just one image.

Picmonkey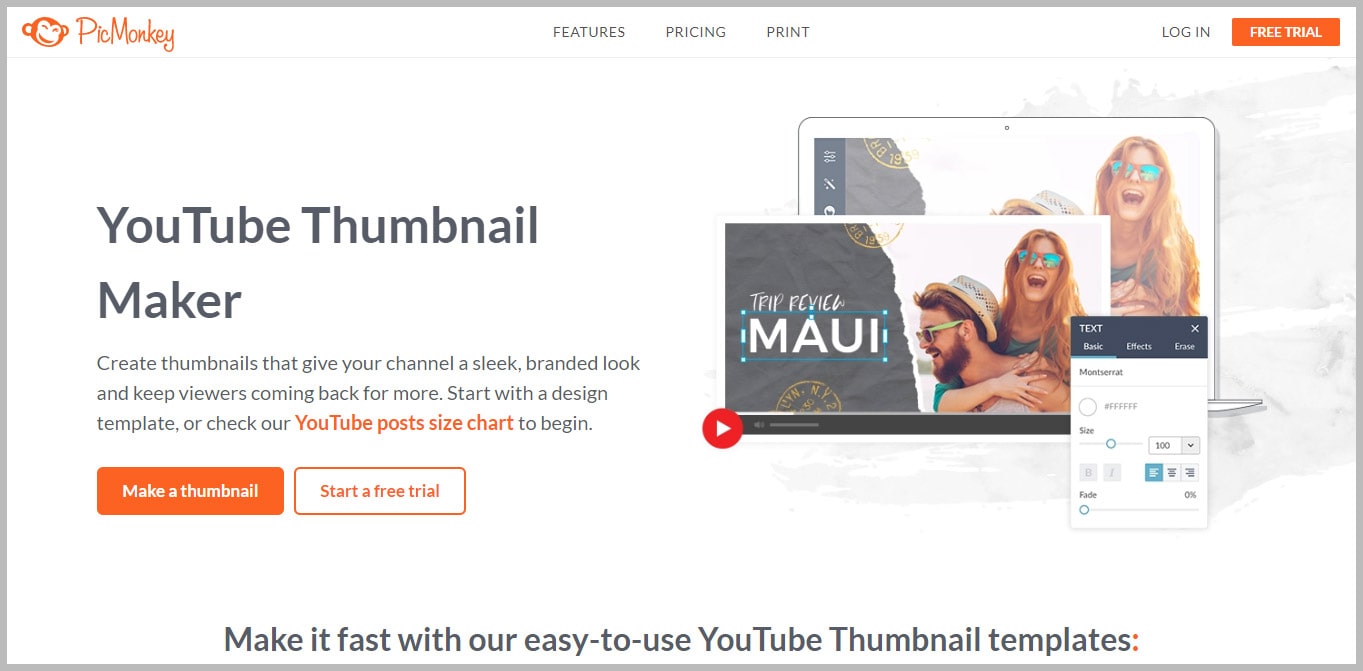 YouTube video thumbnails primarily decide the popularity of your video. Picmonkey offers you to choose hundreds of designer-made templates and customize to fit your brand. With this easy to use video thumbnail maker create amazing thumbnails within a minute and make your channel stand high.
You can also add your own logo, photos, texts and graphics to make a thumbnail of your own choice. You have a chance to edit your thumbnail as per your wish.
Create Thumbnails with Picmonkey
Some Final Words on YouTube Thumbnail Makers
The above-mentioned thumbnail makers for YouTube are the complete package of creative designs, YouTube fonts and innovative icons which are quite helpful in uplifting your youtube page. Moreover, each thumbnail maker offers you detailed information about how to change the thumbnail on youtube easily.