YouTube banner makers have revolutionized the world of digital marketing by offering a plethora of creative template designs that are tailor-made as per the need and preferences of the user. Not only this, these banner makers also have a unique set of backgrounds along with doodle graphics and icons which can help the user to attract the attention of a number of viewers online. These free youtube banner creators does not require an expert for its efficient functioning and can be easily used by the user.
Before you start creating a banner design for your channel, we recommend you to learn more about YouTube banner size that helps you to create channel art with perfect dimensions in 2020.
Available Youtube Banner Makers Online
Given below are some of the most widely used online youtube banner makers that can easily create a highly professional yet elegant piece of youtube banners in just a few seconds.

Snappa – Best Online YouTube Channel Art Maker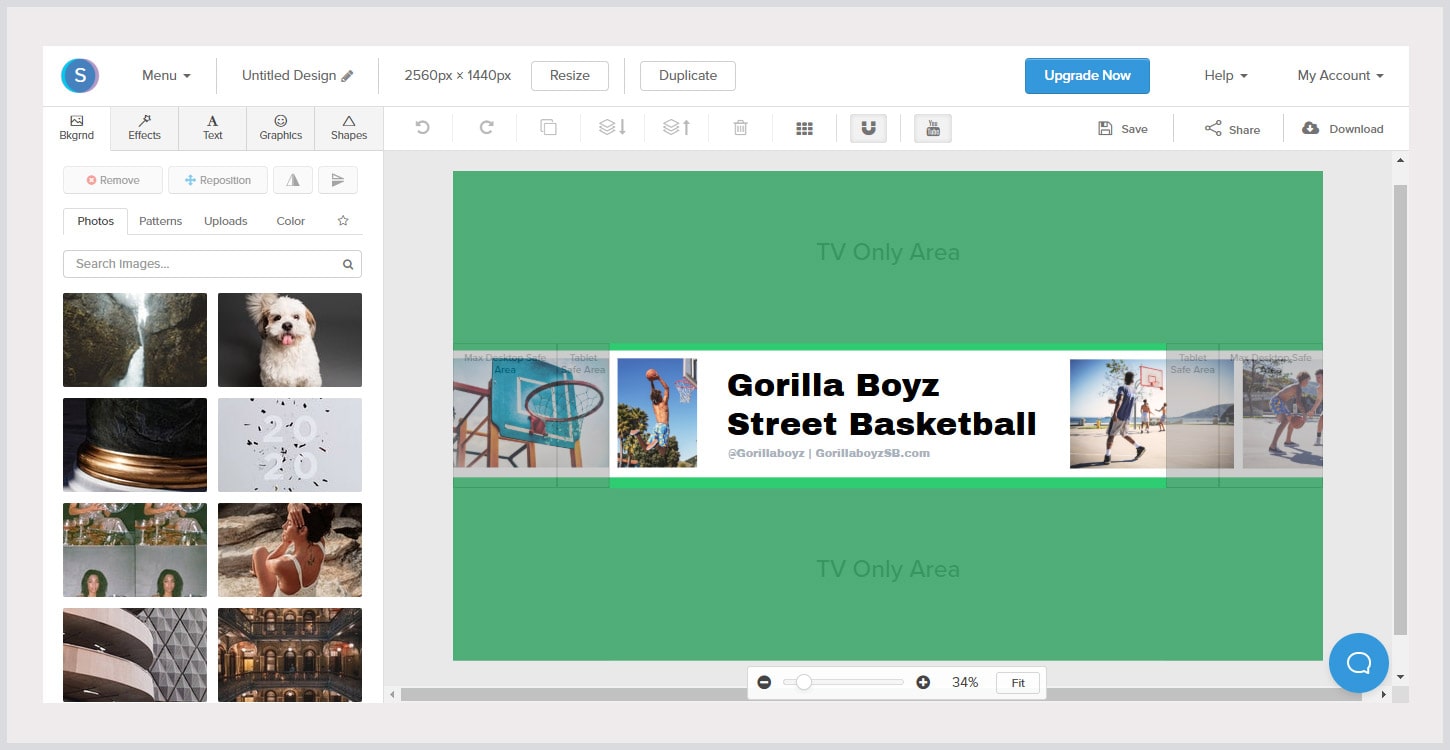 Create your YouTube channel art with Snappa to get more viewers on your channel. Snappa provides you with professionally designed YouTube channel art templates to make an eye-popping YouTube profile. You can also avail customize templates, graphics, and texts in this editor tool.
There are also thousands of high-resolution top-class photos in their stock. Snappa brings the opportunity to repurpose YouTube channel art for other social media and vice versa without any hassle.
Create YouTube Banner with Snappa

Bannersnack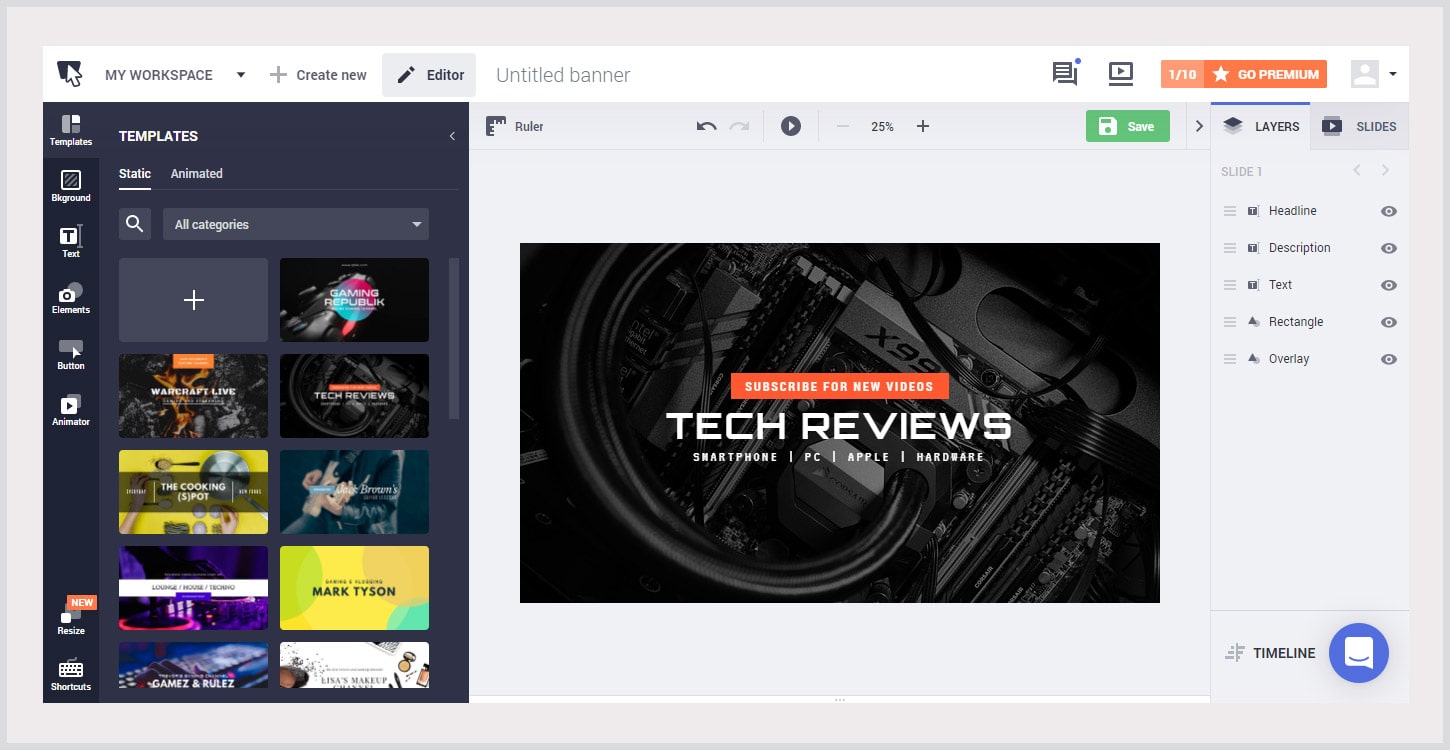 If you are looking for some impressive visuals for your YouTube channel this company provides you amazing wallpapers, channel art, and video thumbnails. You can make an amazing cover for your channel with their ready-made samples even you have a lack of designing skills. They have hundreds of free stock photos, shapes, and text presets that make your channel arts more attractive.
Along with YouTube video thumbnails, Twitter headers this company has Instagram banners and posts, Facebook banner ads, Facebook timeline covers, and Facebook event covers that make your advertising actually easier. This app provides you drag and drop Photo Editor which is fun to use and you can also get your personalized YouTube cover photo here.
Create YouTube Banner with Bannersnack

Adobe Spark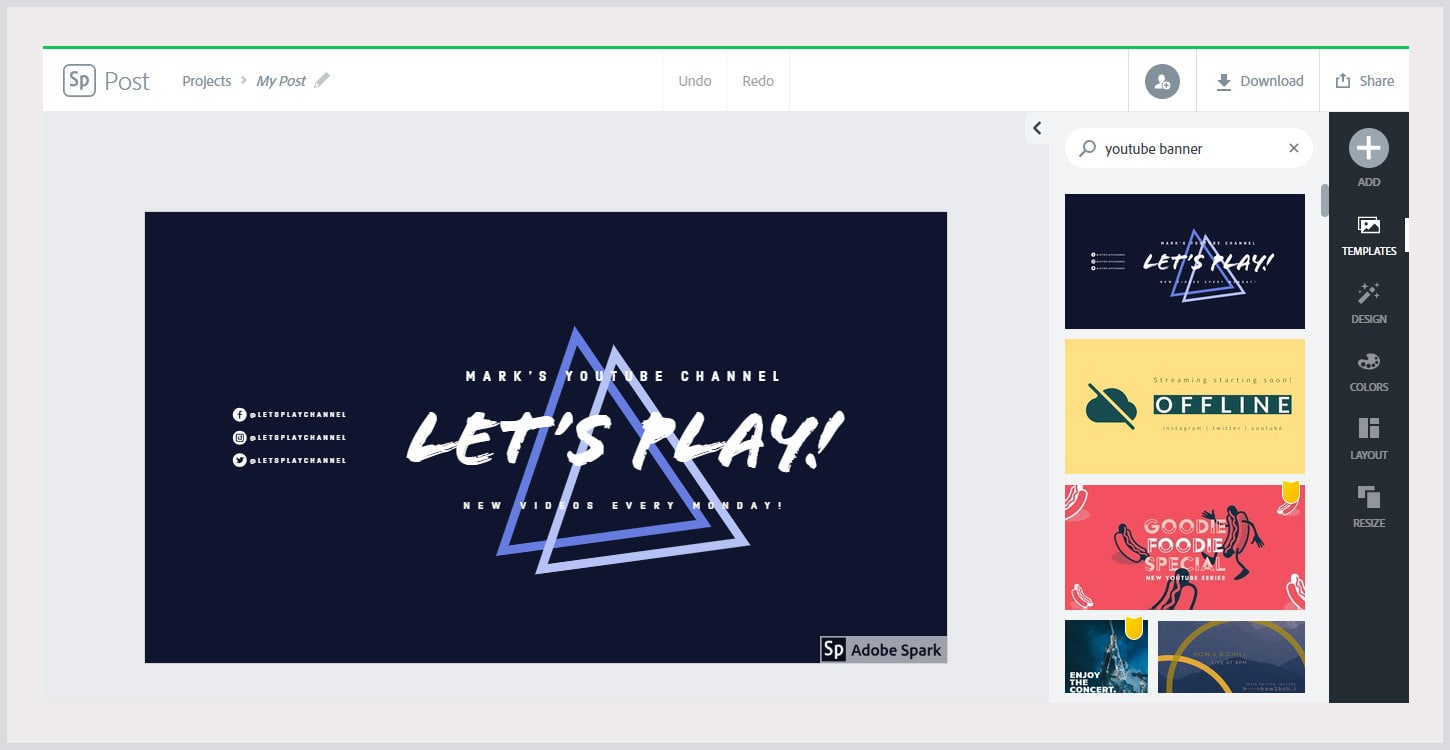 You can reach to a maximum number of people by creating some unique banners with this online banner maker. You can create your YouTube banner free with a simple drag and drop system without any designing or coding skills. Besides hundreds of ready-made templates, you can also make personalized banners of your own imagination.
They also provide you different sizes, shapes, and themes and you are able to add text to level it up. Use the spark features like Beautiful topography, Iconic imagery, and Professional themes and get the most eye-catching Youtube banner for your channel.
Create YouTube Banner with Spark

Canva App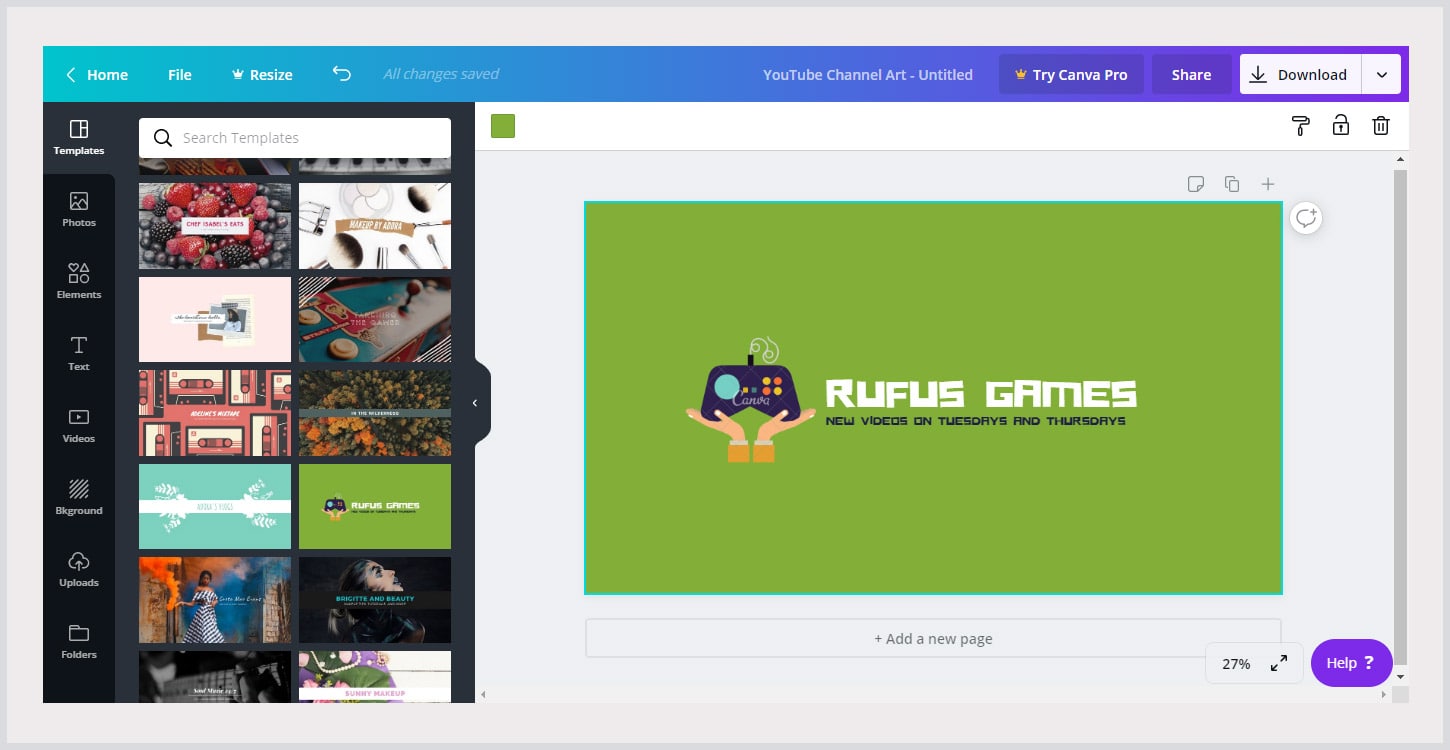 Not having experience in designing is not an issue anymore with Canva App. You can create an exclusive banner within a minute for your YouTube profile making a huge impact on your audience.
This app comes up with thousands of designer-made templates, free colors and fonts, high-quality images and illustrations and an in-built image editor also. You can design as per your own choice with a great professional look. This app saves your time to promote your videos on social media platforms as you get all the features in one plate.
Create YouTube Banner with Canva

BeFunky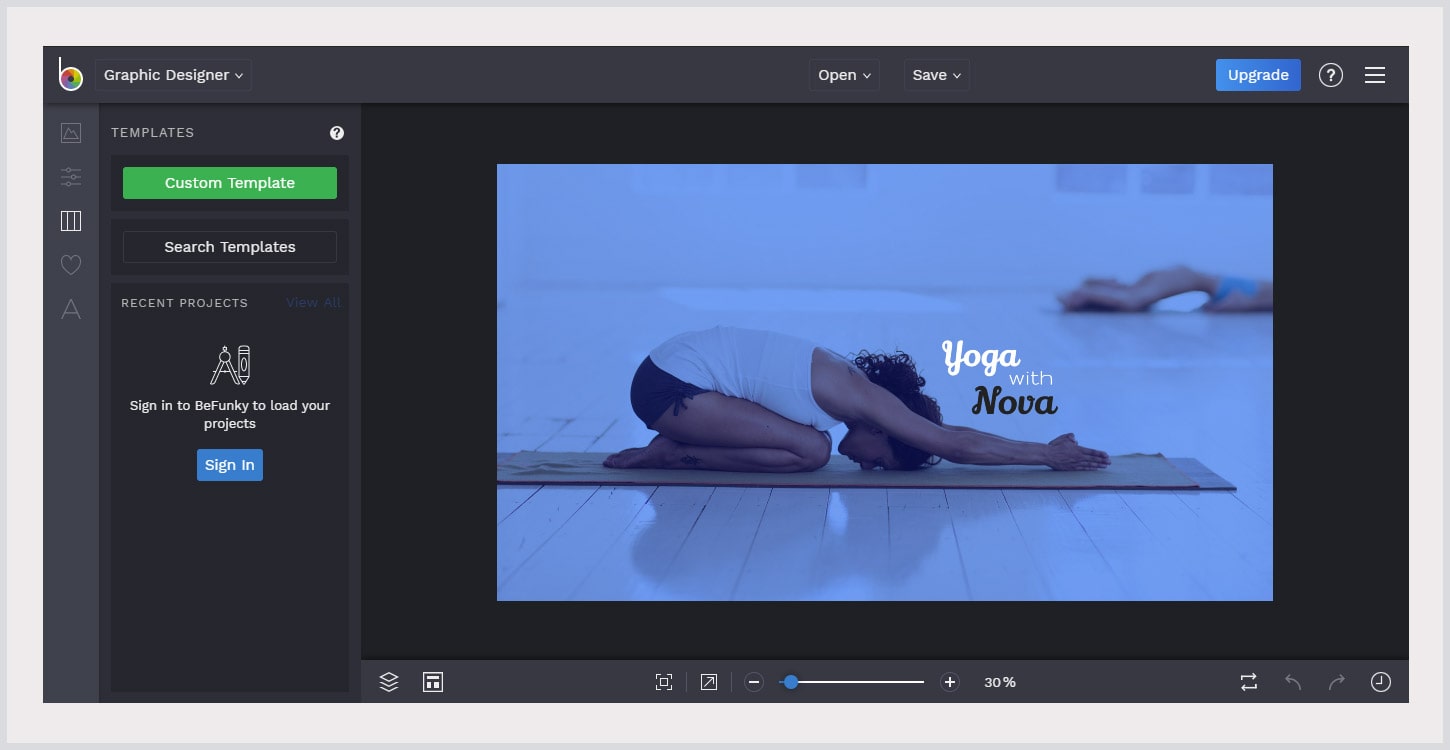 A free YouTube banner creator is the first thing that your audience notices. So if you want the most professional and unique banner for your channel art BeFunky supplies you the designed YouTube banner templates and instant access to over a million free stock photos.
This banner maker helps you to create amazing channel art with a simple drag and drop method. They have the Photo Editor which creates appealing YouTube thumbnails. You can also get customized YouTube templates to brand your channel the best.
Create YouTube Banner with BeFunky

Placeit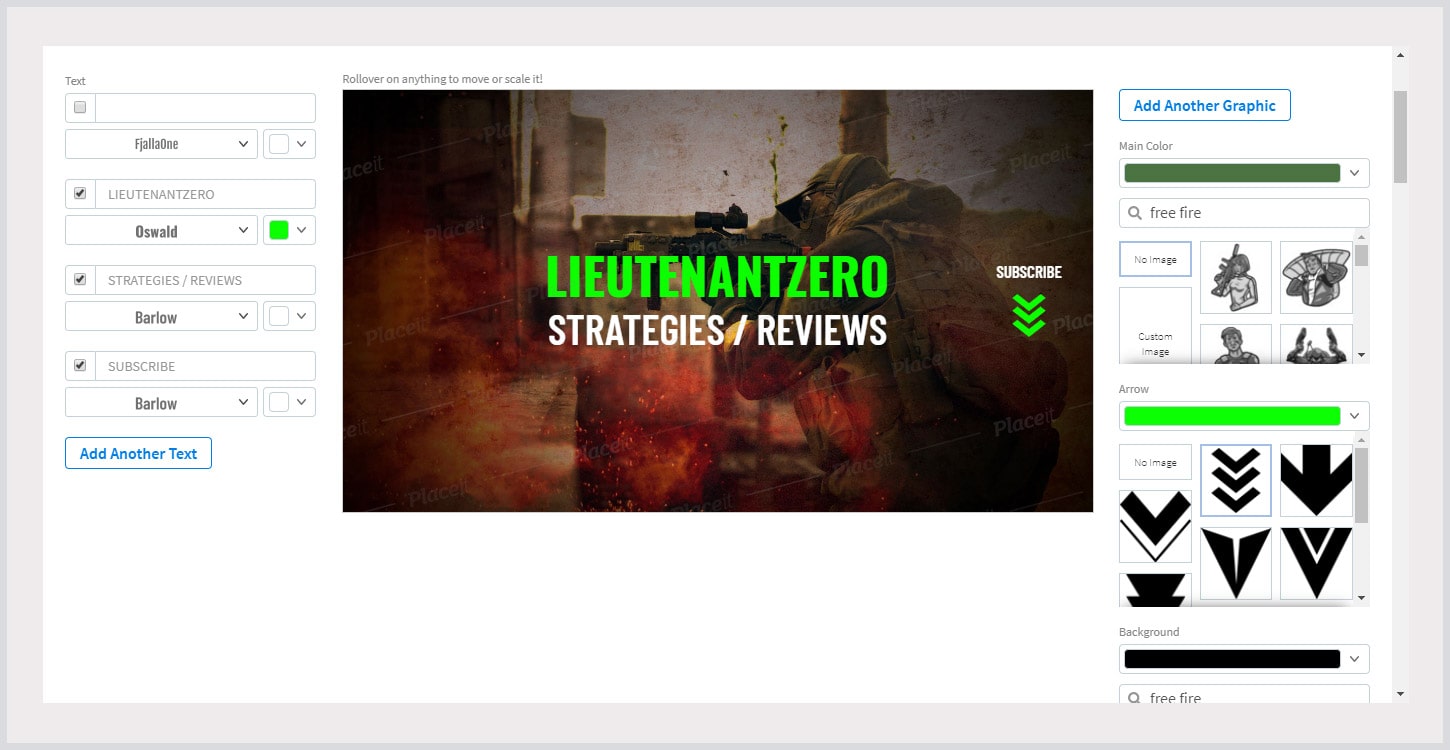 Banner is the most important thing that lets your visitors know about your channel. With Placeit you get the best opportunity to create your professional YouTube banner creator without hiring a designer.
They also help you to get the best professional designs with their free YouTube banner makers. Without wasting time you can get the best designs from them in some clicks. They provide you some amazing templates to access the perfect YouTube banner creator.
Create YouTube Banner with Placeit

Fotor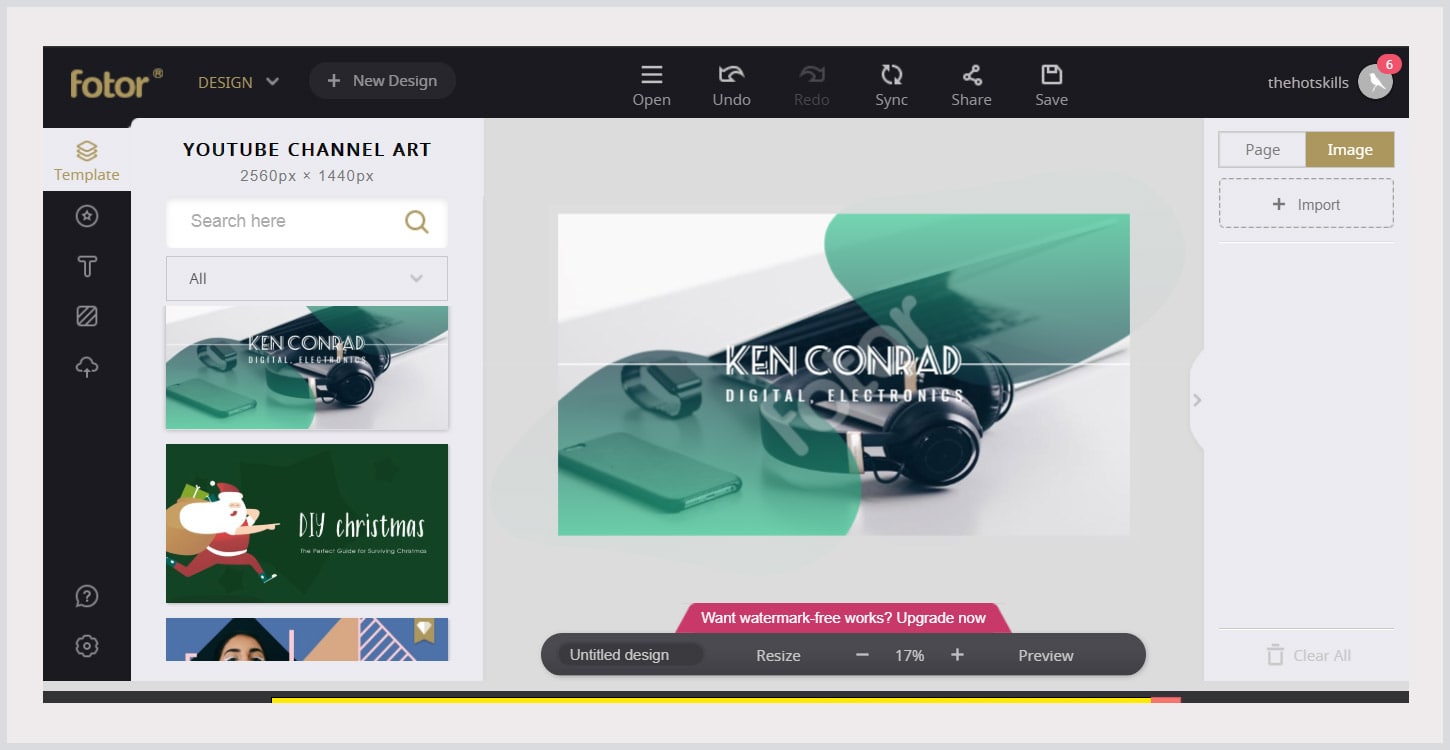 Since getting subscribers is the most important thing for YouTubers, you can catch the attention of your viewers with the help of Fotor's YouTube banner maker. With the help of numerous templates, they give you a chance to lift up your social media value in every aspect.
They provide you different types of banners including Bank manager banner, Colorful summer banner, White wedding pattern banner, etc. YouTube banner makers also helps you with the exact size of your banner. Without hiring a professional designer you get the arresting banner design for your YouTube channel art.
Create YouTube Banner with Fotor

Fotojet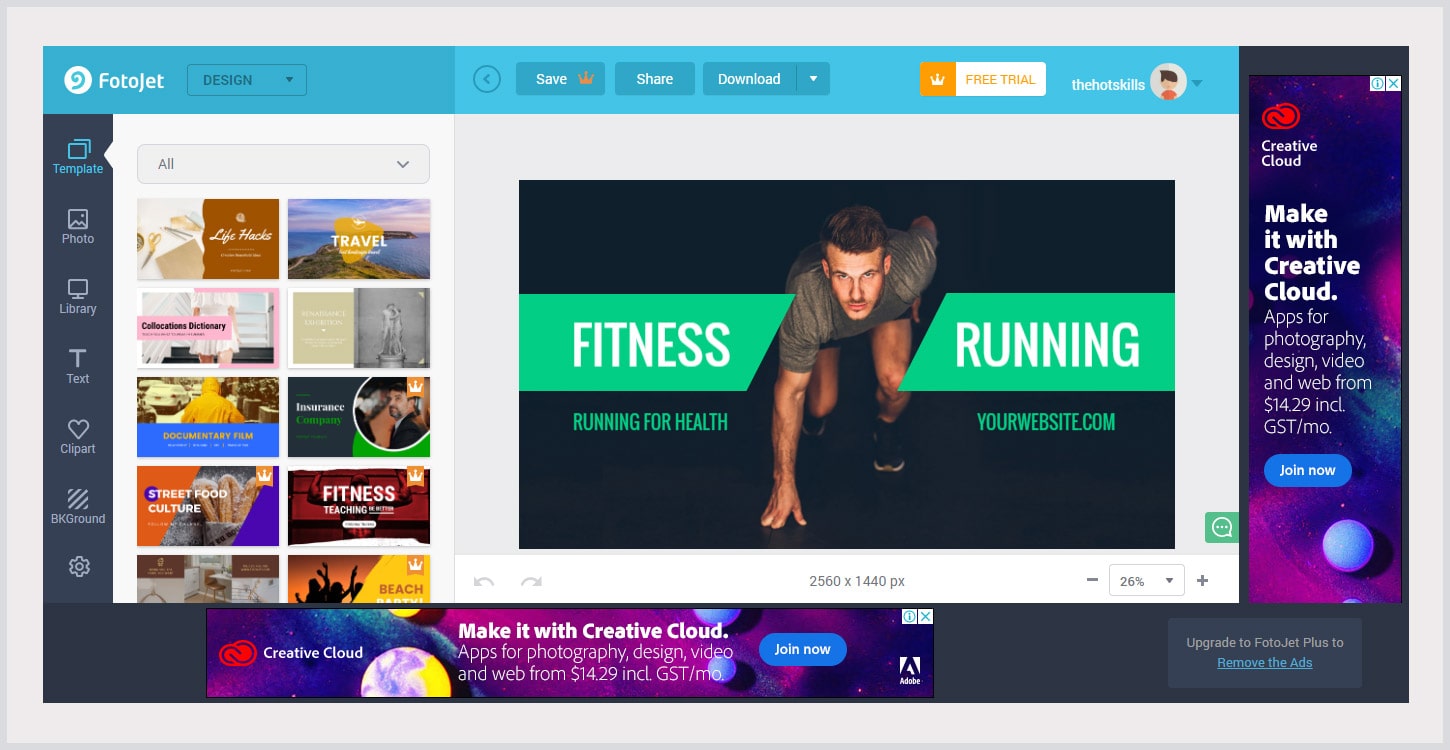 YouTube banners make the most impact when someone visits the channel for the first time. With Fotojet YouTube banner maker, you can create impressive designs without any graphic designing skill. They serve you a large number of free YouTube banner templates that you can use as per the channel's requirements.
They have an ample amount of images, shapes, font, backgrounds, etc which are actually user-friendly. Also, Fotojet doesn't require any registration or download and give you a great experience of YouTube banner designing.
Create YouTube Banner with Fotojet

Venngage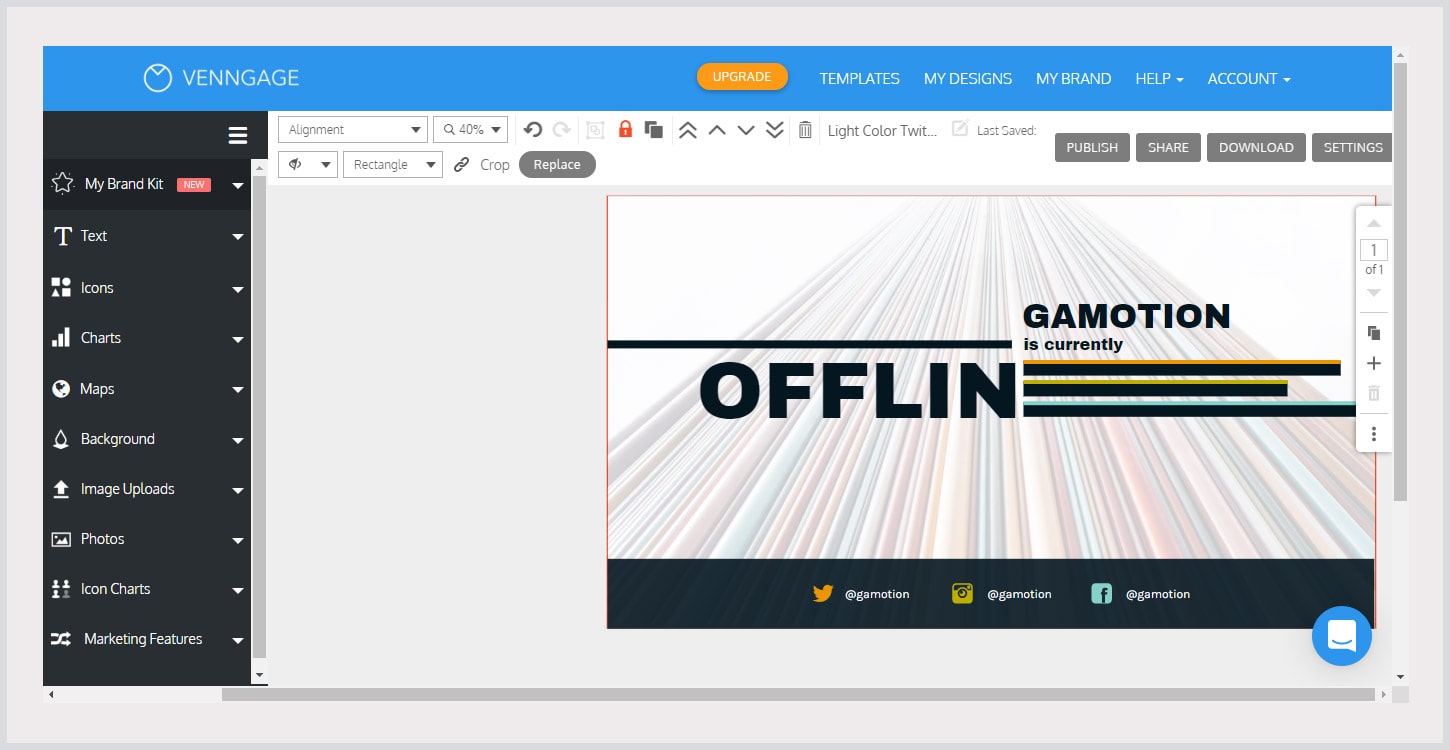 To survive in the increasing competition YouTube needs not only the content but also a stunning YouTube channel art creator. With Venngage you can create custom YouTube banner images for exclusive visual brands.
You can use their several numbers of icons, stock photos and illustrations to design professional YouTube banners. They also have customized templates. Besides that, they provide you descriptive background images that make your audience know your channel better.
Create YouTube Banner with Venngage

Visme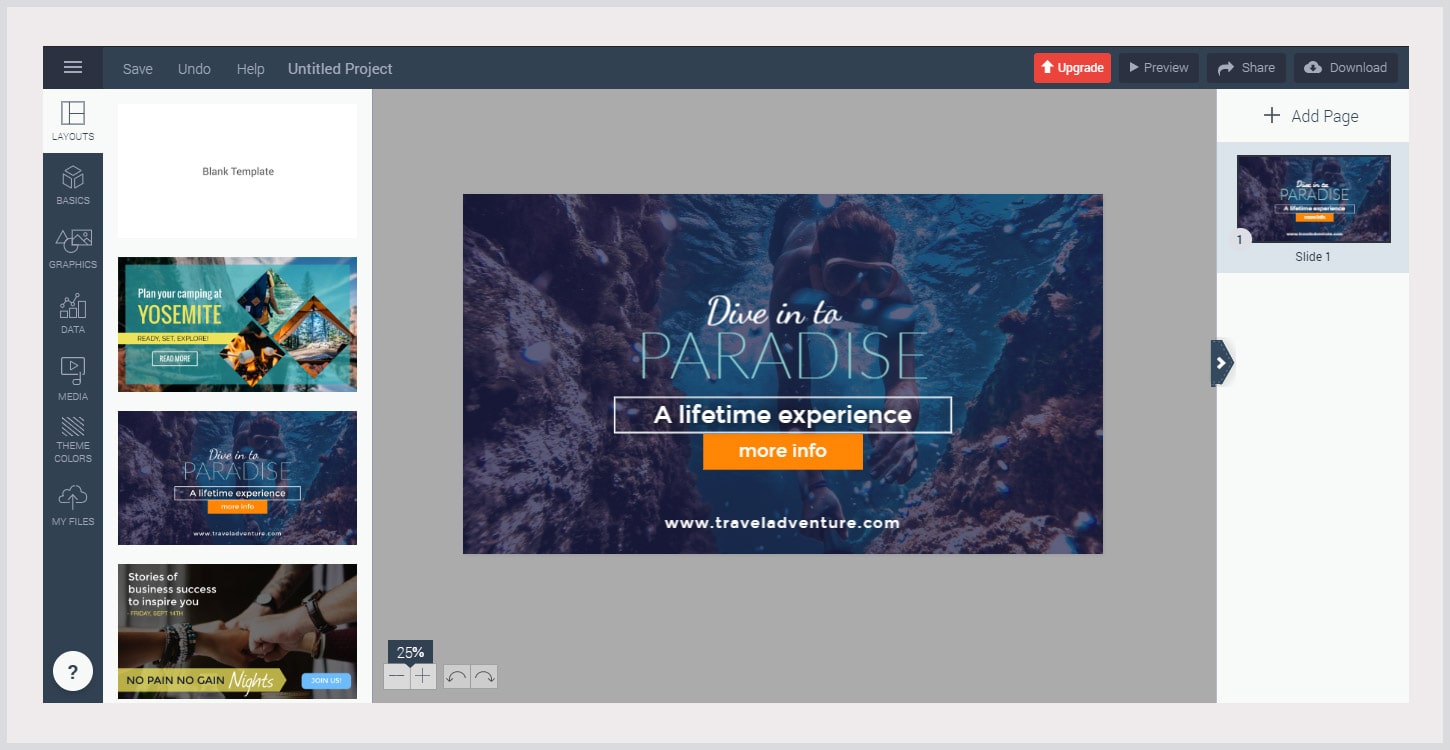 If you want your YouTube channel to stand high you will definitely need some engaging YouTube banners. Visme brings hundreds of icons and images which are free and easy to use.
They have a huge collection of templates that fits your needs. You can use their images, colors and band fonts to get an attractive YouTube banner maker. Visme gives you the wonderful experience of a designer YouTube banner for your channel art in few clicks.
Create YouTube Banner with Visme

Crello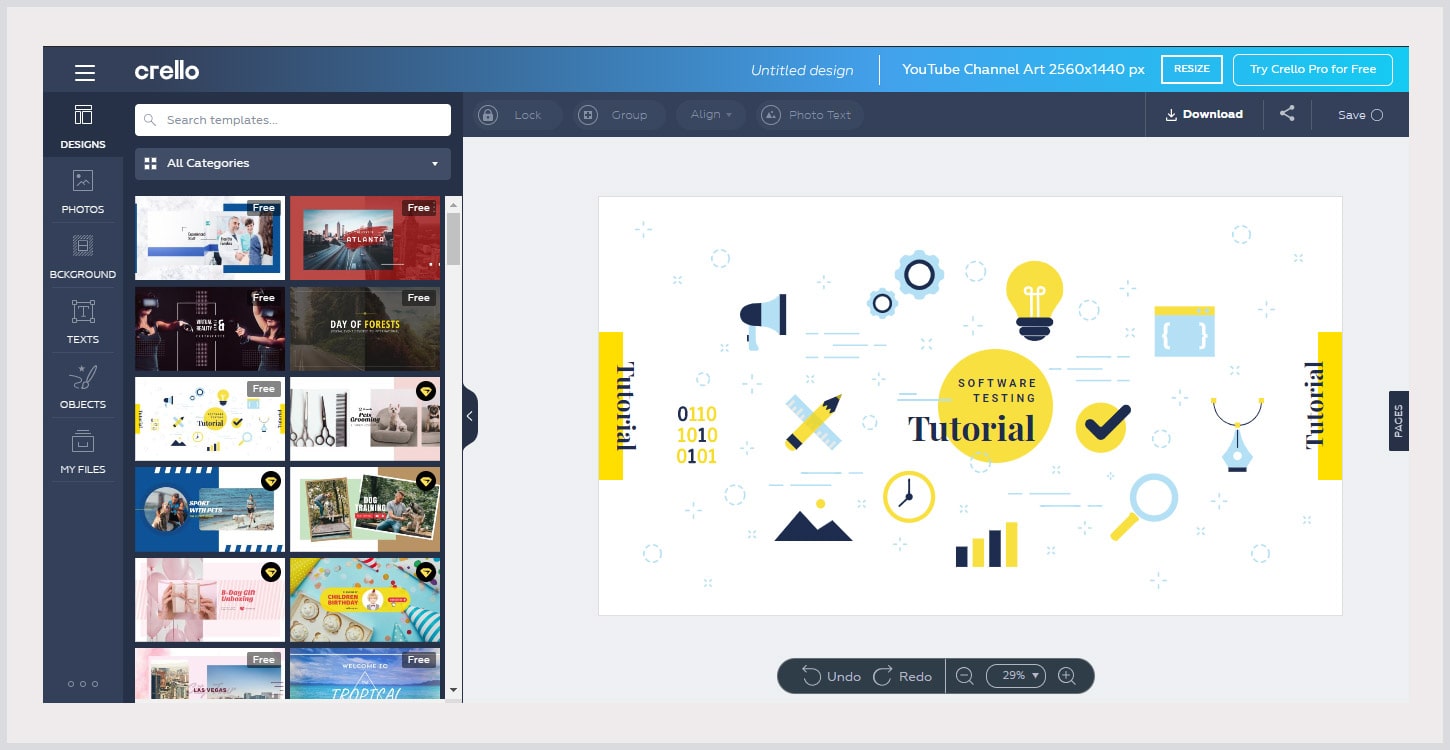 Create a unique YouTube banner with Crello that helps you to get more subscribers. With the simple drag and drop technology, Crello assists you to create YouTube cover art without a graphic designer.
They have plenty of YouTube channel art templates that are actually easy to use. These graphics are absolutely free. You can also add images, photos and change colors and fonts, or upload your own.
Create YouTube Banner with Crello

Pickmaker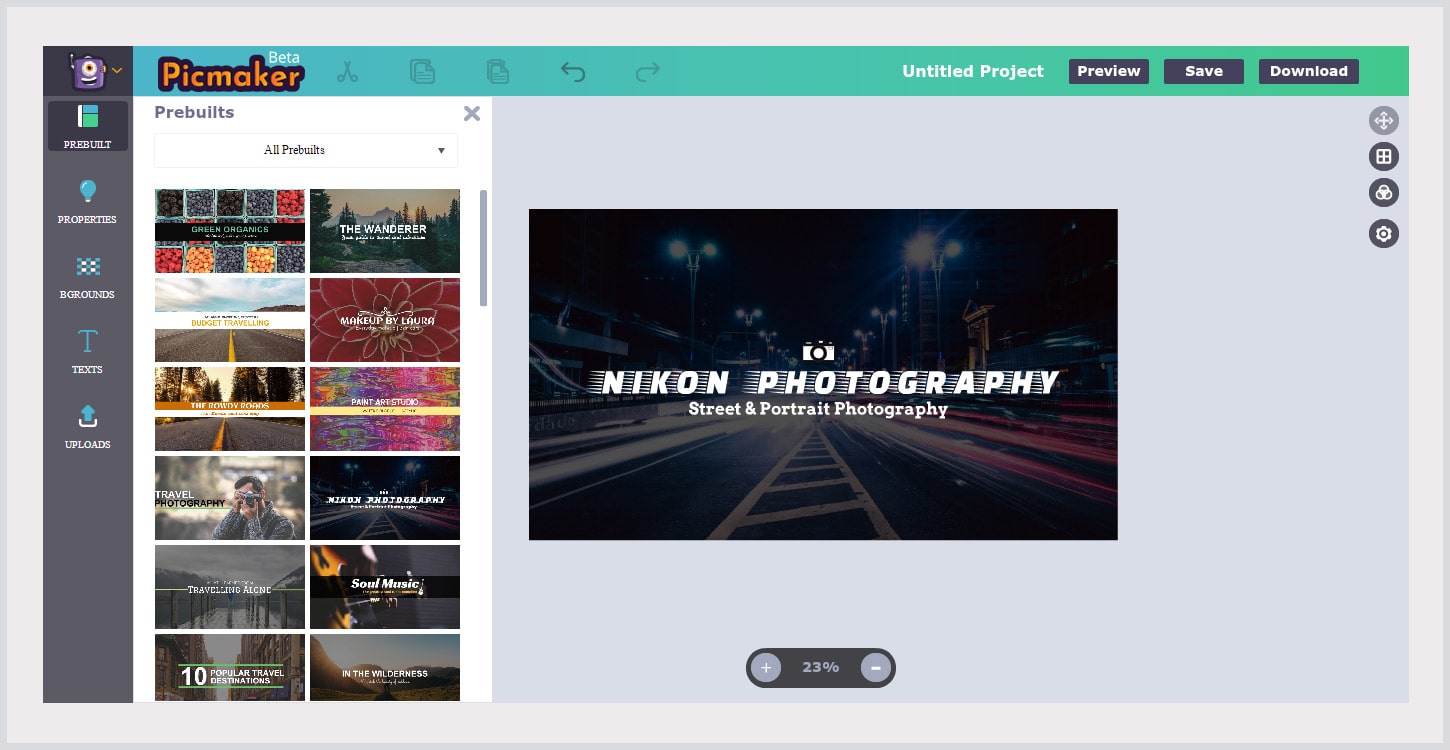 If you own a YouTube channel and expect more viewers you will need an eye-catching YouTube banner. Pickmaker gives you the chance to create amazing YouTube banners free of cost. You don't need experienced designers as Pickmaker has different templates with the exact YouTube banner size as per your requirements.
You can get a huge number of stickers and icons along with cool frames in this editor tool. You can also preview your YouTube banner with the unique preview feature without uploading it on YouTube.
Create YouTube Banner with Pickmaker

PicMonkey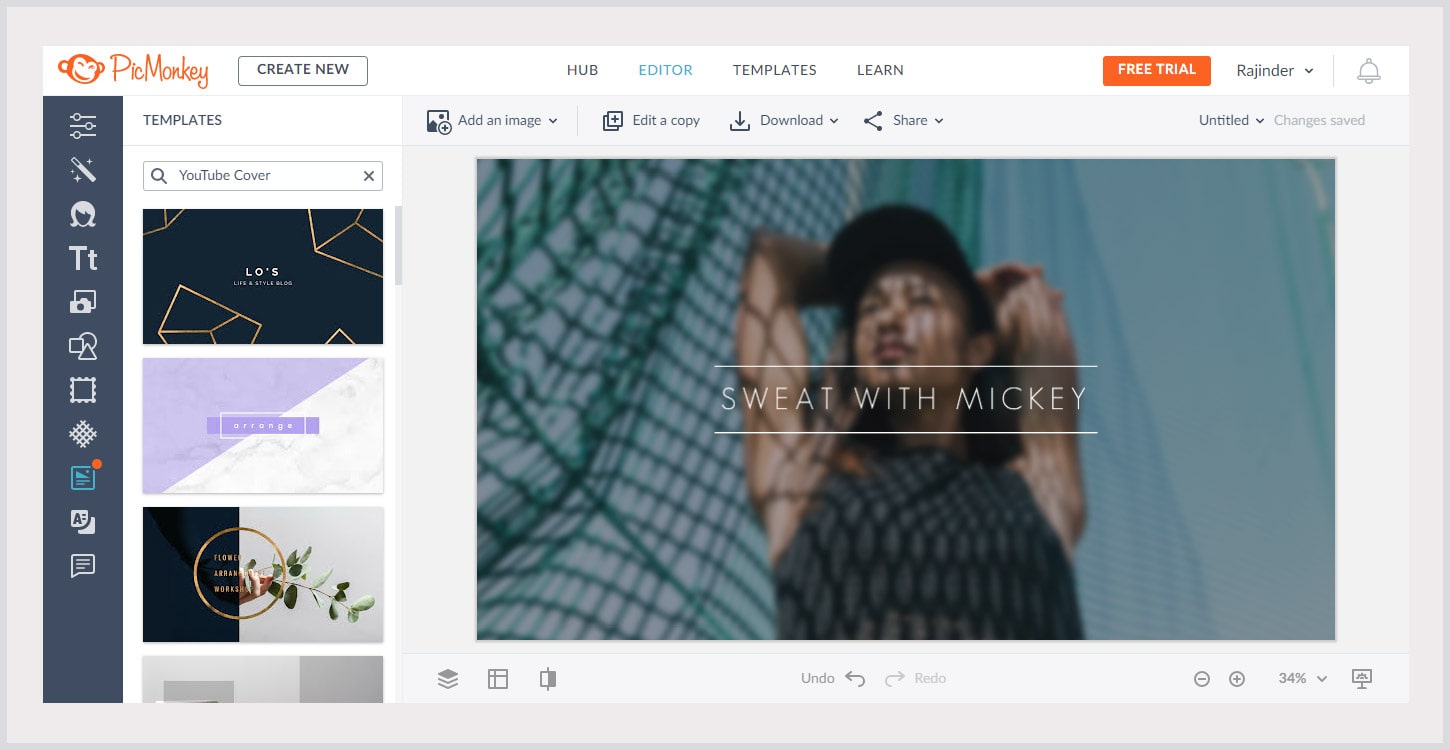 Promote your YouTube channel art creatorwith Picmonkey's captivating YouTube banner. They provide you designer made YouTube banner templates that help your channel to stand high.
Picmonkey helps you to create your YouTube channel art cover without any designer skills. You can also make some attractive thumbnails without many complications. You have to follow some easy steps to get it done within a few minutes.
Create YouTube Banner with PicMonkey

Design Wizard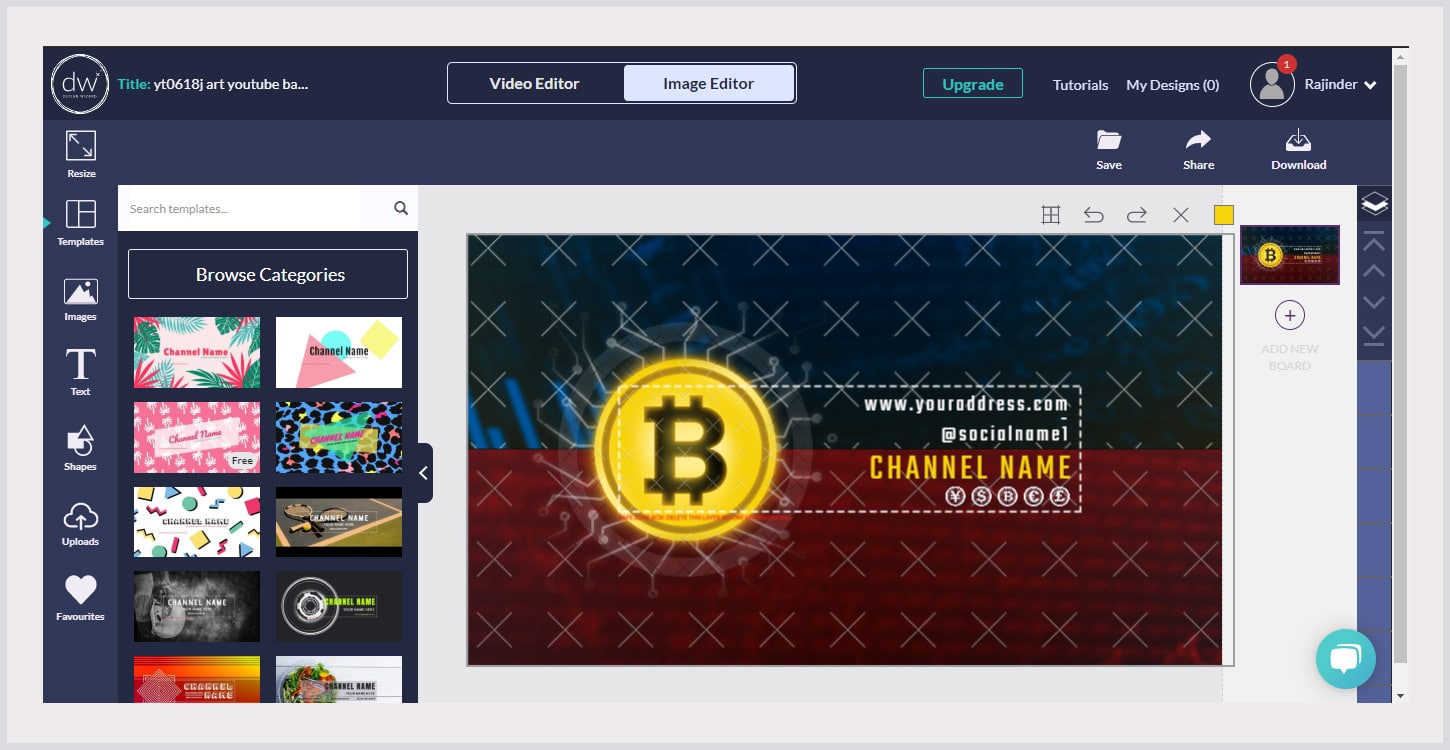 Lift up your YouTube channel banner by designing some arresting YouTube channel art with the help of Design Wizard's YouTube banner maker. This brings such YouTube channel art templates which include a handy 'safe zone' grid-box.
You can select your preferred backgrounds among thousand plus background and customize them as you wish. This background includes geometric lines and shapes, stripes, stars, hearts and thousands of other designs for your YouTube banner.
This design tool has an extensive typography library and features that you can experiment with your size, colors, and shadows to get the most impressive YouTube channel art banner.
Create YouTube Banner with Design Wizard

Lucidpress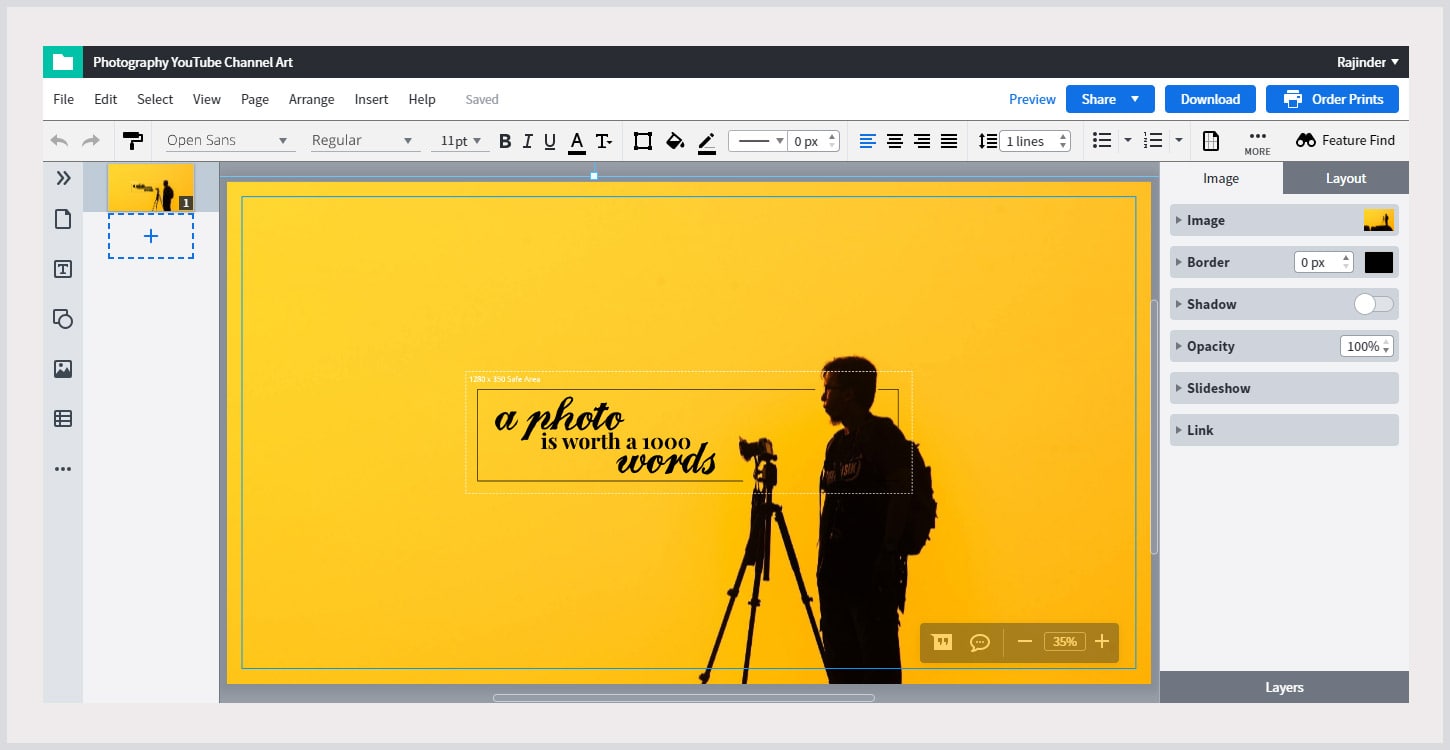 You must be more cautious about your YouTube channel banner as this is the first thing appealing to your audience. Lucidpress is an online edit tool that helps you to combine both text and images. By using this tool it is easy to access your documents from anywhere and collaborate with others.
In this tool, you can also customize your design by choosing your preferred colors, fond along with drag and drop facility. You can also get a chance of easy export_import and easy sharing with Lucidpress YouTube banner maker.
Create YouTube Banner with Lucidpress

BannerBoo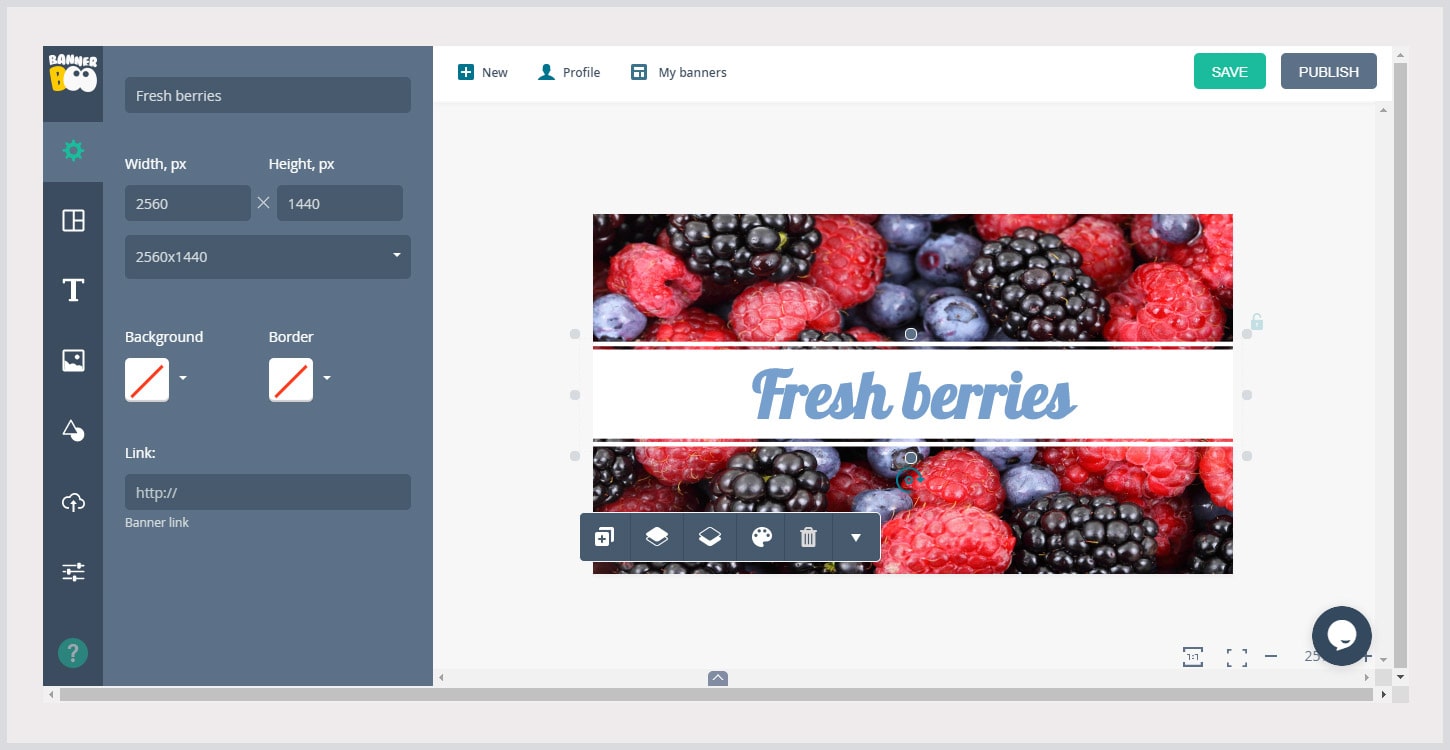 Bannerboo is a free online tool in the list of best YouTube banner makers where you are able to create wonderful YouTube channel art without any complications. There are various ready-made templates in this tool that helps you to design a professional YouTube channel banner within a few minutes.
YouTube banner is the most important thing that engages your viewers to your channel. So it must be helpful for you to access the social media templates from this banner maker. You can also take the advantages of getting templates, clip arts, shapes, and buttons together in one place in this editing tool.
Create YouTube Banner with BannerBoo

DesignCap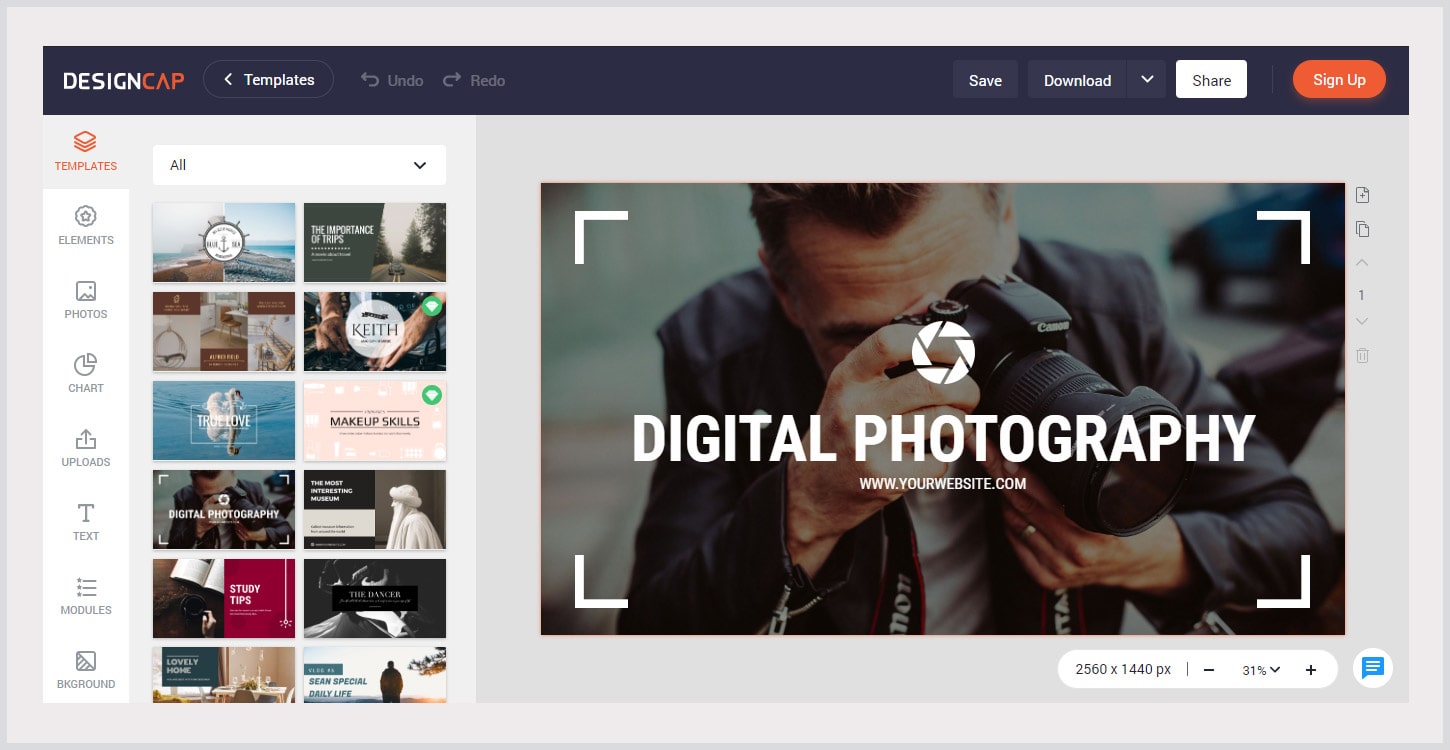 Get an excellent YouTube channel art banner with DesignCap's banner maker and. You can access abundant pre-made templates as well as stock photos, clip arts, and shapes.
DesignsCap has a wide variety of backgrounds also that make you design your YouTube banner exactly as you want. You can get more than hundreds of stylish fonts to communicate your messages visually. You just need a few clicks to get the advantages of powerful tools to customize your YouTube banner as per your choice.
Create YouTube Banner with DesignCap

Final Words for YouTube Banner Makers
Thus, the above-mentioned youtube channel art maker websites and applications have turned out to be a huge success in the field of digital media as users can create personalized banners at anytime and at anyplace. So what are you waiting for? Enjoy the world of modern online services by using any of the above websites for preparing your excellent Youtube banners.