Now there are NEW guidelines for YouTube banner size or dimensions in 2021. So make sure your banner image must meet the following criteria.
This YouTube banner image size guide gives you all the necessary information about your channel banner that you need to know when you are creating an impressive banner design for your YouTube Channel.
What is YouTube Banner?
YouTube Banner (also known as YouTube Channel Art) is the first large banner image that you have seen on the top of your channel page. It commonly uses to make channels look visually more professional or channel branding.
What is the Size YouTube Banner Image?
The YouTube banner image size [width x height pixels] have been revised to the following as of May 19, 2021. Now your channel banner must meet the following criteria:

Minimum dimensions to upload: 2048 x 1152 pixels
Safe Area for Logo and Text: 1235 x 338 pixels
Maximum File Size: 6MB
NOTE: You're still able to upload 2560 x 1440 px size banner image but make sure your banner text and logo are perfectly visible in the phone.
OLD YouTube Banner Size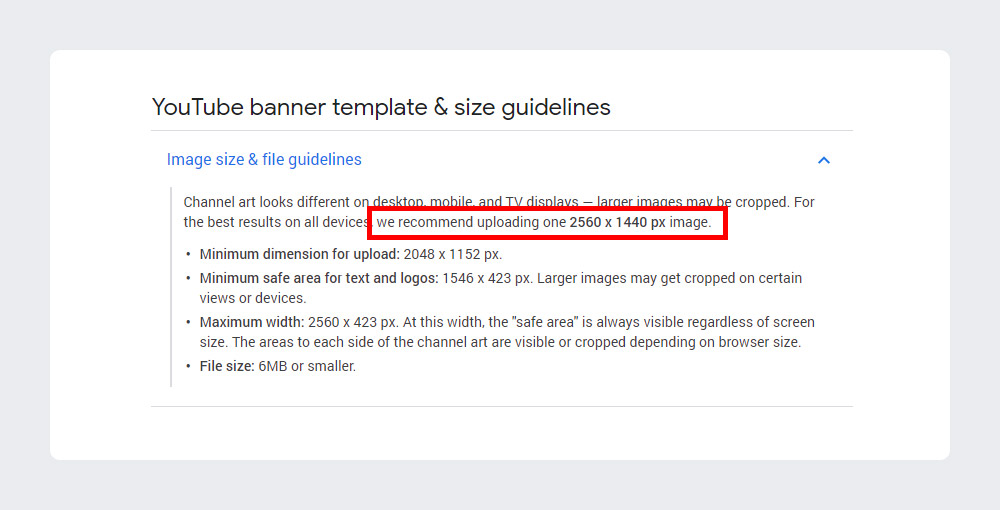 Above is the quick view of YouTube banner size, but we insist you keep reading to know every part of banner dimensions in detail. There are more informative and vital things that you need to know to get your perfect channel art as below:
The Perfect YouTube Banner Size Guide
Having an eye-catchy YouTube banner is key in making the channel more professional but this is one of the most critical things after creating a YouTube channel.
Quick Navigation – What you'll learn in this guide:
In this guide, we'll discuss everything about YouTube banner sizes that help you to create YouTube channel art with correct dimensions and file size for different devices.
Let's get started…
Understanding YouTube Banner Size
As per Google guidelines, the best YouTube banner size is 2048 x 1152 pixels (width x height), the safe area to place your logo and text is 1235 x 338 pixels, and the banner file size is 6MB or smaller.
Channel art looks different on desktop, mobile, and TV displays — larger images to be cropped. For the best results on all devices, we recommend uploading a 2048 x 1152 px image.
Here is a YouTube channel art template that helps you to understand in a better way.
See how to channel art displays by device

Channel art shows differently across devices. Get an idea of how it will look on different devices before you start designing your channel art. Keep in mind that the site will scale to reveal more or less channel banner based on your browser window and device.
Banner Image Display on TV
YouTube TV allows you to watch YouTube videos on TV. When visitors see your channel on TV, the whole YouTube banner image displayed in the background. So YouTube highly recommends to uploading a 2048 x 1152 px image for TV display.
Banner Image Display on Computer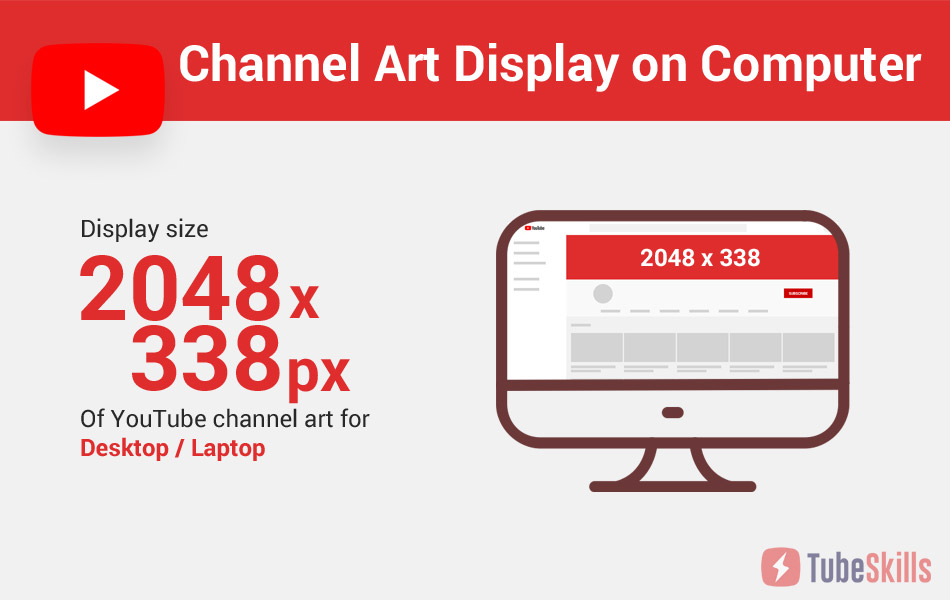 Computers or laptops also have different screen resolutions, and YouTube has different channel art dimensions for the same. The display area for computers and laptops is 2048 x 338 px. Above is an example to show you how the channel art looks on the minimum and maximum width screens.
Banner Image Display on Phone & Tablets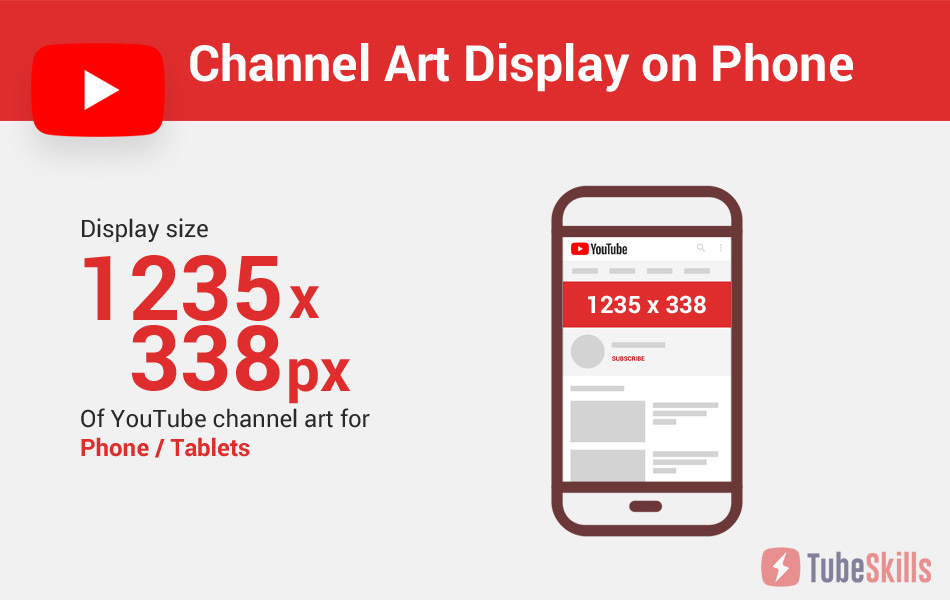 The YouTube banner safe area plays an important role when it comes to channel art display on mobile phones. YouTube recommends keeping your text and logo in the safe area (i.e., 1235 x 338 px), especially for mobile devices. So that your channel art correctly displayed to mobile users with your info on the banner.
The "safe area" is scaled down to the width of the mobile screen, which varies by device.
Why is Safe Area Important?
YouTube is the second largest search engine after Google and popular video sharing platform on the web. According to YouTube Statistics, YouTube had 2 billion monthly logged-in viewers worldwide as of May 2019. The number of YouTube United States viewers will be 210 million in 2022, up from 192 million in 2018.
As per YouTube global research, over 1.9 billion logged-in users visit YouTube each month, and every day watches over a billion hours of videos and generate billions of views. More than 70% of YouTube watch time comes from mobile devices.
YouTube Channel Art Design Best Practices
In 2020, YouTube is a perfect platform for startups, small businesses, influencers, gamers, vlogger, and people who are interested in making money online.
Anyone can create a YouTube channel and become a successful YouTuber. You'll have a complete guide on how to become a YouTuber later. To get success on YouTube, you should have a professional-looking channel and informative content as well.
YouTube channel art designs are the first thing that the viewers observe once they open a specific YouTube channel. Thus, the channel owners need to add striking art designs to create a unique, attractive impression in the mind of the viewers. Make it smart, crispy, and elegant, along with providing all the essential information about the channel content.
Now let's have a look at some of the artistic YouTube channel art design practices which are highly demanded by the online users.
01. Use Your Logo






A logo considers as the birthmark of a YouTube channel. Different channels have various kinds of logos depending upon their content, channel utility, and popularity. For instance, Film Core is a popular YouTube channel that has a video roll art design as its logo.
Not only this, but Tyler 'Ninja' Blevins is also a royal battle player and has a professional YouTube channel with a logo of blue ninja face. Also, Unbox Therapy is a channel showcasing all kinds of coolest gadgets and has a simple logo of its name in bold letters.
Mumbo Jumbo is a popular channel focusing upon Minecraft game and has a mustache face as its logo.
02. Use Your Own Image




Online Reputation is all about using colorful icons and offering the quality of content in a precise manner. Thus, to have a high ranking social media following, one must present its channel with creative art designs and beautiful graphics.
For example, Fitness Blender is a high demanding channel which has created its unique image by offering 600+ free workout videos and nutritional tips.
Another channel, GaryVee, which provides an impressive set of inspirational videos on YouTube and is the five-time New York Times Bestselling author.
Moreover, Dan Lok is a motivational TEDx speaker who has motivated thousands of people by his words and has a YouTube channel with over 2.15 million subscribers.
03. Use of Tagline




A tagline is a phrase that clearly describes the whole product or channel in a few words. Therefore, the YouTube channel holders need to add an exclusive tagline that could instantly grab the attention of new viewers.
For instance, iJustine is an amazing YouTube channel that has a simple yet elegant tagline of 'Travel, Gaming, Food, Fun 🙂' and offers various kinds of vlogs related to technological gadgets, cooking attempts, and much more.
Similarly, UrAvgConsumer is a tech-related channel which offers great opinions about IT gadgets and has a tagline of 'Easy To Understand Tech Videos'.
Also, TED is a world-known inspirational YouTube channel having a channel subscribers to over 15.6 million and has a beautiful tagline of 'Ideas Worth Spreading'.
04. Use Collage Image




Collage is an aesthetic way to represent your channel by offering a few glimpses of their content in the form of pictures. YouTube is all about quality and elegance, and a collage is a perfect way to combine the usefulness of quality content and elegant representation.
For example, Florina Fitness is a fitness YouTube channel that offers terrific tips and techniques for building a healthy physique. This channel has its banner created in the form of collage that has created an impressive image of this channel on YouTube.
Moreover, Tech Insider is another such channel that has utilized a collage cum banner technique for offering insights about the new technological innovations.
FunForLouis is a travel vlog YouTube channel which has some beautiful pieces of art crafts combined with some travel-related picture graphics to offer the essence of travel to the viewers.
05. Publishing Scheduling



Scheduling your videos is a beautiful way to stay in touch with your subscribers. Gordan Ramsay, a professional American chef, has its YouTube videos planned for once every week.
Similarly, ScottHermanFitness offers regular videos daily, offering tips for fat loss, workout, strength training, muscle gains, and much more.
06. Use of Social Media





Mentioning your social media accounts in your YouTube banner is regarded as a smart way of connecting with your subscribers on other networking sites.
For example, Marques Brownlee has referred to YouTube Learning Channel and Watch Now for its subscribers who wish to stay in touch with his upcoming videos on other online sites.
Not only this, Kurzgesagt – In a Nutshell, is an optimistic YouTube channel offering quality content on various issues and has a social media presence on Instagram, Twitter, and Patreon.
Thus, all YouTube art design practices mentioned-above enable unlimited options for creating magnificent art graphics for the customers. Each of the YouTube channel art designs is unique as per the specification of the client. These art designs make your channel look marvelous with its cute little fonts and artistic doddles. So follow the above practices to make your channel look stunning and impressive on YouTube.
Let's move on to the next step…
How to make a YouTube Banner?
You have 4 main options to create a professional custom YouTube banner for your channel.
1. Use Your Graphic Design Skills
If you have designing skills, you can make your banner yourself using Adobe Photoshop or any other photo editing software. For the perfect YouTube banner size, download our free YouTube banner template PSD.
2. Online YouTube Banner Makers
Use online free YouTube banner maker or photo editor tools like Fotor or Snappa that helps you to create a pretty beautiful looking banner design in a few easy steps. I recommend Snappa for a perfect banner design for the YouTube channel page.
3. Readymade YouTube Banner Templates
Use readymade YouTube banner templates. You just need to replace the channel name & other info and background as per your channel theme using free online photo editor Photopea.
4. Hire us for your custom Channel Art design
YouTube Channel Art, profile picture, and your channel name are the first thing that visitor sees when they visit your channel page. It's an essential part of creating a strong first impression. An impressive looking YouTube banner grabs the interest and makes visitors explore your channel videos.
We are providing custom banner design services for YouTube banner that best fits your channel and makes a standout. A professional banner also helps you to grow more subscribers fast.
How to Upload YouTube Banner or Channel Art?
Now you have a custom channel art that represents your channel perfectly. It's time to upload it. Uploading a banner on YouTube is a simple process. We already have a separate article on how to upload YouTube channel art.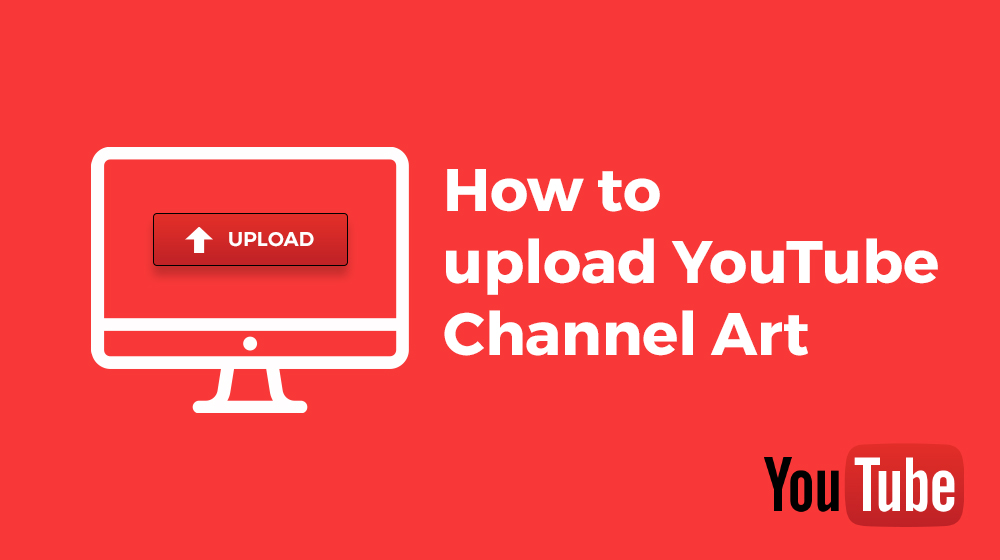 Note: You can no longer edit your channel icon or channel art on mobile devices. Use a computer to follow the instructions below.
Adding your banner to YouTube Channel takes just a few seconds. Here are the steps to begin:
Step 1: Sign in to YouTube
The first step to getting started "Sign in" to your YouTube Channel or YouTube Studio.
Step 2: Customize your Channel
Click on the "Customization" from the left side menu and then "Branding" tab under Channel customization.
Step 3: Upload Banner Art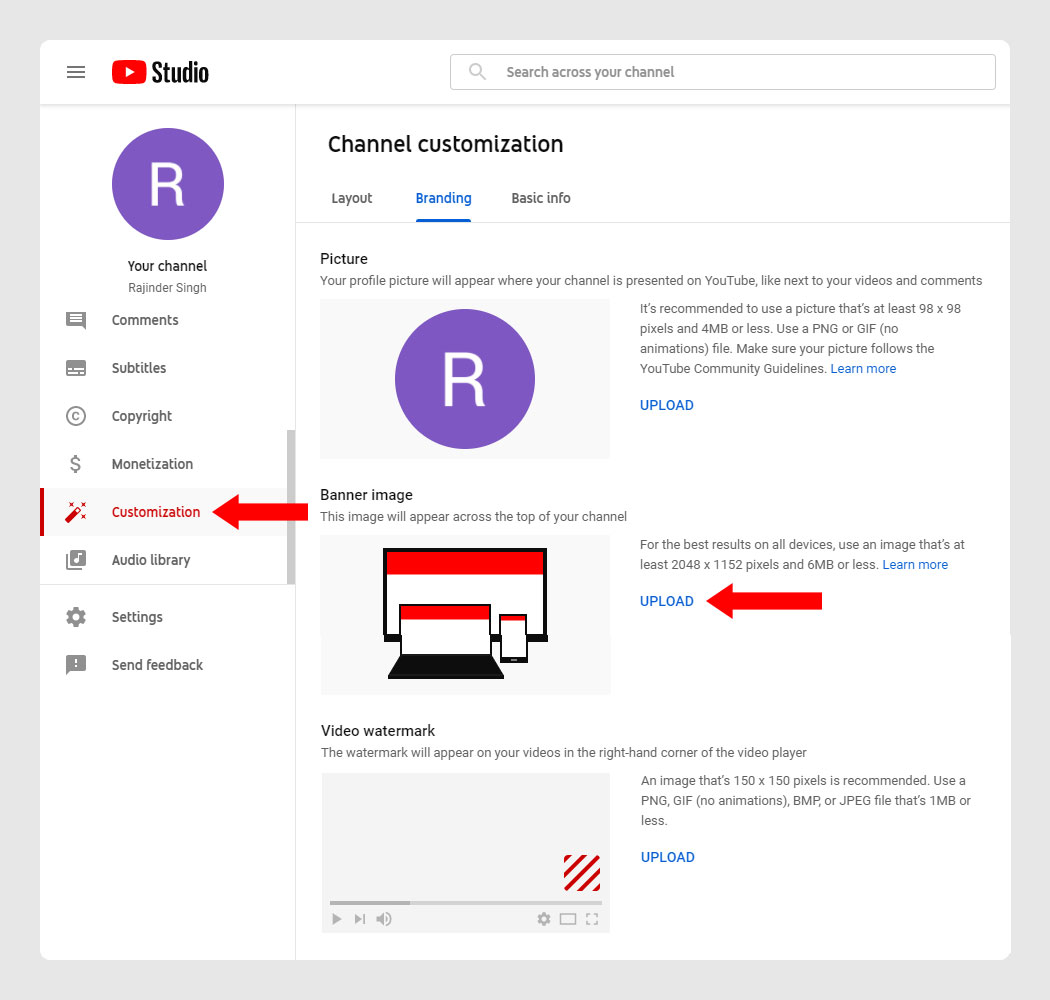 You'll see there are 3 things to upload (Picture, Banner image & Video watermark) under Branding Tab. Now you can upload your banner art by clicking on the "UPLOAD" blue button.
Once you click on the button, a pop-up window will open to select a photo from your computer and locate the image to upload. Make sure to make a picture big enough for YouTube banner art.
Step 4: See how Banner Art Displays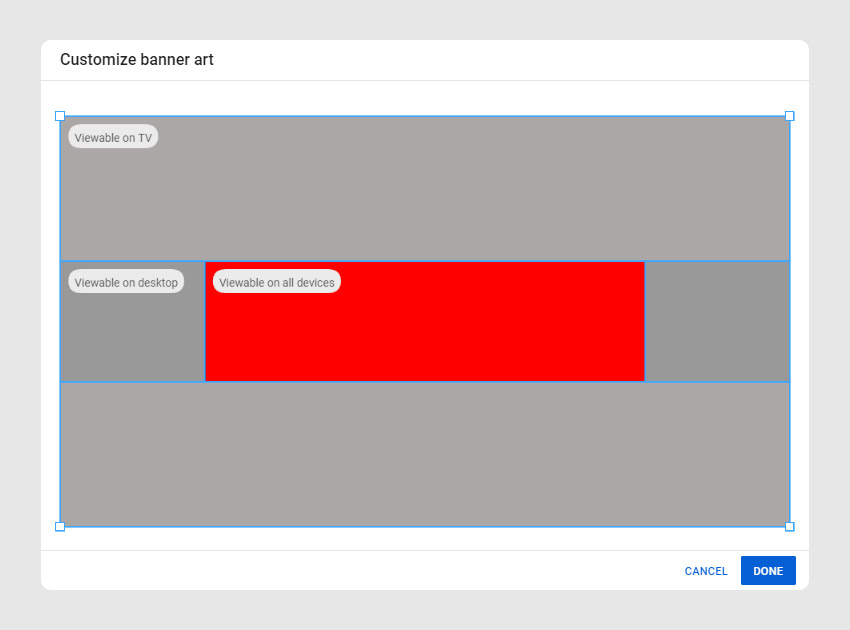 After upload channel art, you can see how your channel art will look at the difference across devices.
If you think your channel art image not correctly showing in the devices, then you have the option to adjust it or crop it. You can manually adjust the image display with cropping tool.
Step 5: Select to Finish
Once you're happy with your channel art displaying on different devices. Hit the "DONE" blue button to save your image as your YouTube channel banner.
Here is the step-by-step guide with images on how to upload the YouTube banner.
YouTube Banner Template (Free PSD)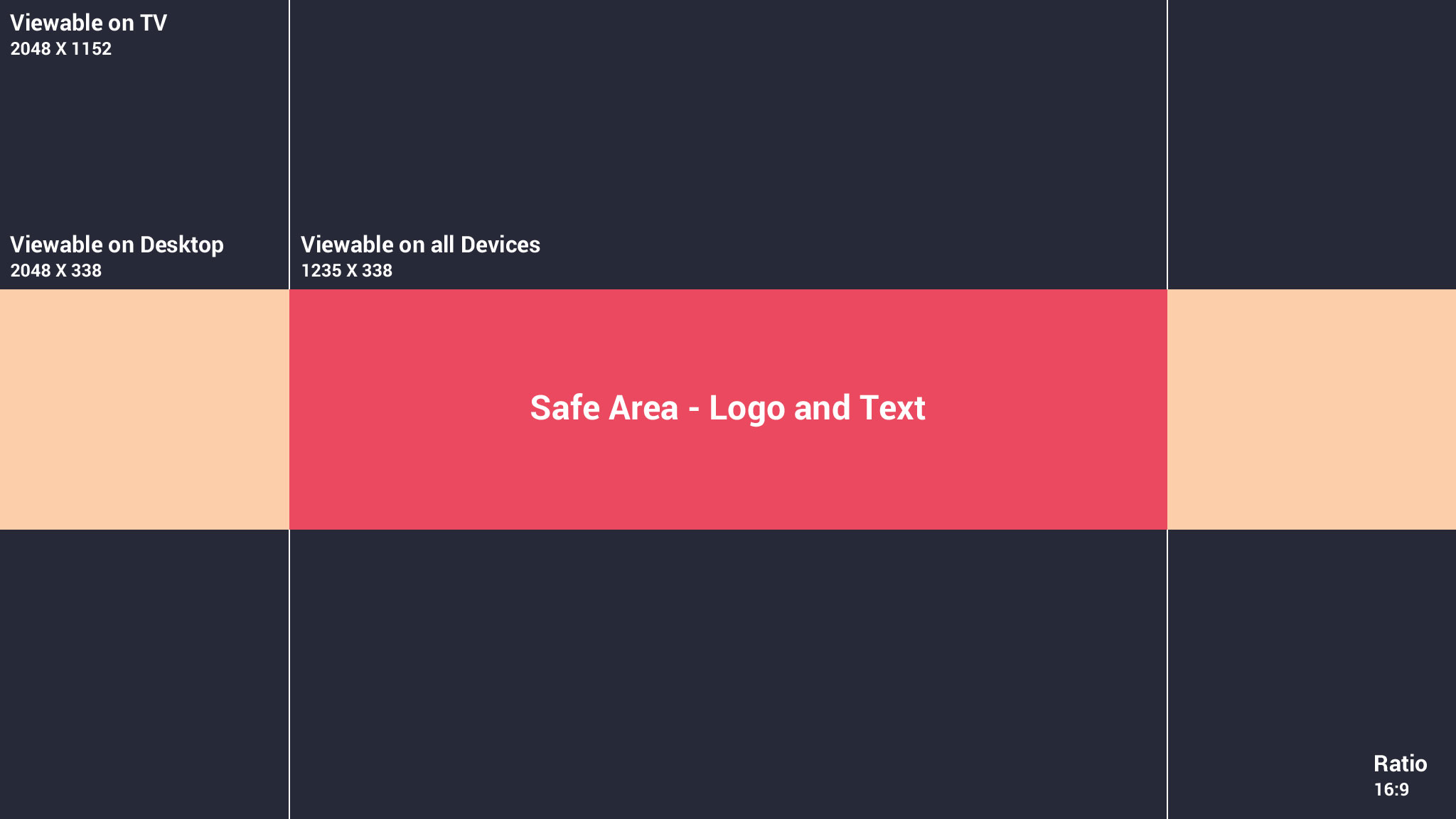 Here we are providing a YouTube Banner Template PSD that you can download for free to create perfect banner art for your YouTube Channel to make more professional. Also, we will try to help you to understand how you can edit or use this YouTube Banner Template PSD easily.
File Format: Adobe Photoshop (PSD)
File Resolution: 2048 x 1152 pixels
File Size: 112KB
License: Free for Personal/Commercial usage
How to Use/Edit YouTube Banner Template PSD
Adobe Photoshop is a well known premium photo editing software. On other hand, Photopea is one of the best free image editor online. Photopea looks similar to Photoshop and has similar kinds of tools. It is a free online editor and supports PSD, XCF, Sketch, XD and CDR formats.
If you have little graphic design skills, you can easily use Photopea and design your own YouTube banner image. But if you think you're not able to use this editor then you I recommend to use Placeit.
How to Resize Image for YouTube Banner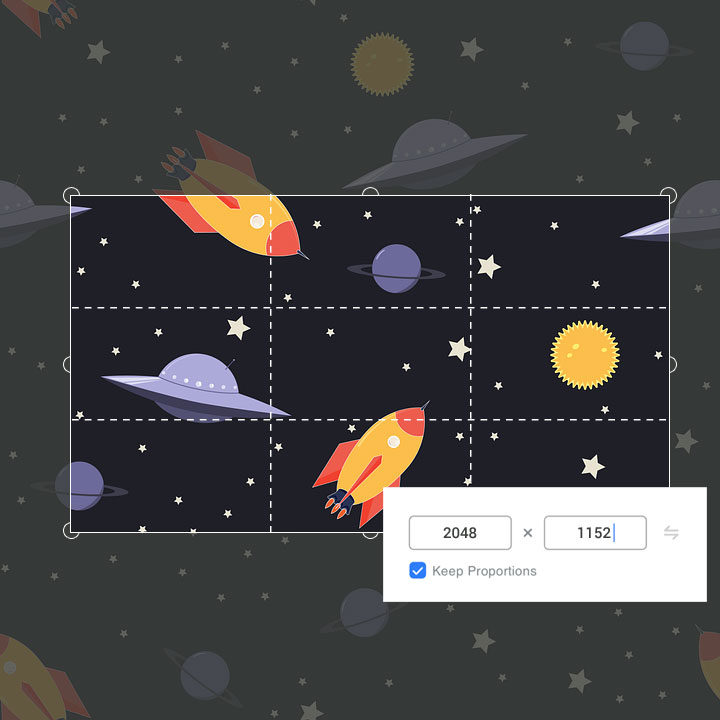 You can resize image with your computer's photo editor, free online image resizer or use Fotor's Photo Cropper for resizing your image in the accurate dimensions.
FAQs
What is the perfect size for a YouTube banner image?
The recommended banner image size is 2048 x 1152 px (width x height) with an aspect ratio of 16:9 and minimum dimension for safe area for text, and logo is 1235 x 338 px (larger images may get cropped on certain views / devices). Max file size to upload is 6MB.
Why is banner image important?
Channel Art is the first thing that visitors see when they land on your channel page. They want to know who's behind this channel or more information about your channel, and that helps you to grow more subscribers fast.
So banner image is an essential part of creating a solid first impression in the visitor's eye. Also, it helps to convey critical information about your channel, niche or category, channel tagline, video uploading time, social media account, and more.
What is the aspect ratio for a YouTube banner?
YouTube banner image aspect ratio is 16:9 (i.e. 2048 x 1152 px).