After visiting countless small and big YouTube channels for YouTube banner ideas, we listed 30+ creative channel art designs for you.
A YouTube banner is an essential part of your channel because it represents you, your brand, and continuously grows more subscribers.
Here, you'll learn how to design a banner for your YouTube channel, what free tools are available, what you should put on YouTube banner and cool YouTube channel banner ideas.
Let's explore…
What is a YouTube Banner?
YouTube Banner (also known as "YouTube Channel Art" or "YouTube Header") is the first large banner image that you have seen on the top of your channel page. It commonly uses to make channels look visually more professional or channel branding.
What is the YouTube Banner Size?
As per YouTube guidelines, the best YouTube banner size is 2560 x 1440 pixels (width x height), with a minimum dimension of 2048 x 1152 pixels. The Safe area to place your logo and text is 1546 x 423 pixels, and the banner file size is 6MB or smaller.
Best Practices and Tips for YouTube Banner Design
YouTube channel art is the first thing that the viewers see once they open a specific YouTube channel. Thus, the channel owners need to add striking art designs to create a unique, attractive impression in the viewers' minds.
It would be best to have a smart, crispy, and elegant banner and provide all the essential information about the channel content. You'll see below in YouTube banner ideas, what content creators have on their channel banner.
Now let's look at some of the best practices and tips that the online users highly demand.
Use Logo – Using logo is a perfect idea for the effective channel, business or product branding.
Use your Image – For personal branding or if you are a trainer, coach or influencer, you can use your image.
Use a Tagline – Using a tagline with your name or channel name helps users understand your channel and what kind of videos you are creating.
Use Collage Image – Gaming, fitness, travel-related YouTube channels are using collage image. But make sure it looks fantastic, not messy.
Use Publishing Schedule – Channels grow fast with publishing schedules like "New Episode Every Week" or "New Video Every Thursday". It helps you stay consistent.
Use of Social Media – Build your community by asking to follow me on social media to your subscribers.
How to make a YouTube banner for free?
You don't need to be a pro graphic designer to create a YouTube channel art. Once you have a YouTube banner design ideas for your channel, you can get started with any online graphic design tool.
You won't believe it; there are 17 YouTube banner makers available on the web. Awesome huh!! But which one is good?
We haven't tested all the tools, but all are good because they have different beautiful design assets, graphics, fonts, and dozens of free resources that help you make a banner without designing skills.
Here are a few of our favorites:
Snappa – Easy Graphic Design Tool
Snappa is a quick and easy online graphic design software. There are many easily customizable templates, high-resolution photos, YouTube banner background, graphics, shapes and elements. You can download in JPG, high-res PNG, Retina JPG, or Retina PNG.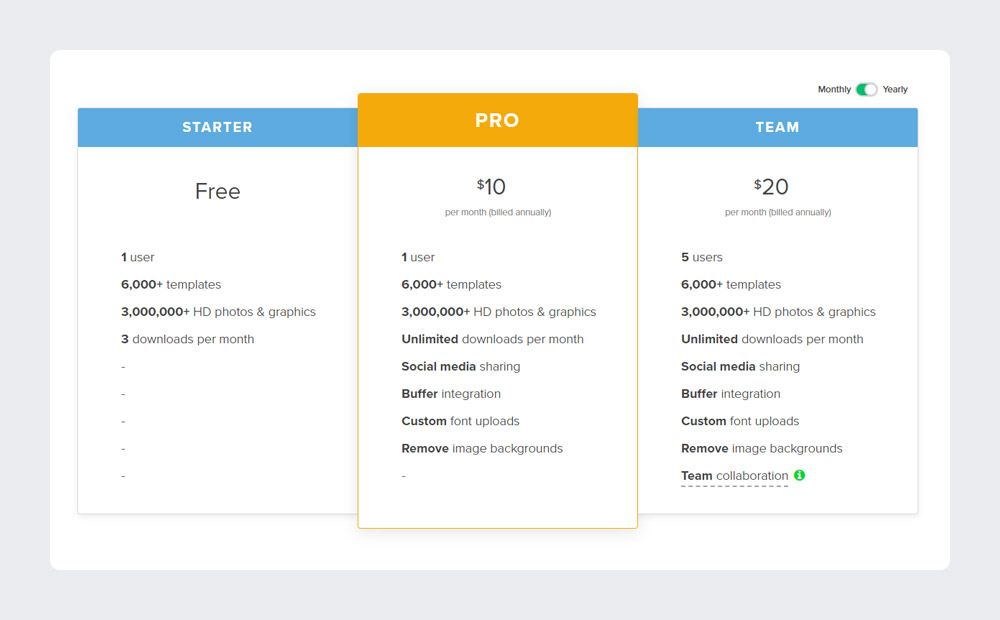 Price:
Free (3 Downloads per month) – You can use 6000+ templates, 3,000,000 HD photos.
$10/month (Unlimited Downloads) – 6,000+ templates, 3,000,000+ HD photos & graphics, Social media sharing, Buffer integration, Custom font uploads, and remove image backgrounds.
Placeit is also our favourite tool to create a perfect channel art, thumbnail, mascot logo, intro and much more. They have an ultimate collection of creative design assets, photos, graphics and elements. You can customize each element of channel banner with super easy to use options.
You'll love the Placeit if you have a gaming channel on YouTube. You can find hundreds of YouTube banner ideas for gaming. You will also find some aesthetic banner ideas for your YouTube channel.
How to make a YouTube banner without Photoshop?
How to make a YouTube banner from scratch that has proper dimensions for desktop and mobile. If you want to get creative and design banner yourself, download the YouTube banner template. It helps you create a channel art in the perfect size.
If you have good designing skills but don't have Photoshop, you can use Photopea. Photopea is an online graphic design software which looks similar to Photoshop and no installation required.
Once your channel art ready to upload, check out our step-by-step guide with pictures on how to change YouTube banner and replace the existing default banner.
30+ YouTube Banner Ideas for your Inspiration
Now, you understand what requires a YouTube banner, let's take some creative YouTube banner designs.
FaZe Adapt

ScrewAttack

DanTDM

RiceGum

GameGrumps

Lachlan

Ali-A
Crainer
PopularMMOs

Ninja

Typical Gamer

SMii7Y

ItsFunneh

DooM Clan

Mini Ladd

LuL Gaming

Mumbo Jumbo

Ryguyrocky

CaptainSauce

Oh Long Johnson

Fortnite SparkTV

LetsPlay

MC Naveed

The Pals

LDShadowLady

LittleLizard Bonus

Thinknoodles

PrestonMinecraft

MooseCraft

TheGrefg

Final words
Please follow our Pinterest page for more YouTube banner design ideas, tips and templates.